Hornady Introduces Flex Tip (FTX) Component bullets
By Chuck Hawks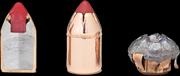 Illustration courtesy of Hornady Mfg. Co.
Hornady Mfg. Company announced for 2009 the availability of their ground breaking LEVERevolution Flex-Tip (FTX) bullets as components for reloaders. Here, in part, is the Company announcement:
"You've been asking for them for 3 years. They're here. FTX bullets are the same bullets that are loaded in the most popular levergun ammunition ever devised: LEVERevolution®."
"These technologically advanced bullets feature our patented Flex Tip™ technology which means they are safe to shoot in firearms with tubular magazines as well as any other firearm. Not only are they safe, they also deliver the flattest trajectories ever from these firearms. Another benefit of Flex Tip™ technology is devastating terminal performance. Upon impact, the flexible tip deforms back into the bullet initiating violent, controlled expansion that transfers a great deal of energy to the vitals. At the same time, the heavy jacket over the shank of the bullet and famous InterLock™ feature keep the core and jacket physically locked together to ensure high weight retention."
These Flex Tip bullets will initially be made available:
30 Cal. FTX (.30-30) - .308", 160 grain (BC 0.33)
35 Cal. FTX - .358", 200 grain (BC 0.30)
44 Cal. FTX (.444 Marlin) - .430", 265 grain (BC 0.225)
45 Cal. FTX (.460 S&W) - .452", 200 grain (BC 0.145)
45 Cal. FTX (.450 Bushmaster) - .452", 250 grain (BC 0.21)
45 Cal. FTX - .458", 325 grain (BC 0.23)
50 Cal. FTX (.500 S&W) - .500", 300 grain (BC 0.20)

Left to right: .30-30/160 grain, .35/200 grain, .444 Marlin/265 grain, .460 S&W/260 grain,
.450 Bushmaster/250 grain, .458/325 grain, .500 S&W/300 grain.
Illustration courtesy of Hornady Mfg. Co.
The .30 and .35 caliber bullets come in 100 count boxes and the larger calibers are sold in 50 count boxes. Notably absent from the list are the 160 grain .308 Marlin Express (BC .400), 165 grain .32 Special, 200 grain .338 Marlin Express, 140 grain .357 Magnum, 225 grain .44 Magnum and 225 grain .45 Colt FTX bullets. Hopefully, these bullets will be added in the future, after the initial demand for factory loaded LEVERevolution ammunition in these calibers has been satisfied.