Husqvarna 7x57 Custom Built Rifle
By Chuck Hawks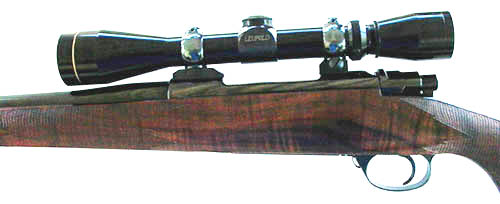 Left side of custom Husqvarna rifle. Photo by Chuck Hawks.
Larry Brace, the extraordinary custom gun maker of Eugene, Oregon passed away about a year ago after a long battle with cancer. Larry was one of the founders of the Gun Maker's Guild and his work was nationally known, having often been featured in articles and brochures. (Leupold, for example, featured one of Larry's elegant falling block single shot rifles in their 2004 catalog.)
I knew Larry and we hit it off pretty well. I, too, appreciate fine single shot rifles and classic double shotguns, areas that were also of special interest to Larry. I had not previously owned a rifle chambered for the 7x57 cartridge, but had long wanted to. In a nutshell, this is how I came to own a caliber 7x57mm Mauser custom made hunting rifle with the legend, "L. Brace, gun maker, Eugene, Oregon" on the barrel.
The 7x57mm Mauser was developed as a military cartridge in 1892. Like many successful military cartridges, the 7x57 proved to be an even more outstanding hunting cartridge. The 7x57 had a long run as a service cartridge with several of the world's militaries, from its introduction in 1893 until the 1950's. However, its utility as a hunting cartridge is what has kept it alive and well to the present day.
The U.S. .30-06 cartridge is an enlarged 7x57 and uses the same basic configuration, rim and head diameters. (Actually, with its shorter body and sharper shoulder, the 7x57 looks like the more modern of the two cartridges.) The U.S. Army encountered the 7x57 cartridge and Mauser rifle in 1898 during the Spanish/American war and decided that both were dramatically superior to the then U.S. standard Krag rifle and .30-40 cartridge. The War Department decided to remedy the situation. The 1903 Springfield rifle and .30-03 cartridge (forerunner of the .30-06) were the result.
The 7x57 is actually the cartridge that established many of the specifications that have since become the defacto standard for non-magnum calibers, such as the rimless bottleneck shape that headspaces on the shoulder and the .473" rim diameter. Despite its status as an antique, the 7x57 still looks like, and performs like, a modern cartridge. It retains worldwide popularity and in North America hunters can choose among factory loaded ammunition from Federal, Hornady, Norma, PMC, Remington, Stars and Stripes, and Winchester, among others.
Typical factory loads from the U.S. "big three" manufacturers spit out a 140 grain bullet at a MV of approximately 2660 fps or a 175 grain bullet at 2440 fps. Standard U.S. 7x57 factory loads are held to a maximum average pressure (MAP) of 46,000 cup in deference to the thousands of relatively weak Mauser 1893 and 1895 military surplus rifles that have been imported over the years.
Hotter factory loads are available, however. Norma loads their 154 grain Soft Point bullet at a MV of 2625 fps and their 156 grain Oryx bullet at a MV of 2608 fps. Hornady offers a 139 grain Interlock BTSP bullet at a MV of 2700 fps in their Custom line and a "Light Magnum" factory load using a 139 grain InterLock SP bullet at a MV of 2830 fps. These loads remain within SAAMI or CIP guidelines.
Handloaders with strong, commercially manufactured hunting rifles (FN, Mauser 98, Husqvarna, CZ, Ruger, Sako, Remington 700, and Winchester, for example) can safely load ammunition in the 50,000-52,000 cup range. Such loads can drive 140 grain bullets at MV's of up to about 2800 fps, 154-160 grain bullets at about 2600 fps and 175 grain bullets at about 2575 fps.
The most popular factory loaded bullet weights are 139-145 grain, 150-156 grain and 175 grain. Reloaders have access to all of those as well as 100, 110, 115, 120, 125, 130 and 160-162 grain bullets. Medium slow rifle powders such as IMR 4350, IMR 4064, RL-19, AA 2700, H414 and H4350 are good choices with the 139-145 grain bullets that I prefer in 7x57.
Because the 7x57 can provide enough velocity for long range shooting with 120-140 grain bullets and was designed with adequate neck length and case capacity to accommodate bullets up to 175 grains (SD .310), it is suitable for hunting a wide variety of game, ranging from the smallest medium game like chamois and javelina up to heavy hoofed beasts like North American elk, Scandinavian alg and African kudu. In the hands of a careful hunter its capabilities can be stretched to include even larger creatures, such as North American moose and African eland.
That makes the 7x57 a true all-around cartridge. This versatility, coupled with moderate recoil, is what has ensured its popularity.
The 7x57 has always been popular in Africa, where the British call it the ".275 Rigby." This is the cartridge that the famous ivory hunter W.D.M. Bell used to shoot the majority of his 1000+ elephants. Today the 7x57 is still regarded as an ideal cartridge for African plains game. It was the favorite cartridge of Eleanor O'Connor, who on one safari killed 17 head of big game with 19 shots using her 7x57 rifle. The only animal that required more than one shot was a big kudu that, dead on its feet after the first shot, didn't fall down until Eleanor had put two more superfluous bullets into it.
A surprising number of expensive, custom built rifles are chambered for the 7x57 cartridge. It seems that many of the well heeled, experienced hunters that can afford a bespoke rifle have learned that the 7x57 kills well with minimum fuss and its mild recoil promotes accurate bullet placement, which is the real key to killing power. (For more about the 7x57 cartridge, see the Rifle Cartridge, Rifle Information and Reloading pages.)
This rifle is built on a commercial Swedish Husqvarna bolt action made prior to 1970. The Husqvarna is basically an extremely high quality, smooth, Mauser 98 pattern action with dual front locking lugs, a rear safety lug, full length extractor and receiver mounted blade type ejector. It is a true "controlled feed" action. Bolt rotation is approximately 90-degrees.
The Husqvarna action that forms the basis of this rifle is unusual in that it is an intermediate length action specifically sized to the length of the 7x57 cartridge. The 7x57 (and also the 6.5x55 Swede) is shorter in cartridge overall length than the .30-06, but longer than the short action .308 family of cartridges. The usual solution for most manufacturers that chamber these "in between" length cartridges is to use a standard length action and move the bolt stop forward to limit bolt travel to the correct amount for the 7x57. The rear of the standard length magazine is then blocked to 7x57 length and, presto, a 7x57 action. But, to Husqvarna's credit, they went the extra mile and produced an action of the correct size and length specifically to accommodate intermediate length cartridges.
The bolt knob is checkered on top for a better grip and smooth on the bottom for fast operation without abrading the hand, another custom touch. The bolt body and magazine follower have been engine-turned. The machine work, polish and high luster blue job on the barreled action are excellent, what some in the trade call a "Weatherby" blue job.
The procedure for removing the bolt from the Husqvarna action is a bit odd. There is no bolt release on the left side of the receiver as is common with many bolt action rifles, and pulling the trigger all the way rearward does not help. The secret is to open the bolt and depress the spring loaded ejector blade, which can be seen protruding slightly from the lower left side of the bolt face. With the ejector depressed the bolt will slide smoothly from the action.
The very clean, single stage, grooved trigger is user adjustable for pull weight, sear engagement and over-travel. In this rifle it has been adjusted to release consistently at two pounds. This is actually lighter than I usually prefer in a hunting rifle, but the release is so crisp that I am reluctant to mess with it. Of course, it is terrific for shooting from a bench rest at the rifle range.
The steel, one piece, trigger guard/bottom iron wears the same high luster blue finish as the barreled action and the release for the hinged magazine floorplate is in the front base of the trigger guard. The floorplate latch has a very generous bite; there is no way this floorplate is going to pop open accidentally or due to recoil. The two screws securing the trigger guard/bottom iron to the rifle have Allen heads rather than slots.
The two position safety locks the bolt closed when "on." It is a slider at the right rear of the action.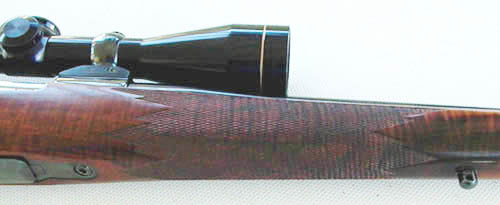 Forearm showing the fine line, wrap around checkering. Photo by Chuck Hawks.
Larry Brace was perhaps best known for his beautiful stock work and this example is no exception. It is made from what I would rate high double-A (AA) grade walnut with long black grain streaks and a pronounced, full length, fiddleback figure. The barreled action is precisely inletted into the stock. The pistol grip and forearm are hand checkered in generous 22 lpi, borderless point patterns, with the forearm pattern running all the way around the underside of the stock. It is a good example of functional and beautifully executed traditional checkering.
Buttstock showing shadowline cheekpiece and contoured recoil pad. Photo by Chuck Hawks.
The stock design is modern classic style with a pistol grip, straight comb and a shadow line cheekpiece. There is a palm swell on the right side of the pistol grip. The forend is round in cross-section to accomodate the shape of a half closed human hand. The buttpad is a 3/4" thick (including the integral black line spacer) dark brown, solid rubber Pachmayr Old English pad. Quick detachable sling swivel studs are fitted. The stock finish is hand rubbed oil. Fortunately, the stock fits me and it handles the modest recoil of the 7x57 cartridge well.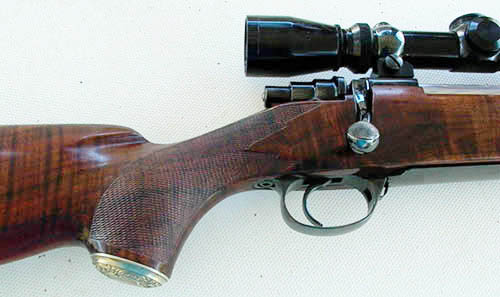 Pistol grip area; note original silver grip cap. Photo by Chuck Hawks.
The rather ornate, Germanic looking pistol grip cap that came on the rifle was made of nickel-silver. It was attached by two small slotted screws that were indexed. There was a blank oval in the cap's center where an owner's initials could be engraved.
That is fine, except that I dislike any feature that calls attention to itself on a rifle, so the bright silver grip cap created a problem for me. I thought that a grip cap made from buffalo horn would be more traditional and look better, and Guns and Shooting Online gun maker and engraver Rocky Hays agreed to make and install a genuine buffalo horn replacement for the silver cap.
New buffalo horn pistol grip cap. Photo by Chuck Hawks.
This rifle weighs approximately 8-3/4 pounds including the Leupold VX-I 3-9x40mm scope that I mounted in the Buehler bases and rings that were included with the rifle. The fully tapered barrel is 22" long, overall length is 44-1/2" and the length of pull is 13-3/8". The magazine capacity is four rounds.
To test the rifle I purchased a couple boxes each of Remington Express 140 grain Core-Lokt, Federal Classic 140 grain Sierra Pro-Hunter and Hornady Custom 139 grain Interlock BTSP factory loaded ammunition. (Those were the standard factory loads available locally and all use spitzer bullets loaded at a MV of 2660-2685 fps.) I also ordered some 7x57 production ammo from Stars and Stripes Ammunition. In due course samples loaded with the Hornady 139 grain SP bullet at a MV of 2685 fps and the Barnes XLC bullet, at a MV of 2880 fps, arrived from Florida.
The next step was actually shooting the rifle, which involved a couple of trips to the Isaac Walton outdoor gun range south of Eugene, Oregon. As is typical of Western Oregon in the spring, the weather was overcast with intermittent rain showers and a high temperature of about 60-degrees F.
The Isaac Walton rifle range offers covered firing positions, so the damp weather was really not much of an impediment. Heavy bench rests are provided by the range for the use of members and guests and a Caldwell Lead Sled weighted with two bags (50 pounds) of lead shot provided a steady support.
After firing a single careful shot at 25 yards with the scope set at 3x, which hit 1" directly above the center of the target and verified that I should at least be on the paper at 100 yards, I switched to 100 yard targets to sight-in the rifle and shoot some groups for record. This was done with the Leupold VX-I scope cranked-up to its maximum 9x magnification.
I used Hoppe's Crosshair sighting targets for all 100 yard shooting, with the following results:
Stars and Stripes, 140 grain Barnes XLC BT (MV 2880 fps)-
smallest group 5/16"; largest group 1-1/2"; mean average group = 0.94".
Hornady, 139 grain Interlock BTSP (MV 2680 fps)-
smallest group 13/16"; largest group 1-1/2"; mean average group = 1.25".
Stars and Stripes, 139 grain Interlock SP (MV 2685 fps)-
smallest group 1-3/16"; largest group 1-7/8"; mean average group = 1.27".
Federal, 140 grain Sierra Pro-Hunter (MV 2660 fps) -
smallest group 1-3/16"; largest group 2-3/8"; mean average group = 1.89".
Remington, 140 grain Core-Lokt (MV 2660 fps) -
smallest group 1-1/4"; largest group 2-3/4"; mean average group = 1.97".
That seems like pretty decent results to me, particularly with Stars and Stripes and Hornady ammunition. I have some 139 grain Hornady Interlock SP bullets and suitable powders and primers on hand and no doubt I will eventually get around to trying some reloads, but in the meantime my 7x57 rifle is ready to go hunting.
The Husqvarna action operated perfectly at the range. There were no problems of any kind. The rifle smoothly and reliably feeds, extracts, and ejects. The crisp two pound trigger makes the rifle a real pleasure to shoot from a bench rest. All in all, it is a superb bolt action for a hunting rifle, among the very best that I have ever used. It is a pity that Husqvarna actions are no longer being produced.
I fed all cartridges through the magazine, the recommended procedure for controlled feed rifles. Full length extractors usually have difficulty over-riding the rim of a cartridge fed directly into the chamber. This is a minor drawback of true controlled feed actions.
An all-around rifle deserves a versatile scope, a sight appropriate for short range as well as fairly long range shooting. The gloss black Leupold VX-I 3-9x40mm scope looks good on this traditional rifle and works as advertised. It provides legendary durability, clear views of the target and a precise point of aim via its duplex reticle. No one does the duplex style reticle as well as Leupold, who invented the type.
All in all, I am very pleased with my custom 7x57 rifle. It is reliable, beautiful, shoots good and is chambered for a versatile, effective and fun to shoot caliber. It also serves as a memorial to a departed friend.