Weihrauch HW .357 Magnum, A Funky Old Revolver
By David Tong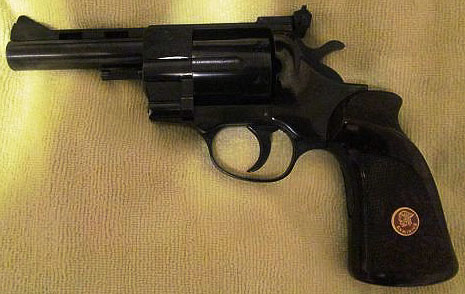 Photo by David Tong.
The German firm of Hermann R. Weihrauch Sportwaffen (pronounced "VY-rowk") is probably best known for its above average quality air rifles, once imported and private branded by Beeman's Precision Airguns. Out of the ashes of WWII, when the Soviets looted their manufacturing facility in Zella-Mehlis, where Carl Walther was also located, the firm relocated to Bavaria in a city named Mellrichstadt. They quickly became known for their precision air guns, both rifles and pistols, and currently manufacture these target arms with pricing ranging between $350 and nearly $1,500.
Much less well known than the Beeman R1 air rifle were the fairly uncommon cartridge firearms they produced. These were conventional Western style single-action revolvers and double-action revolvers that were an amalgam of different designs.
The example I am reviewing was probably built in the early 1970's, and is marked "HW 357." While these should not be confused with the pot metal "Rohm/RG" revolvers of pretty dubious quality, at the time they were--at best--medium grade guns that were budget priced.
Several interesting technical characteristics included a solid frame (no sideplate) design whose action parts (hammer, trigger) are held in place by cross pins, the lack of a thumb-piece to open the cylinder and a cylinder that rotates clockwise. The revolver appears to be made from machined and polished forged steel, with only the trigger guard / grip frame of some non-ferrous (zinc?) alloy. It was manufactured under the trade name, "Arminius," so named after an ancient Germanic military leader who successfully fought the Roman Empire's legions nearly two thousand years ago.
The barrel is a simple straight tube, with a very long threaded shank 1" in length corresponding to the frame's unusually long yoke length. Said shank is quite thin near the forcing cone, yet is surrounded by a very thick cross section of steel for support. Both the forcing cone and muzzle crown appear adequate.
The barrel has a one piece and serrated ventilated rib with an integrally machined Patridge ramp front sight, attached with two Allen screws. The serrations are matched by ones machined onto the top strap of the frame, culminating in a click adjustable rear sight that overhangs the rear of the framer. The rear sight's leaf resembles an enlarged version of the S&W rear sight and with the long sight radius, there is very little light showing around the front blade at arm's length.
Specifications
<![if !supportLists]>· <![endif]>Type: Double action revolver, target style

<![if !supportLists]>· <![endif]>Caliber: .357 Mag./.38 Spec.

<![if !supportLists]>· <![endif]>Barrel length: 3-7/8"

<![if !supportLists]>· <![endif]>Overall length: 10-½"

<![if !supportLists]>· <![endif]>Height: 5-¾" bottom of grip to top of rear sight

<![if !supportLists]>· <![endif]>Stocks: Checkered and stippled nylon with thumb rest (right handed)

<![if !supportLists]>· <![endif]>Hammer: Narrow, serrated

<![if !supportLists]>· <![endif]>Trigger: Narrow, serrated

<![if !supportLists]>· <![endif]>Trigger pull: 15 lbs. DA, 4-1/2 lbs. SA
Originally imported into the U.S. by Firearms Import and Export Company (F.I.E.) of Miami from approximately 1967 until the company went out of business in 1990. They were then picked-up by European American Armory (E.A.A.).
The stocks are held in place with a finely threaded machine screw that angles into the abbreviated grip frame from the bottom. The stock itself is comfortable to hold and it mandates a high-thumb target grip. It extends approximately ¾" beyond the top of the grip strap. Ostensibly this was to allow the manufacturer to use very small stocks for other models more suitable for concealed carry.
Without the usual American thumb piece to push forward, backward, or inward, one pulls the ejector rod forward to swing-out the cylinder. The cylinder's forward edges are lightly beveled, but the lightening scallops are not. The chambers are likewise just barely dehorned, not left razor sharp, as all but the most recent Ruger revolvers are.
The cylinder's bolt notches are not offset. One warning is that the cylinder can be opened or closed with the hammer cocked: don't do it! You would not want to close a loaded cylinder with a cocked hammer and the possibility of negligent discharge looming large.
The action parts barely visible with the cylinder open include the bolt and advancing hand. Both seem quite thin in section compared to American practice. The firing pin is a frame-mounted rebounding type and coil spring powered. There is no transfer bar system. The mainspring is coil type. The hammer has a small double-action sear pinned to it and this part is left in the white.
The yoke design is shared only by Charter Arms and seems quite a bit more solid than their execution. The part is retained by a slotted machine screw facing forward; not pretty, but workmanlike. The forward projecting portion of the yoke fits into a matching wedge-shaped cut in the frame for greater stability.
The revolver has a medium polish blue, with only the matted top surfaces and sight finish to cut glare. Fine tool marks are still visible beneath the finish.
The DA trigger pull is pretty atrocious for a somewhat modern revolver and was not used in testing. The SA pull, while heavy, was at least clean. If one wanted to fire it double action, one would need to pull the action parts out, polish the DA sear camming surface and lighten the mainspring by a coil or two. It might also be good to bevel or round off the flat-faced trigger and remove its serrations. None of this is an issue if it is to be shot mostly single action. Some careful stoning of the SA notch on the hammer would probably get the pull down to about 3 pounds and I'd leave it at that.
The revolver is funky, in that it is obviously not of American origin and has little coherence in its styling. The ventilated rib serves no purpose. The relatively comfortable stocks allow for a thumb high hold, but preclude the use of a speed loader. It would be nice it they filled the space behind the trigger guard.
That separate trigger guard and grip frame, made of non-ferrous metal with its only half-removed mold marks do not reek of quality. The overhanging rear sight looks odd, even if it does add to sight radius, while the ejector rod is insufficient in length to fully eject even .38 Special cases, an unusual oversight in a 4" revolver.
Overall, it looks like a piece built to a price, rather than to a standard, almost Russian. How well does it actually work?
Shooting Results
Several six shot groups were fired from a bench rest at 25 yards with three different types of ammunition. These included Remington .38 Special 158 grain RNL, Winchester .38 Special 125 grain +P JHP and Winchester .357 Magnum 158 grain JSP. Here are the average group sizes:
<![if !supportLists]>· <![endif]>Remington .38 RNL = 2-1/8"

<![if !supportLists]>· <![endif]>Winchester .38 +P JHP = 1-7/8"

<![if !supportLists]>· <![endif]>Winchester .357 JSP = 1-¾"
As you can see, the revolver preferred jacketed bullets. It felt well balanced, just slightly muzzle heavy for one-handed work, similar to an S&W Model 19 Combat Magnum. The sights provided a nice, tight sight picture without distracting colors, dots, or stripes on a sunny range day for early October in Oregon. I did not perform my usual rapid fire drills, because of the obtuse DA trigger stroke.
However, even with the four pound plus SA trigger squeeze, I managed single shot hits on clay bird fragments with the .357 ammo at approximately 30 yards. This strikes me as pretty good, considering this pistol's modest origins.
Conclusion
Since the demise of F.I.E., European American Armory, or E.A.A., is the importer of the Vindicator, a 2" and 4" fixed sight updated version of this Weihrauch revolver, which is available with blued steel, nickel plated steel or anodized aluminum frames. Calibers are .38 Special or .357 Magnum. These revolvers have modernized styling and an S&W type thumb latch release for the cylinder, as well as the usual spring-loaded plunger for the forward end of the extractor rod.
It is interesting that the German manufacturer does not significantly upgrade this lower end revolver, evidently being content to concentrate on its air guns. However, pretty is as pretty does and this old wheel gun shoots pretty well. Apparently constructed of decent steel, adequately strong and accurate, they can be readily had for under $200 in excellent condition. One could do much worse for the money for basic home protection or a field revolver.
There's little chance one could buy a decent semi-automatic pistol for so little, and certainly not nearly as powerful in this price class. A revolver does save one the effort of policing up little 9x19mm cartridge cases, too.
I wouldn't advise shooting many thousands of rounds of Magnum ammunition through one of these guns, as parts supply is probably non-existent, but zeroing it with one's preferred load and using it as a general purpose pistol doesn't strike me as such a bad thing.
Some gun snobs would simply dismiss it as beneath their dignity to consider, let alone own. That is their right, for they can afford better. Shooters on a strict budget, however, can go ahead and use it. It is not a collector's gun; it is homely and only adequate in finish, yet it does a decent job without breaking the bank.