HyCreek by Outdoor Smartwear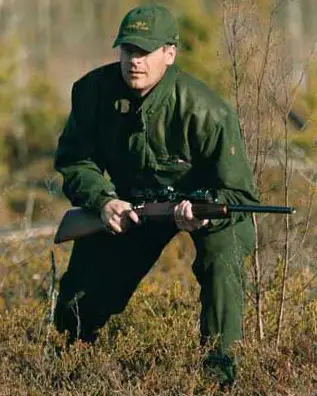 Sportsman Series. Illustration courtesy of Outhere Smartwear, Inc.
Youíve probably seen the advertisements in some of your favorite hunting magazines. The ads are fairly straightforward. An ultimate sportsmanís package of pants, jacket and nine bonus layering items are offered for $239.95. The so-called bonus layering items include a base layer of long underwear top and bottom, a micro fleece shirt and pants intermediate layer, a fleece jacket, a safety vest, a reversible cap, a fleece hat, and suspenders.
Outdoor Smartwear claims that, by eliminating the retail middle man, prices are kept lower and the customer benefits. I imagine it is simpler than that. The clothing is manufactured overseas and by ordering in large lots and selling in volume packages the company can present a competitive price for the customer and still make a nice profit.
More important for you is the question of whether the outfit is worth the price so Iím presenting my experiences here. I succumbed to the temptation and purchased an outfit last summer in the standard dark green. When it arrived I examined it carefully and thought that it looked like good stuff for the price. I stored it away and waited for cold weather hunting season.
I do a lot of predator calling and staying warm has always been a challenge. The older I get the more the challenge. My style of predator calling involves a lot of sets in several locations. I drive to the site, park my truck in a hidden location, quickly move to my calling site, set up, and then call. Depending on the situation I may call for twenty minutes or as long as an hour. Predator calling is always most productive in cold weather. I might add that the colder the better in most situations.
Being raised on a stock farm and with years of outdoor experience, I know that to retain warm and literally stay healthy, dressing in layers is a paramount consideration. I also know that if I get in a situation where I either overheat, get wet, or break a sweat in layered clothing I can be just as, if not more, uncomfortable. The first weakness Iíve usually noticed about a lot of young hunters is that they have no idea of how to dress properly for cold, wet, conditions. Instead of hunting with a valuable partner, I find myself accompanied by a stomping, fidgeting, shivering, mess. You canít blame them, but Iíve often found myself lecturing adult men on the proper way of dressing and the value of long underwear and insolated clothing.
Not only do many under-dress but some over-dress as well. They step out of the truck looking like the Michelin Tire icon and spend the day over-heating and shedding clothing. They tire quickly and suffer from literal heat exhaustion. Whenever you see a guy panting with beads of perspiration rolling off his forehead in 20 to 30 degree weather, you know heís overdressed.
Properly dressing for the outdoors in cold weather is a balancing act. You want to be able to move easily in as light weight an outfit as possible. You want to stay dry and avoid any situation where you perspire heavily. You want your fingers, ears and feet adequately protected. Nothing, and I mean nothing, will ruin a hunt quicker than cold ears, fingers, or toes. You want to be able to shed or add layers of clothing as a normal winter day passes. This means near or sub zero temperatures at dawn, the high 40ís or low 50ís by mid afternoon and then back to the 20ís or 30ís by sunset where I normally hunt.
The greatest value of the HyCreek Outhere Smartwear outfit is that this layering system is in nearly perfect balance. This outfit would be a perfect gift for a first-time or fairly inexperienced outdoorsman because it will teach a person how to dress. Combine this outfit with a good pair of gloves and some well-designed insulated boots and the novice hunter can enjoy a day in poor weather with a minimum of discomfort.
More experienced outdoorsmen will appreciate this outfit for what it is. While I have lots of outdoor clothes, Iíve found myself wearing variations of this HyCreek outfit more and more. In fact, Iíve found so much value in the clothing that I recently ordered two extra pairs of trousers from their closeout section to match with this and other outfits.
You can examine the outfit at the companyís website (www.outheresmartwear.com) so you donít need me to repeat their product explanations or sales pitch. What I want to rather do is to give you some insight that isnít necessarily in the web site.
Iím 6í4Ē tall with a 36Ē inseam, 36Ē sleeve length, and a 37Ē waist. Right now I weigh 227 pounds but I can and do balloon up to 250 if Iím not really careful about diet. Finding outdoor clothing that fits properly without paying a fortune for it has always been tough. Finding correct sleeve length and pants inseam length has always been a challenge. The HyCreek outfit fit me like a glove when it arrived. While the pants are listed in my size as 42.5Ē the adjustable velco waist straps make them virtually perfect for my build. Movement wearing the complete outfit is non-restrictive. This is very comfortable clothing.
Pockets, pockets, pockets! I love the convenience of outdoor clothing with well designed and numerous pockets. The pockets in the coat and pants are perfectly placed, of the proper depth, or of rugged internal construction. There are zippered enclosures for keeping car keys and valuables, and roomy well-protected outside pockets for calls, knives, and other valuables.
The material of the coat and pants is rugged, quiet, and easily maintained. Iíve had the coat and pants covered with blood and soil. I wash the clothing in cold water (I use scent free liquid soap) and throw them in the dryer on low-cool permanent press cycles (the company recommends line drying). There is some fading of color but the clothing comes out of the dryer ready to wear again.
Rugged construction is always important. I consider this outfit to be of top quality material with good snaps and zippers, strong Velcro supports, and reinforced stress points. So far it has held up extremely well. I also purchased a pair of briar proof bibs that have gotten a fine workout during frosty, wet mornings of upland game hunting and sitting in the snow for predator calling. The clothing is wind proof and highly water resistant with little bulk.
A lot of the outfit matches up very well with other clothing such as my blaze orange coats for deer hunting, camo clothing, and upland game jackets and pants. While you may not feel that you need all of the items in the outfit, you can plan on using every item in one way or another. I certainly didnít need another cap but this one is so versatile that I keep it in the truck for emergencies.
So, is the outfit worth the price? Yes, and much more. This is a perfect purchase for someone wanting to give an outdoorsman a nice gift. It is a fine choice for the novice and experienced hunter. The experienced man appreciates it and the novice learns the proper way to dress. It would be an excellent purchase for a suburban or city dweller who wants to go on an expensive elk, deer or bear hunt and does not have a good selection of outdoor wear. Finally, any experienced trapper, hunter or even a stockman will appreciate what this outfit has to offer. I give the Hycreek outfit a five star recommendation.