First Look: 28 Gauge Ithaca Model 37 Pump Shotgun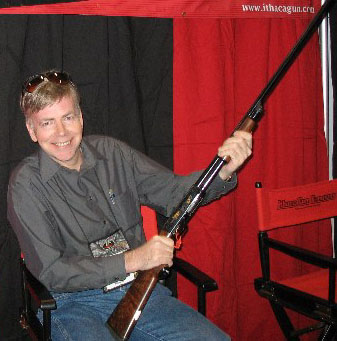 Randy with 28 Gauge Ithaca Model 37 Pump Shotgun
The Ithaca booth at the 2009 SHOT Show in Orlando was exceedingly busy; it sure looked like they had a great show. The interest in the new Ithaca's was at an all-time high. Ithaca has a just-completed prototype of their new made in the USA O/U on hand, the great looking 12 and 20 gauge models they have been shipping and they introduced the first-ever in history Model 37 in 28 gauge.
The Ithaca Model 37 28 gauge is a head-turner, designed on a new 28 gauge frame, available (for starters, anyway) on a custom order basis with shipments commencing in March 2009. As a custom order gun, you can get what you want as far as wood grade and engraving type. The standard cut-engraving patterns are done in house, with the full-coverage, hand engraved options offered both in a subdued version (my favorite) or with gold-inlays as shown with the 28 gauge I'm holding in the photo above. It is a stunningly great looking gun and just screams "fun" to me. All the Ithaca's I examined had superb triggers, very slick actions and looked fabulous. It was once of the most confidence-inspiring, sweet-swinging 28 gauges I have shouldered in years.
It seems like everyone wants a new Ithaca this year, now that they finally have gotten it right. In addition to keeping up with all the 12 and 20 gauge Model 37 orders, the 28 gauges are scheduled to start shipping in March 2009.
The new Ithaca O/U is soon to follow, with a Model 37 in 16 gauge scheduled for later this year. A brand-new Ithaca Side-by-Side is in the works and expected towards the end of 2009.
For now, though, the new 28 gauge turned many heads (including mine) and will likely keep Ithaca busy for a long, long while. I cannot imagine who wouldn't love to have one. Expect a full, detailed, critical review of this all new, first ever 28 gauge in the near future. It promises to be a real winner, a gun for the ages.
NOTE: There are full-length reviews of 20 and 28 gauge Ithaca Model 37's on the Product Reviews page.