Ithaca's Perma Guard Defense and Waterfowl Shotguns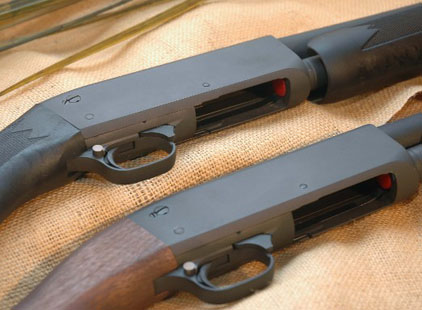 Ithaca Gun Company has been busy applying the most modern technology in durable metal coatings to their all-American Model 37 line, this time focusing on both their brisk-selling self-defense guns and their new waterfowl models. This long-standing issue has been rugged durability under harsh conditions without affecting absolute reliability.
The issue has been how many matte and camo coatings have long been applied, how fragile they can be, how they can affect smoothness of actions, and how quickly aggressive cleaning solvents can destroy them. Parkerizing has been around for a long time by now and has its issues. Though Parkerizing has become generic term, many manganese or zinc phosphating coatings are referred parkerized. Parkerized coatings still require lubrication, can been excessively thick, and don't necessarily have good wear resistance. Many of the camo dip and clearcoat finishes out there today are also easily scratched and have an aversion to solvents and cleaners.
Perhaps the best-known modern firearms treatment is used by Glock, the Tenifer process that is a style of nitriding Glock has used on their slides. The final finish is almost completely salt-water corrosion resistant and is considered 85% or so more corrosion-resistant than hard chrome. It is also thin, 0.5 mm thick and is extremely hard at 65 Rockwell C.
Ithaca's new proprietary process, Ithaca Perma Guard, is very thin and addresses both corrosion resistance and wear resistance that conventional metal treatments cannot approach. By being very thing and even in its application, it does not affect the precise tolerances that the current Ithaca Gun Company is bringing to firearms manufacture. While metal corrosion resistance and wear resistance was Ithaca's goal, they had a very pleasant surprise in their testing. Far from interfering with function, Ithaca discovered that stick-slip was essentially eliminated, and the Ithaca Perma-Guard made their super-slick, super-smooth actions even quicker and smoother. This offers the consumer buttery smooth, "shot-in" performance right out of the box. All this, with none of the problems found in various comparatively uneven, fragile, more decorative camo dipping, Parkerizing, or ridiculously thick "plasticy" attempts you may have seen as of late.
Ithaca has already implemented their new Perma Guard process to their HD line with shipping of their revamped waterfowl guns close at hand. I would also expect Ithaca to further implement Perma Guard, at least strategically, in the rest of their growing line.