The Handguns of James W. Hoag
By David Tong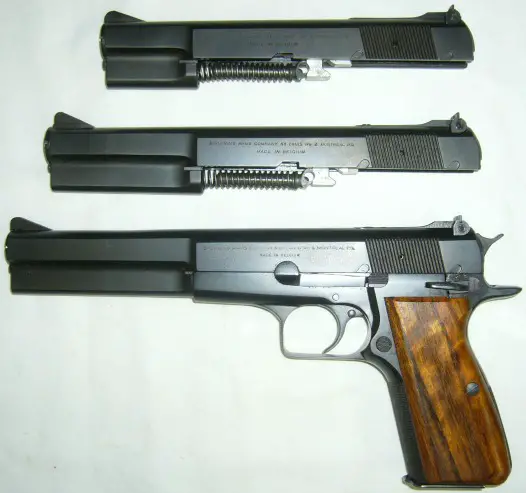 A Hoag modified Browning Hi-Power with 5", 6" and 7" slide/barrel assemblies.
As an example of a fine human being in all respects, and my first employer over thirty years ago, this article is dedicated to Jim Hoag.
James Hoag is a pistolsmith. While he is now more of a general gunsmith, his abiding passion was to create highly and tastefully modified service pistols.
Before he was involved with firearms, Jim Hoag was an aircraft armorer in the U.S. Navy. He served aboard the carrier USS Bonhomme Richard with the Navy's first squadron of Douglas A-4 Skyhawk attack aircraft.
After his stint serving Uncle Sam, Jim became a tool and die maker, before deciding to become a gunsmith specializing in handguns. In the late 1950s, he became acquainted with a certain Mr. Jeff Cooper, a retired WWII lieutenant colonel of some notoriety and the foremost proponent of the Model 1911 pistol and its .45 ACP cartridge.
Jim participated in the genesis of the "Modern Technique," the use of the two-handed Weaver Stance, named after Los Angeles County Deputy Sheriff Jack Weaver. Weaver could famously place center hits on a silhouette target at 100 yards with his six inch Smith & Wesson K-38 revolver.
Col. Cooper started a shooting club in Big Bear, California, called the Bear Valley Gunslingers. At first this was a group of guys interested in fast draw and point shooting, but Cooper developed other ideas. He believed, correctly as it turned out, that shooting a pistol most accurately required a two-hand hold for both steadiness and recoil control.
Not long after this, Cooper started writing a long-lasting column for Guns & Ammo magazine, called "Cooper on Handguns." He was a historian, an opinionated raconteur and, the few times I met him, a consummate gentleman.
Outgrowing the developing Big Bear City, Cooper then moved his range operations to Wes Thompson's Juniper Tree Range, outside of Saugus and near the current Highway 14. It was there the techniques he developed found many adherents and the Southwest Pistol League was born.
This group was dedicated to the use of the pistol in rapid fire, on multiple targets, including movement and reloads. If one mastered these things, Cooper reasoned, he or she could be reasonably assured of prevailing in a personal defense situation.
Jim Hoag and Col. Cooper, among other notables including Ray Chapman, Thell Reed and Ron Lerch, saw the international interest in such training and together formed the beginnings of the I.P.S.C., the International Practical Shooting Confederation. While this organization has rather lost its way, attracting gamers and becoming a "race gun" league, it remains to this day one of the largest groups of people dedicated to understanding the service pistol in rapid fire.
Jeff Cooper moved his training facility to Paulden, Arizona and named it "Gunsite Raven." Cooper passed away in 2010 and, while some of his techniques are no longer popular, his tutelage moved defensive handgun training away from one-handed target stances on static bullseyes to the type of "practical" shooting done today by hundreds of thousands of shooters around the world.
While they have not seen each other for years, Mrs. Janelle Cooper remembers Jim Hoag fondly. Jim spent time at their home for dinner on many occasions.
Jim worked for a time at now defunct King's Gun Works of Glendale, California, before striking out on his own in 1972. His shop at 8523 Canoga Ave., Suite C, Canoga Park, CA remains at this location to this day (2016).
He became, primarily, a student of the 1911 pistol, understanding its mechanical advantages and correcting its issues. At first building pistols for his own use in competition, he later decided there was enough demand for him to go into business building them for other competitors and his business flourished.
He was featured in the Guns & Ammo cover story several times, showing his "long slide" 1911 pistols (6", 8", and 11" barrels). In addition, Jim's standard and long slide Browning Hi-Power pistols (standard-length, 6" and 7" barrels) have been featured.
Jim will also build custom, bull-barreled Smith & Wesson Model 29 .44 Mag. revolvers into superb target revolvers. These receive a Douglas barrel, hooded front sight and action work.
During the short period of my tenure there, Jim was building 1911s for Mickey Fowler, Mike Dalton and Ron Lerch. These men were three of the founding members of the Southwest Pistol League.
Mickey Fowler was the IPSC international champion for several years in the 1980s. He was a very good shot. On one occasion he came into the shop to show us a target with a hand held, 50 yard, 5-shot group from his 6" Hoag Master Grade pistol measuring just 3/4".
Jim still builds his 1911 pistols for all budgets and levels of experience. The base model is the "Police Special," and it is a good starting point. The barrel is fitted to the slide and a new barrel bushing is fitted. Link lugs are fitted to the slide stop pin, high-visibility fixed sights are fitted, the front sight is made of precision ground tool steel and silver-soldered into a Woodruff key cut. The barrel is lightly throated and the extractor tension and hook are adjusted for reliability. Finally, the trigger pull is reduced to a crisp 4.5 pounds.
The second model is the "Class B." All of the features of the Police Model are included, along with extra niceties. These include a low mounted Smith & Wesson adjustable sight and hand checkering of the frame and mainspring housing at either twenty or thirty lines per inch. Twenty lines is better for a secure hold, but thirty is less abrasive if you have tender hands. The length of the trigger blade is optional and an over-travel stop is fitted.
The third model is the "Class A" pistol. This is a further refined Class B gun. Formerly, a Bo-Mar low mounted adjustable sight was fitted. An equivalent sight is now used, as the Bo-Mar company is no longer in business. The top of the slide is given fine serrations to help reduce reflections. A one-piece steel recoil spring guide rod of Jim's manufacture is fitted, while additional internal polishing is done to all operating surfaces to ensure smoothness and reliability. A wide grip safety of Jim's conservative design is installed to help prevent hammer bite with the spurred hammers preferred by many. An extended, single-sided thumb safety of Jim's design is fitted.
The fourth model is the "Master Grade." This is the top model and no expense or time is spared. The price is on application. The slide is fitted to the frame for a free-running, yet tight and slop-free fit. This actually makes the pistol more reliable, so long as it is not used in a military context, as the slide, cartridge pickup and barrel location relative to the frame are all in closer and consistent proximity.
A match grade Kart stainless steel barrel is provided. These barrels have additional metal on them that require careful fitting to ensure precise alignment of the barrel within the locking lug recesses and standing breech, the bushing and link lugs and the position of the primer relative to the firing pin. These pistols are tight as delivered and several hundred rounds should be fired to adequately determine their reliability. This said, most of them run just fine right from the shop.
Additional features of the Master Grade include 50 line per inch hand checkering of the rear of the slide, extractor, ejector and magazine latch thumb piece. The buyer has the option of a standard (rounded) trigger guard checkered at 30 lpi, or a similarly checkered squared trigger guard. While most folks do not use the square guard anymore, it is a viable option for those who do. An ambidextrous safety lever is fitted per customer selection.
Finally, additional work is performed to make the pistol look better and work smoother. A stock Colt pistol usually comes with its machined curve lines around the trigger guard and forward dust cover area looking pretty wobbly. Using Dykem solution, scribe lines and very well-practiced eyes and hands, Jim uses files and increasingly fine grades of sandpaper to make these lines dead horizontal and smooth.
Your choice of trigger blade length and width is also fitted. The trigger pull weight is approximately 3.5 pounds and absolutely clean. All functioning machine cuts, including the trigger stirrup and magazine chute, are hand polished to perfection.
Master Grade pistols can be (expensively) modified into "Longslide" versions, with 6" or 8" barrels and slides. Jim has made two 11" Longslide 1911s and these featured barrel locking lugs personally hand cut by Mr. Hoag.
These pistols have a slide shortened to the standard barrel bushing retaining lug slot. Then, a section of 4140 steel is precision bored and reamed to match and welded onto the slide.
The Longslides are annealed to make them easier to machine. A "shaper" is used to cut the basic contour of the slide and then both horizontal and vertical mills are used to bring the steel surfaces down to a few thousands proud of the original slide.
Then, the REAL work begins! A process of draw filing, using fine "mill bastard" files, reduces the Longslide to the original slide dimensions, resulting in a perfect blend to the original part. I have done one of these 8" slides myself and I can say, without doubt, that I spent well over thirty hours time getting those lines dead straight and flats level.
The Master Grade is also subject to meticulous hand polishing of the flats of both slide and frame. Increasingly fine aluminum oxide paper backed with a 12" file is used, down to worn-out 600 grit wet with polishing oil. A buffing wheel is nowhere to be found in this process, which takes the better part of a full day to complete on just the two parts.
All parts are then hot blued in house, to maintain complete control of the finishing process. A thorough function and safety check are performed after reassembly and Master Grade guns are test fired to ensure function and accuracy.
The Browning Hi-Power is Jim's other favorite semi-automatic pistol, as it shares the same single-action trigger pull, manual of arms, all steel construction and fine balance. These days he mostly builds Police Special practical carry pistols or full-house Master Grade Hi-Powers.
One difference between a top drawer Hoag Hi-Power and that of others is Jim manufactures his own screw-removable barrel bushing, to ensure tight tolerance and accuracy of the fitted barrel. He also builds a special order long-slide Hi-Power now and then, although this is rare these days.
My personal experience with Jim's work includes a Class A 1911, Master Grade Colt Delta Elite 10mm Auto and an almost full-house Browning Hi-Power. I have also shot a 6" long-slide and that thing tracked silhouette targets during rapid fire like it was radar guided.
Mr. Hoag is now in his eighties. He is probably the last of the "old masters," the only one who remains a one man shop and the only one I know of who has a Jeff Cooper connection. Those ranks once included the late Armand Swenson and Frank Pachmayr, both from Southern California.
I plan to have Jim Hoag build me one more bespoke 1911 before he retires. If you love this pistol as much as I do, so should you.
ADDENDUM
March 28, 2017 - It is with great sadness that I must let the readers know that Jim has retired after 44 years at his Canoga Park shop. The business is closed, his machines have all been sold and none of his family members were interested in keeping it going. I last visited him in March 2016 and he seemed about as enthusiastic as ever, but after having a stroke three years ago, plus the increasing amount of regulation and scrutiny in the city of Los Angeles and the state of California, he decided it was time to hang it up.
I hope that those of you who were fortunate enough to have Jim build a pistol for you will not immediately relegate it to a safe, but get out and shoot it. That is what he built them for: competition, personal protection and general target shooting. They are all fine instruments that deserve to see the light of day.