First Look: Kel-Tec P3AT .380 Pistol
By Mike Weaver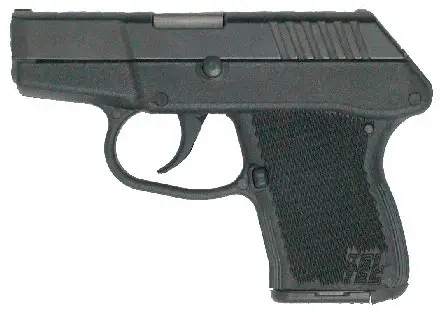 Kel-Tec P3AT .380 Pistol. Illustration courtesy of Kel-Tec CNC Industries, Inc.
I purchased a Kel-Tec P3AT .380 ACP semi-auto a couple of weeks ago. I was lured by its tiny size, light weight and, so far, I really like it. The P3AT is built with a Dupont ST-8018 polymer grip and trigger guard, a 7075-T6 aluminum frame that houses the firing mechanism and SAE 4140 ordnance steel slide and barrel. Here is how Kel-Tec describes their miniature pistol:
"The P-3AT is a semi-automatic, locked breech pistol, chambered for the .380 Auto cartridge. It has been developed from our highly successful P-32 pistol with negligible increase in weight and size. The slidestop has been eliminated and the magazine capacity reduced to 6 rounds due to the larger cartridge."
"The firing mechanism is double action only. The magazine has a 6 round capacity. The KEL-TEC P-3AT is the lightest .380 Auto pistol ever made. Thanks to its locking dynamics and superior ergonometry, perceived recoil and practical accuracy are comparable to much larger guns."
"From the very beginning of the design and development, computers have been used exclusively. All machined components are also made on modern high speed computerized equipment."
I have fired 100 rounds through my P3AT, consisting of 50 Magtech and 50 Speer Gold Dots, and there were no malfunctions while firing. However, twice after initially inserting the magazine and racking the slide, the first round didnít fully chamber. Instead, it was stuck about halfway in. (There is probably a technical term for this, but I donít know what it is!) Simply pulling back the slide a little bit and releasing it resolved the problem and the cartridge loaded correctly. Both times that this happened, it was with Speer ammunition.
I think the problem may have been due to my technique. I am not sure that I pulled the slide back all the way on the two occasions that these failures to feed occurred. I am sure that in the future I will be able to determine if the problem is ammo selection, my technique, or something else, as I gain more experience with the pistol. Anyhow, once the gun was properly loaded, all rounds cycled through as expected with no hiccups.
TECHNICAL SPECIFICATIONS
Calibers : .380 AUTO
Weight unloaded lbs. : 8.3 oz.
Loaded magazine : 2.8 oz.
Length : 5.2"
Height : 3.5"
Width : .77"
Sight radius : 3.8"
Magazine Capacity : 6 rounds
Trigger Pull : 5 lbs.
2008 MSRP: Blued Finish $324.00 (Parkerized Finish $366.00, Hard Chrome Finish $382.00)
I was pleasantly surprised that the recoil was not nearly as bad as I had imagined. I was told by the dealer and in reading many blogs that, although this gun is good for what it was designed (i.e. deep concealment, personal protection), it was not a lot of fun to shoot because of the recoil. However, I did not find the recoil to be a problem. I have large hands and my ring finger of my shooting hand only partially rests on the grip, while the pinky is totally flapping in the wind. Despite this, I found the gun to be very manageable and not at all unpleasant to shoot.
The other thing I liked about the Kel-Tec P3AT was that I could shoot it accurately, at least by my standards, which granted leave a lot of room for improvement. My other handguns include a Glock 19 and Glock 22. These were my first handguns and the ones with which I learned. Out to about 25 feet, my groups were similar in size to what I get when I shoot the bigger guns.
One thing I am not in love with about this pistol is the sights. They are so small and low that I find they take excessive time to acquire, which is certainly not what you want in an emergency situation. However, at the distance that I think this gun would be useful, I am not sure how important the sites would be, even if they were better. Overall, I am very impressed with the little Kel-Tec P3AT.
I see that Ruger recently introduced their LCP .380 and Kahr Arms is about to release a similar sized .380 pistol; these three guns might make an interesting comparison. The Kel-Tec web site can be found at: www.kel-tec-cnc.com