Kestrel 5500FW Fire Weather Meter Pro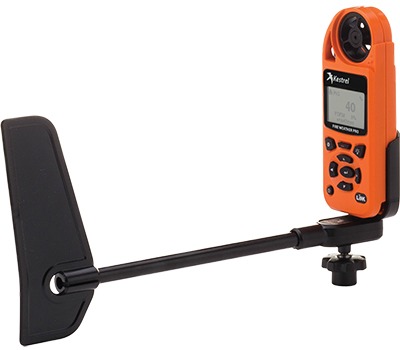 5500FW mounted on optional vane. Illustration courtesy of Nielsen-Kellerman.
Ten years ago, we tested and reviewed the Kestrel 4500 Weather Tracker. It was the most compact and comprehensive, hand held, weather station on the market. It accurately measured and stored for future reference fourteen parameters. It was an ideal piece of equipment for hunters, backpackers, campers, or hikers venturing into the wilderness. It would also prove to be useful for target shooters who wished to take some of the guesswork out of getting on target.
Fast forward to 2018 and we have the Kestrel 5500 Weather Meter. It has all of the same features of the K4500 but with updated software and an optional LiNK which communicates with the Kestrel LiNK App on your smart phone.
The 5500 Weather Meter measures, calculates and displays in real time and stores in memory fourteen different environmental parameters. It features a hi-res and hi-contrast display that is easily read under even bright sunlight, but with a backlit screen for nighttime use.
If that is not enough to get your attention, the unit is drop tested to MIL-STD-810G standards (It must be rustproof and survive drops of over eight feet onto a rough concrete surface with no damage to the case or internal components) and waterproof, sealed to IP67 standards (capable of withstanding water immersion at a depth of one meter for 30 minutes without penetration).
The LiNK connectivity is powered by Bluetooth and provides connection not only to your smart phone, but also to your computer (optional). The Kestrel 5500 Weather Meter is reasonably priced at $399 with LiNK. With all of the above, why is this review focused on the Kestrel 5500FW Fire Weather Pro Meter? That is a good question and the answer is below.
The Kestrel 5500FW was designed for and is extensively used by wild fire fighters throughout the western United States. It provides NIST (National Institute of Standards and Technology) accuracy with all of the same features of the K5500 Weather meter, plus two additional parameters essential for firefighters. These are the Probability of Ignition (PIG) and Fine Dead Fuel Moisture (FDFM).
Those last two terms probably have little meaning to most folks not familiar with firefighting. However, they are very important if you spend much time in the mountains, or live in an area where wild fires are common.
The 5500FW allows you to set the parameters for the PIG:
Percent Shade: 0% - 49% or 50% - 100%
Aspect: North, South, East, West
Slope: 0% - 30%, 31%+
Fire Elevation: Above Level, Level, Below Level
Once you have entered the conditions for the area that you are in, the 5500FW calculates the PIG as well as the percent FDFM, and it updates as conditions change.
A very useful accessory included with the LiNK equipped K5500FW Pro is the Rotating Vane Mount. If purchased separately, this accessory kit costs $49.
This accessory mounts to any Kestrel 5 Series meters and can then be mounted onto any tripod with a standard 1/4-20 fitted bracket. Once mounted, the Kestrel becomes a full-featured weather station. The large wind vane's base keeps the Kestrel oriented into the wind for continuous measurement of wind speed, wind direction and other major weather parameters.
The Kestrel 5500FW can track and log over 10,000 sets of time-stamped data, providing a complete history of conditions in the area (and on a fire) from the moment you arrive to when you leave. That is more than any hunter or backpacker needs, but is essential for wild fire fighters.
The data recorded in the Kestrel 5 with LiNK wireless will be displayed on your smart phone via the Kestrel LiNK App. What you now have is a (sort of) remote weather station (up to 100 yards away and direct line of sight) providing real time weather readings.
The 5500FW allows one to keep a record of the meteorological, weather and potential fire conditions in your area for the entire duration of your outing. Given the fact that the fire season is now virtually year around across much of the US, the additional features of the 5500FW over the 5500 Weather Meter are well worth the few extra dollars. The 2018 MSRP of the 5500FW (with LiNK & Vane) is $422.
Features
All measurements displayed in real-time and stored for monitoring trends.
PIG and FDFM readings are built in with no reference tables needed.
Rapid and consistent measurements reduces risk of human error.
Large, hi-res and hi-contrast graphic display for daylight and backlit for night use.
Optional LiNK by Bluetooth provides wireless communications with mobile devices and computers (for in-depth analysis).
Rotating Vane Mount included with LiNK units allows unit to become a portable weather station.
Drop tested to MIL-STD-810G standards and waterproof to IP67 standards and it floats.
Protective pouch, neck lanyard and Lithium AA battery included.
Battery compartment isolated from circuitry in case of battery failure.
Five year warranty.
Given that the 5500FW is only $23 more than the 5500 Weather Meter, we recommend spending the extra money to get the additional environmental measurements. Better to have the capability and not need it, than to need it and not have it.