Kick Killer Leather Slip-On Recoil Pads
By Chuck Hawks
Any hard kicking rifle or shotgun deserves a permanent recoil pad and I have recoil pads fitted to guns that don't come with them. On the other hand, there are some long guns to which I am reluctant to fit a recoil pad. An example would be my Charles Boswell shotgun. This "London best" gun came with an elegant, hand checkered buffalo horn buttplate with which I refuse to dispense. Some form of temporary or slip-on recoil pad thus becomes a necessity when I want to shoot a round or two of clays with the Boswell.
The same sort of situation applies to rifles and shotguns that are shipped to Guns and Shooting Online for review without a recoil pad. We need to return these guns in original condition, so we cannot be cutting off the buttstock and installing a Pachmayr Decelerator recoil pad, no matter how much we yearn to do so. Any borrowed long gun presents a similar problem.
My preferred solution to these kinds of problems is a Kick Killer leather covered temporary recoil pad. I have used the inexpensive 3/4" thick Pachmayr slip-on rubber recoil pads successfully and recently tried a 1" thick Sims Limbsaver slip-on rubber pad with less satisfaction. (The latter is reviewed on the Outdoor Accessories Page.) However, my favorite temporary recoil pad remains the 1/2" thick Kick Killer.
The Kick Killer satisfactorily attenuates the recoil and, because it is only a half-inch thick, it changes the gun's length of pull less than most other slip-on recoil pads. This is particularly important with shotguns, which must be mounted to the shoulder quickly and reliably without catching on clothing.
Kick Killer temporary slip-on pads can be secured by leather laces or Velcro. The lace-up pad is tighter and can serve as a semi-permanent pad, but is more time consuming to install. The Kick Killer Velcro pad is the easiest recoil pad to put on and take off that I know of and is excellent for a round of trap or a day at the rifle range.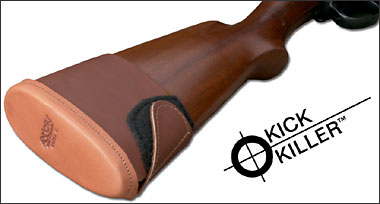 Illustration courtesy of the Kick Killer Company.
Here is how Kick Killer describes their temporary recoil pads:
"Protect your shooting shoulder with the most effective recoil absorber in the world: Akton® viscoelastic polymer. Both the recoil force and duration of peak impact are reduced to give you superior firearm control even during prolonged shooting sessions firing with hard-hitting rifles and shotguns. These butt pads feature a full 1/2" Akton® shield and a smooth surface that allows fast mounting with no snags. Lace-on leather cover creates a secure fit."
Except for the Akton pad itself, which is completely internal, the Kick Killer pads are made of leather. They have never affected the finish of my gun stocks, even if left in place for extended periods of time. Their smooth leather cover is very unlikely to catch or stick on clothing. Kick Killer pads are available is sizes Extra Small, Small, Medium, and Large.
Sizes: XS (4.62" x 1.48"), S (5.02" x 1.50"), M (5.20" x 1.65"), L (5.30" x 1.74").
Kick Killer recoil pads are available online from Cabela's and Orvis sell a very similar Velcro slip-on pad embossed with their name. The Kick Killer webpage can be found at www.kick-killer-recoil-pads.com. Kick Killer pads work fine, hold up well and look much nicer on the gun than rubber pads.