Kimber TLE/RL-II 1911 Pistol
By David Tong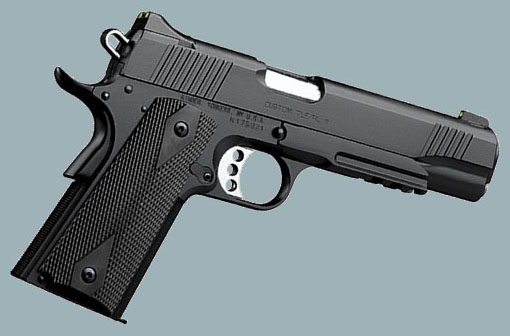 Kimber TLE/RL II. Illustration courtesy of Kimber.
I recently have been testing a Kimber TLE/RL-II and wanted to report my initial findings. It is a 40 ounce, all steel, John Browning pattern, 1911 model, single action, semi-automatic pistol. It differs from the 97-year-old original in several minor, but no major, ways.
Kimber has made a name for itself in providing so-called "custom" features commonly asked for by experienced shooters for little extra cost, and the American buying public has taken to them. These features include wide beavertail grip safeties, extended thumb safeties, long aluminum triggers with overtravel stops and flat (checkered) mainspring housings. Kimber pistols also feature precisely CNC-machined slides, frames and barrels to provide a free running precision fit for accuracy and reliability.
With the advent of the "Custom II" series, they have added a grip safety deactivated firing pin safety to provide more protection against a negligent discharge if the pistol is dropped. While the specific circumstances where a 1911 pistol will fire when dropped are pretty rare, i.e., dropping them from a height of 8' or more onto their muzzles, thus overcoming the firing pin spring and allowing it to move forward to detonate the chambered round, lawyers and legislators seem to think it's a good thing. The Kimber version is simpler by one part than the Colt Series 80 system and does not impair the trigger in its operation.
The "RL" portion of the name of the test pistol means that it has an integrally machined M1913 "Picatinny" style accessory rail on the dust cover ahead of the trigger guard, to allow the fitting of lights or lasers commonly used by military and police units. This also has its plusses for the armed civilian, as identifying one's target before pulling the trigger can surely save one a lifetime of regret over shooting the wrong person.
In addition, this light rail increases the thickness of the dust cover to nearly double. It has been my observation that if a 1911 is going to crack its frame anywhere it is in the thin area immediately adjacent to the recoil spring guide seat and this integral rail all but eliminates the issue. I have seen stock Government Models shooting IPSC "major" loads run over 110,000 rounds before cracking here and while the cracks can be re-welded, the repair is a bit unsightly.
Taking the pistol to the range was no great surprise. All aspects of the pistol were normal to this long time user of the platform, the bold tritium night sights and crisp trigger promised good accuracy and this Kimber did not disappoint.
Loads fired at the Albany Rifle and Pistol Club range using just an arm rest (not over sandbags) provided 2" or better five shot groups at 25 yards with all loads fired, including Federal Hydra-Shok 230 grain, Remington Golden Saber 165 grain and 230 grain, and Speer Gold Dot 200 grain. The triggers on late model Kimbers tend to release with a very predictable amount of creep at about 4.5 pounds and the test pistol was no exception.
Not only that, but there were no malfunctions of any kind. I used a variety of magazines for the test, including factory Kimber, Colt, McCormick, and Novak's, so I can state with confidence that the pistol will indeed work and shoot just fine. Pre-shoot preparation was no more than minor cleaning and a light lubrication and I did not re-lubricate during the shooting session of some 300 rounds.
I have fitted a G.I.-style arched mainspring housing with a lanyard loop, a short 1911A1 style trigger and returned a G.I.-style recoil spring guide and plug to the pistol. The latter to ease tool-less disassembly for cleaning.
In addition, Strider-Simonich G-10 composite grips, the same manufacturer who supplies the U.S. Marine Corps Special Operations personnel, are now on the pistol to ensure a firm grip and preclude twisting on recoil. These grips are quite aggressively textured, but can be "de-horned" by light sandpapering if required. I also purchased a Streamlight TLR-1 rail mounted tactical L.E.D. light that fits a variety of rails using the removable plastic inserts provided with the unit.
One improvement I would like to see is a rust resistant finish on the TLE. The "black oxide" finish is not durable and it will rust, as will the carbon steel barrel that is left in the white. (Kimber has addressed that issue with a stainless steel version of the same pistol, the "Stainless TLE/RL II." -Ed)
It is best to warn readers who already have a full size 1911 pistol that they will most likely incur the expense of purchasing a specific holster for the Kimber TLE/RL2, because it will not fit, with rare exception, holsters designed for the regular (rounded) dust cover. Blackhawk's "CQC" holster is one of the exceptions.
In conclusion, the combination of the familiar, with modern manufacturing techniques, coupled with the flexibility to add white light and some additional muzzle weight with the integral rail, means that the Kimber TLE/RL2 is a soft shooting .45. It is easy to shoot and slim (although quite heavy) to carry. Don't take my word for it though; this is the pistol that LAPD SWAT uses every day and those elite personnel have more experience in weapons selection and training than any of us lowly gun scribes!
NOTE: This review is mirrored on the Product Reviews page.