LaserLyte Trigger Tyme Full Size Laser Training Pistol
By Chuck Hawks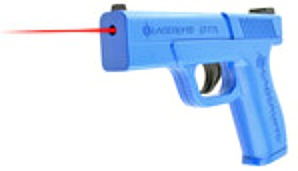 Illustration courtesy of LaserLyte.
The LaserLyte Trigger Tyme is a blue plastic "toy" pistol that shoots only a brief laser spot when the trigger is pulled. It weighs 15 ounces, is about the size of a Glock 19 or any of the many copies of same and is designed for safe, indoor practice. Here is what LaserLyte said in their press release announcing the Trigger Tyme:
"LaserLyte, innovators in firearms laser technologies, announces the release of their latest laser training pistol with an integrated laser for training: The LaserLyte Trigger Tyme Laser Pistol. With instant laser feedback anyone can practice their trigger control anywhere and anytime with the realistic feel, balance and weight of the LT-TTL. The Trigger Tyme laser pistol cannot accept or fire any ammunition, therefore it is completely safe to use in any location."
"With a simulated 5.5 lb. trigger pull, approximate size of a GLOCK 19, a realistic trigger take up and break action, the LaserLyte Trigger Tyme pistol with integrated muzzle laser is activated by the pull of the trigger that will indicate the impact of the laser dot. The LT-TTL can be used to build confidence with sight pictures, trigger control, accuracy, drawing and reholstering from traditional and concealed carry holsters."
"LaserLyte continues to get sport shooters and professionals on the target faster, increasing accuracy and overall hits with affordable and fun laser training tools. For more information, visit www.laserlyte.com"
Features
Compatible with LaserLyte training targets
Cannot accept or be fired with any ammunition
Realistic trigger pull with take-up and break
Similar size to a Glock 19
Teach or learn gun safety
Practice sight alignment and trigger control
Approximately 5.5 pound trigger pull
Laser impact is adjustable for windage and elevation
3-year limited warranty
Specifications
Model: LT-TTL
Power Output: 650NM, 5MW, Class IIIA
Activation: Trigger activated
Batteries: 3ea. A76
Battery Life: 50,000 shots
Weight: 15 ounces
Material: High impact ABS polymer
Length:\'a07.25 inches
Width:\'a01.15 inches
Height: 5.50 inches
2015 MSRP: $149.95
I have previously reviewed the SureStrike 9x19mm Laser Ammo and SureStrike .38/.357 Revolver Laser Ammo practice cartridges for pistols. SureStrike practice cartridges go into the chamber of real handguns and, when the trigger is pulled, emit a very brief laser dot down the bore of the barrel. I have found this to be an excellent dry firing training aid, as it lets you see exactly where your gun was pointed at the moment of "firing."
Already a fan of indoor laser practice, when I received the press release about the LaserLyte Trigger Tyme practice pistol, I was intrigued. The SureStrike laser ammo is great, but when you leave the house you must remember to secure your practice pistol, as it is a real gun that might be stolen and loaded with real ammunition. The big advantage to the blue plastic Trigger Tyme is that it can safely be left in plain sight. It is harmless and cannot be mistaken for a real pistol.
The Trigger Tyme comes with a brief, one page instruction sheet that explains how to change the batteries (a set of three A76 batteries is supplied with the pistol), adjust the laser's point of impact and operate the pistol. Given the generous size of the Trigger Tyme, I fail to understand why small A76 button batteries were chosen as the power source, instead of cheaper and more widely available AAA cells.
The laser's point of impact is adjustable for windage and elevation by means of set screws and a tiny Allen wrench, which is supplied. I found it easy to put the red laser dot where I wanted it, at the top of the front sight blade. Incidentally, the black plastic, Partridge type sights provide a sight picture similar to standard Glock sights.
The operating instructions are amusingly simple:
Aim in a safe direction.
Pull the trigger and shoot the laser at desired targets.
Nothing is perfect in an imperfect world and the Trigger Tyme pistol does have a couple of drawbacks. The advertised 5.5 pound trigger pull is actually much heavier, measuring about 7.5 pounds on my RCBS trigger pull scale. The trigger pull is so heavy that, in conjunction with the trainer's sharply curved plastic trigger, I found it uncomfortable during long practice sessions. Unlike a Glock, the trigger must be completely released to reset.
The duration of the Trigger Tyme laser dot is much longer than that of the SureStrike laser cartridges to which I am accustomed, probably at least three times longer. Combined with the heavy trigger pull against a 15 ounce gun, this practically guarantees gun movement on release. The result is often a short streak of laser light on the target, rather than a clean red dot, making it hard to be sure exactly where the shot hit. It would be a definite improvement if LaserLyte could lighten the trigger pull and shorten the length of time the laser is on.
Special, highly reflective laser targets are available from LaserLyte and others, but they are not required. You can shoot at wall switches or any small target of opportunity in the house. (The laser dot shows up best on light colored surfaces.) For instance, I like to shoot the bad guys on my TV. Do not, however, shoot at real people or pets, as direct eye contact with the laser beam must be avoided.
Other than its heavy trigger pull and excessive laser duration, the Trigger Tyme gun worked fine. It is a great training aid, particularly for point shooting, and the price is right.