Leica 135mm f/3.4 APO-Telyt-M ASPH Lens
By Chuck Hawks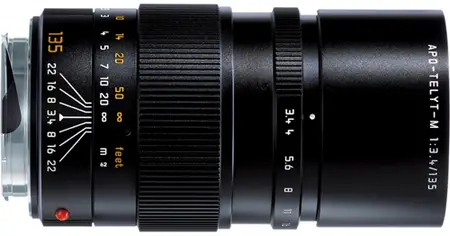 Illustration courtesy of Leica Camera AG.
The 135mm f/3.4 APO-Telyt-M ASPH is the latest in a long line of Leica 135mm lenses dating back to the introduction of the first M-series rangefinder camera in 1954 and beyond to the pre-WW II era of Leica thread mount 35mm cameras. As I write these words in 2012, the f/3.4 APO-Telyt-M ASPH is the only Leica M mount 135mm lens offered, replacing both the f/4.0 Tele-Elmar-M and f/2.8 Elmarit-M.
135mm is currently the longest focal length lens offered in the Leica M system and the longest lens for which M-series cameras have frame lines in the viewfinder. It is, therefore, a popular focal length with Leica M photographers, both film and digital. The diagonal field of view is 18-degrees on the M9 full frame digital camera or any Leica M-series 35mm film camera.
Physically, the 135mm f/3.4 APO-Telyt-M ASPH is a compact lens well matched to the petite Leica M camera bodies. In traditional Leica fashion, the focusing ring is closer to the camera body and the aperture ring is closer to the front of the lens, the reverse layout of most Japanese lenses. The wide, knurled aluminum focusing ring turns very smoothly. The rotation from stop to stop is less than half a turn, making the lens convenient to focus. The aperture ring has positive click stops at full and half f/stops and can be set between clicks, if desired.
The external finish is a deep, satin black. The f/numbers are engraved and filled with white paint, as is the depth of field scale and the metric distance numbers. The distance numbers in feet are filled with dark yellow paint, as is the focal length marking. The built-in, sliding lens hood moves easily, but with enough friction to stay in place. The front of the lens barrel is threaded for standard 49mm filters (E 49). The four-lug Leica M bayonet requires only a very short clockwise rotation (looking at the front of the camera) to attach the lens. The index matched multi-coatings on the lens elements reflect a rainbow of amber, yellow, green and violet colors. The lens looks good and it is easy to use.
As its "APO-Telyt-M ASPH" designation implies, this is an exceptionally well corrected and low distortion lens. Its design uses five elements arranged in four groups, with the second group being a cemented pair. Leica uses exotic glasses to help achieve apochromatic color correction and aspheric lens surfaces to minimize aberrations. Extremely sophisticated multi-coatings and careful attention to detail, such as blackened lens edges and extensive internal light baffling, help prevent internal reflections and flare. As befits a lens in this price class, only the best quality materials are used in its construction and all Leica lenses are 100% quality controlled.
The 135's f/3.4 maximum aperture is in-between that of the two lenses it replaces, a half-stop faster (brighter) than the f/4 Tele-Elmar-M and a half-stop slower (dimmer) than the f/2.8 Elmarit-M. However, I doubt that anyone is going to quibble about the new f/stop after seeing the f/3.4's photographic results.
Specifications
Actual focal length: 136mm
Angle of view (degrees): 18 diagonal, 15 horizontal, 10.2 vertical
Number of elements: 5 in 4 groups
Focusing distance: 1.5 meters to infinity
Distance scale: combined meters and feet
Smallest object field: 220mm x 330mm
Highest reproduction ratio: 1:9
Diaphragm: Manual setting with click stops at full and half stop increments
Diaphragm range: f/3.4 - f/22
Mount: Leica M-bayonet
Filter thread: E 49 (49mm diameter)
Lens hood: Built-in, telescopic
Length: 104.7mm
Max. diameter: 58.5mm
Weight: 450 grams bare (1 lb 1.7 oz. as tested with a Leica UV filter and lens caps)
2012 retail price: $3495
I have previously owned Leica 135mm f/4.5 Hektor and f/2.8 Elmarit lenses, which I used on M3, M5 and M6 35mm film bodies. I tested the 135mm f/3.4 APO-Telyt-M ASPH on an M9 (full frame) digital body and compared it to an f/2.8 Elmarit-M. The APO-Telyt-M ASPH is an order of magnitude better than any previous Leica 135mm lens, or any other 135mm lens I have ever used, regardless of brand. Its superiority is clearly visible to the naked eye. You don't need elaborate test equipment to see how good this telephoto really is.
This is a Leica apochromatic lens and colors are exceptionally clean and rendered accurately. Flare is extremely well controlled, as you would expect from a fully multi-coated Leica lens of moderate aperture. Distortion is invisible to the eye, measuring well under 1%. Vignetting is minimal, with a maximum light loss of only 8% at the extreme edge of the frame. Contrast and resolution are outstanding across the entire frame. Small picture details are cleanly revealed with high edge contrast. There is only a slight improvement when the lens is stopped down from f/3.4 to f/5.6 and no perceptible improvement at smaller f/stops. (Of course, the depth of field continues to increase as the lens is stopped down.)
Photos taken with this lens exhibit a great deal of the subjective quality called "visual snap." In other words, the 135mm f/3.4 APO-Telyt-M ASPH is capable of taking superb quality, highly detailed pictures, as long as the photographer does his or her part. A technical data PDF file for this lens showing MTF graphs, distortion graphs, depth of field scales and so forth is available on the Leica USA website: http://us.leica-camera.com/
Depth of field is proportional to focal length and a 135mm lens is long enough to exhibit typical telephoto compression of the foreground and background. The relatively shallow depth of field, particularly when the lens is used wide open, tends to isolate the subject (the point of focus) from the foreground and background. Pictorially, this may work to the photographer's advantage or disadvantage, depending on the subject, composition and purpose of the photo.
Like any 135mm lens, both image size and camera movement are magnified 2.7 times compared to a 50mm lens, so for critically sharp photos it is wise to use a husky tripod or other steady camera support. Unlike SLR cameras, Leica M camera bodies don't have a vibration-causing moving mirror mechanism and this allows them to take sharper pictures, even from a tripod. This lack of vibration is especially important when using telephoto lenses and helps to explain why Leica M cameras consistently take sharper photos than SLR cameras. Of course, the superior quality of Leica M lenses is also a factor!
The Leica 135mm f/3.4 APO-Telyt-M ASPH is a cutting edge lens that is hand made in Germany to incredibly high standards. Indeed, along with the APO Summicron-M 50mm f/2.0 ASPH, it can be considered a "reference lens" against which other lenses can be compared for color rendition.