Leica 50mm f/2.0 Summicron-M Lens
By Chuck Hawks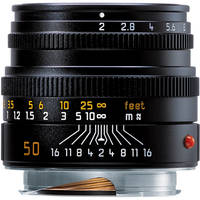 Illustration courtesy of Leica Camera AG.
The Leica 50mm f/2 Summicron lens was introduced for Leica thread mount cameras in 1953. When the first Leica M-series camera, the M3, was introduced in 1954, it was accompanied by the 50mm f/2 Summicron in M bayonet mount form. The first generation 50mm f/2's optical formula was a modified Gauss design using seven elements in six groups; the fifth group being the cemented pair. It was produced with a telescoping lens barrel that allowed the lens to be collapsed for carrying, a popular feature of thread mount Leica lenses.
By 1957 the collapsible Summicron was discontinued in favor of fixed mount 50mm f/2 Summicron-M, which had been introduced in 1956. The optical formula remained exactly the same and this second generation 50mm f/2 Summicron was produced until 1968. Both the collapsible and rigid early Summicrons were built with chrome plated brass lens barrels. The rigid version weighed 285 grams, or 10 ounces. Exceptionally good aberration correction, minimal vignetting, high contrast and excellent center resolution became hallmarks of Leica 50mm f/2 Summicron lenses. Peak performance was reached by f/4.0. The 50mm f/2 Summicron quickly became renowned for its performance and through its successive design updates it has remained the lens by which all "standard" lenses for 35mm cameras are judged to this day.
The third generation 50mm f/2 Summicron-M, introduced in 1969, remained a modified Gauss design, but included significant improvements. Lightweight, compact M-series lenses have always been a priority and the new design made strides in that area. By taking advantage of new optical glasses, the number of elements was reduced to six in five groups, with the second group being the cemented pair. The lens barrel was machined from black anodized aluminum, which in conjunction with the reduced number of glass elements, allowed the new lens to weigh 260 grams, 25 grams lighter than the previous version.
In 1979 the 50mm f/2 Summicron-M was again updated, this time using computer assisted lens design, which was a technology pioneered by Leica. This fourth generation modified Gauss design uses six elements in four groups, with the second and third groups being cemented pairs. It weighs 65 grams less than its predecessor. This is the 50mm f/2.0 Summicron-M version still offered today. Leica calls it, "A venerable standard at the top of its form." They go on to state:
"The tried and well-proven optical design of this lens provides for a perfection of picture quality extending all the way to the extreme corners of the image field even at full aperture, as well as outstanding contrast throughout, at all apertures, even at close distances. Stopping down to f/2.8 or f/4 brings only a minimal increase in contrast. Distortion is extremely low and practically invisible. Its well-balanced design makes this ideal standard lens an outstanding choice in terms of all criteria, including image quality, speed, size, weight and price."
I am a fan of standard focal length lenses, because they deliver a natural perspective for landscapes, as well as for full length pictures of people or groups of people. The 50mm Summicron-M's diagonal field of view is 47-degrees. I concur with Leica's statement that the 50mm f/2 Summicron-M delivers excellent "image quality, speed, size, weight and price." It is a perfect balance of these qualities, equally suitable for Leica M 35mm film cameras or the full frame M9 digital camera.
Over the years, I have used and tested many fine standard lenses, including the 40mm f/2 Summicron-C, 50mm f/2.8 Elmar, 50mm f/2 Summicron-R, 50mm f/2 AI Nikkor, 50mm f/1.8 AF Nikkor, 50mm f/1.4 Canon FD, 55mm f/2 SMC Takunar and 58mm f/1.4 Rokkor, among others. However, my all time favorite is the Leica 50mm f/2 Summicron-M. (Before you ask, I have not used the new 50mm f/2 APO-Summicron-M ASPH, said to be the finest standard lens ever made. Of course, with a 2012 MSRP of $7195, it is much more expensive than the standard 50mm Summicron-M, which is why both 50mm Summicron-M lenses are offered by Leica.)
Physically, the 50mm f/2 Summicron-M is one of the smallest and lightest of the current M system lenses. Its knurled aluminum focusing ring turns very smoothly and there is a fingertip focusing lever on the underside of the barrel that allows one finger focusing. The focusing helicoid is machined from brass. The rotation from stop to stop (0.7 meter to infinity) is only about one-third of a turn, making the lens fast to focus. The aperture ring has positive click stops at full and half f/stops and can be set between clicks, if desired. The front of the lens barrel is threaded to accept 39mm filters (E 39). The four-lug Leica M bayonet requires an exceptionally short clockwise rotation (looking at the front of the camera) to attach the lens.
The external finish is a deep, satin black. The f/numbers are engraved and filled with white paint, as is the depth of field scale and the metric distance numbers. The distance numbers in feet are filled with dark yellow paint, as is the focal length marking.
The latest production variant of the fourth generation 50mm Summicron-M differs subtly from its immediate predecessor by the inclusion of a built-in, telescopic lens hood. The previous version was supplied with a lens hood that clipped onto the front of the lens. The lens cap fits over the reversed lens hood for carrying or storage.
Sophisticated, index matched multi-coatings and careful attention to detail, such as blackened lens edges and extensive internal light baffling, help prevent internal reflections and flare. As with all Leica M lenses, the 50mm Summicron-M is hand made in Germany using the highest quality materials and 100% quality controlled at every stage of manufacture.
Specifications
Actual focal length: 52.3 mm
Angle of view (degrees): 47 diagonal, 40 horizontal, 27 vertical
Number of elements: 6 in 4 groups
Focusing distance: 0.7 meters to infinity
Distance scale: combined meters and feet
Smallest object field: 277mm x 416mm
Highest reproduction ratio: 1:11.5
Diaphragm: Manual setting with click stops at full and half stop increments
Diaphragm range: f/2.0 - f/16
Mount: Leica M-bayonet
Filter thread: E 39 (39mm diameter)
Lens hood: Built-in, telescopic
Length: 43.5mm
Max. diameter: 53mm
Weight: 8.5 oz. as tested w/hood, Leica UV filter and lens caps
2012 retail price: $2295
For this review, I tested the 50mm f/2 Summicron-M on an M9 digital camera body. I have also used this lens extensively on my M6 35mm film camera with equally satisfactory results.
You don't need a lot of fancy test equipment to see how good this lens is. Subjects are rendered with razor sharpness. Focused point sources of light photographed at night are rendered as points, even at the edge of the field. Colors are exceptionally clean and accurate with subtle shadings. Color rendition is so good that this lens has long been considered a reference against which other lenses are judged.
Flare is extremely well controlled, as are all aberrations. Distortion is at the vanishing point, perhaps a maximum of 0.2% and completely invisible to the human eye. Vignetting is minimal, with a maximum light loss of only 5.6% at the edge of the frame. There is only a modest improvement, mostly at the edges, when the lens is stopped down from f/2.0 to f/4.0, its optimum aperture, and no perceptible improvement at smaller f/stops. (Of course, the depth of field continues to increase as the lens is stopped down.) Contrast and resolution are excellent across the entire field of view and particularly outstanding at the center. Small picture details are clearly resolved.
To summarize, the Leica 50mm f/2 Summicron-M is capable of taking superb quality, highly detailed photographs, providing the photographer does his or her part. A technical data PDF file for this lens showing MTF graphs, distortion graphs, depth of field scales and so forth is available on the Leica USA website: http://us.leica-camera.com/
No matter how good the lens, for critically sharp photos it is always wise to use a tripod or other steady camera support. When testing or comparing lenses it is absolutely necessary. Unlike SLR cameras, Leica M camera bodies don't have a vibration-causing moving mirror mechanism and this allows them to take sharper pictures than SLR's. This lack of vibration, when coupled with proper photographic technique, helps explain why Leica M cameras and lenses consistently outperform the competition. The 50mm f/2 Summicron-M lens is so good that only the most technically capable photographers can explore its full capability. However, anyone can see that it takes great pictures.