Leica Ultravid 8x25 Binocular
By Erin Boyd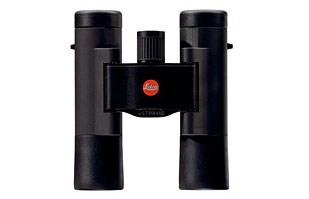 Illustration courtesy of Leica Camera, Inc.
John Evitt of Lacklands New Zealand, the Leica importers, offered to send some Leica Ultravid 8x20 compact binoculars to try, to see if they might be useful as a hunting glass. I am a bit skeptical about compact binoculars as general all round glasses for hunting purposes, but of course I accepted his kind offer. Leica binoculars are always a treat!
They come with a woven nylon carrying strap, Cordura case with belt loop, and individual eyepiece covers that thread onto the carrying strap. With the diminutive dimensions of 60mm x 94mm x 35mm (2 3/4 x 3 1/2 x 1 3/8 inches) the 8 x 20 Ultravids are easily mistaken for toys rather than the serious binoculars that they proved to be.
Specifications
Optional black rubber armoring, or black leather finish
Exit pupil 2.5mm
Field of View 110 Metres/331ft @ 1000yds
Eye relief 15 mm
Angle of view 6.4 degrees
Diopter compensation +/- 3.5 diopters
Screw in Eyepieces for spectacle wearers Yes
Internal focusing
Roof Prism P40 Phase Coated
Water proof to 5 meters
Aluminum Housing
Nitrogen purged and filled
Weight 245 grams / 8.6 0unces
First impression
One thing that quickly becomes apparent to an observant reviewer is the large diameter of the eyepieces. Most compact binoculars of this type have very small eyepiece lenses and this directly affects the field of view of the optic. At 110 meters (331 ft) @ 1000 yards, the Ultravids have the same FOV as their 10 x42 stable mates, which is plenty for hunting purposes.
Comparison testing
I did run them up against my 8x32 Nikon Superior Es for a cursory comparison, and the revelation was that the little Ultravids appeared not to give much away to the optically excellent Nikons. In good light, the view was bright, contrasty, and sharp, with excellent, accurate color rendition.
There was the normal amount of pincushion distortion and the field was sharp from edge to edge with little comma apparent. I tried really hard to find the bane of roof prism binoculars, chromatic aberration. It was noticeably absent from this glass, due to the inclusion of an achromatic lens in the objective group (also referred to as Apo or Aspherical), which has long been used as a color focus correcting technology in high end telephoto camera lenses.
I took them out the front of the house with the Nikon SEs as dusk was setting to check out how they performed in the gathering gloom, not holding much hope for stellar results with their 2.5 mm exit pupil. They actually held up quite well and still resolved significant detail when it was dark enough for car drivers to start switching on their headlights. The SEs at 8x32 with a 4mm exit pupil and superb low light performance for the specs only had about 5 minutes on the little Ultravids before becoming unusable.
I was impressed enough by the capabilities of the Leicas to do my standard resolution test using the Edwards USAF Resolution Chart and Nikon SE s as a benchmark. Having set the chart up at 30 meters from the car and in the shade, I rested both pairs of binoculars on the sandbag I had placed on the car roof and found that the Nikons resolved one scale further down the chart than the 8 x20 Ultravids, which means, all said and done, that the Ultravids are damn sharp glasses for their size and specs.
Practical test and handling
On a clear, warm autumn afternoon I took the Ultravids and my .222 BSA Majestic rifle for a walk across the flats on Vernon Station, bordering Cloudy Bays vineyard. The grass and clay hillsides nearby make a good low contrast background for the rabbits that live there and put any binocular to a good test.
I found that the Cordura belt case supplied with the binos was a little too snug fitting. It was difficult to extract the glasses from quickly, so I decided to leave that in the car and just carry the 8x20s by my preferred method, around my neck on the supplied neck strap.
I had not gone 200 meters from the car when they fell from my neck into the long grass at my feet. On inspection, I found that the neck strap had become unthreaded on one side. It has the conventional plastic self-locking adjusters on the neck strap that are supposed to tighten when weight is applied, but in this case did not lock at all and could be easily be pulled free. This could be rendered dependable by simply stitching the end of the neck strap to itself after adjusting it to fit, which I do to all my camera and binocular neck straps as a precautionary measure, but I think that at $900.00, a reliable neck strap should be a mandatory component, not something that needs modification to stop you from losing your expensive optics!
I disconnected the strap completely and put the Ultravids in the bino pocket of my Swazi Molesworth jacket. At 8 oz I did not even feel that they were there.
While the FOV and optics of the little Leica's are excellent, I found them fiddly on which to set the interpupillary distance. This needs a minor tweak almost every time these binoculars are used, and precludes using them in such a circumstance as, "Is that a deer's nose in that patch of scrub? Yes! Bang!" In other words, for quick identification of your target.
I did see one rabbit about half a mile away, on a hillside well out of range and quite safe for him. I had just turned to walk back to the car when something made me turn around and use the Ultravids to look up the hill behind me. There, about 150 meters away, was a striped grey feral cat, quietly threading through the dry grass on its way up the ridge. It was sharp and clear in the Ultravids.
Summary
Personally, these binos are just physically too small, light and somewhat fiddly for my hunting preferences, but the optics are definitely more than capable for a hunting glass, or for any general observation purpose. I feel they would be the perfect travel glass, or eminently suitable for a discerning photographer to include in his or her kit.
If you are the type of hunter that regards weight as a primary factor and are prepared to compromise a little on handling characteristics but want top class optics at a reasonable price, NZ $899.00, then these little Ultravids would nicely meet your needs.