LED Lenser T7 Tactical Light
By Chuck Hawks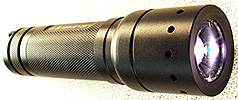 LED Lenser T7 flashlight. Photo by Chuck Hawks.
LED Lenser lights are designed and engineered by Zwebruder Optoelectronics GmbH of Solingen, Germany and distributed in the USA by Coast Products of Portland, Oregon. The patented reflector systems used in LED Lenser lights are manufactured in Germany and top quality LED's are sourced from Japan, Germany and the USA. Machining and final assembly are accomplished in a huge, new LED Lenser facility located in Yangjiang, China.
Having been duly impressed by the LED Lenser lights that we saw at the 2008 SHOT Show, we requested one of their top of the line High Performance tactical flashlights for a Guns and Shooting Online review. In due course, our friends at Coast sent us their T7 (Model #8420).
This premium flashlight incorporates several important LED Lenser features. Its three main components (light head, main tube and tailpiece) are machined from heavy-duty aluminum and O-ring sealed at both bezel and tail piece for protection against the entry of dust and moisture. The main body of the tube is checkered in a fine, flat-topped pattern for a secure grip. The head (bezel) can be unscrewed, although there is no reason to do so.
Illumination is provided by a best quality, high intensity LED mounted in a heat sink for thermal management. Power Transformation Technology uses a microprocessor to digitally increase the voltage supplied to the LED and regulate the current at the same time.
The four AAA alkaline batteries that power the light are not loose in the main tube, they are securely held in a battery pack attached to the tailpiece, which incorporates the T7's push button "Quick Cycle" selector switch. All of the battery pack's electrical contacts are gold plated.
The Quick Cycle tail switch selects the variable light output. Here is how it works: Fully depress and release the switch once to select low output, which I estimate to be about 12 lumens. (The actual light output is not specified.) Fully depress and release the switch a second time to select high output, which is stated to be about 75% of full power. (That would make it approximately 92 lumens). Maximum brightness (167 lumens) can be achieved at any time from any switch setting (off, low or high) by partially depressing and holding the tail switch. When the switch is released, the light reverts to its previous setting. With the light "off," this momentary maximum beam feature allows signaling in Morse code.
The complex Advanced Focus System lens in front of the LED provides a wide, clearly defined flood light pattern at one extreme and a well-focused spotlight at the other. The Speed-Focus system changes the light from flood to spot patterns merely by sliding the front bezel (and thus the Advanced Focus lens inside) forward or backward. This can be done one-handed using the thumb and forefinger of the hand holding the flashlight.
Here are the specifications of the LED Lenser T7 tactical light.
Model number: 8420
Lumens: 167 "maximum" output; approx. 92 lumens (75%) on "high" output; est. 12 lumens on "low" output
Effective range: 711 feet on Max. output
Maximum power usage: 4.45 watts
Lens type: Focusing
Light source: White LED
Length: 5.5 inches
Head diameter: 1.4 inches
Body diameter: 1.2 inches
Weight: 7.2 ounces
Batteries: Four AAA cells
Working battery life: 130 hours
Accessories: batteries, sheath, wrist strap
Warrantee: Lifetime
2008 MSRP: $130 ($109.99 retail)
Okay, so how does T7 compare to other premium lights? At night, in full darkness, I took the opportunity to compare the LED Lenser T7 to a Leupold MX-321 (rated at 145 lumens at full power), a Remington 2-N-1 (rated at 60 lumens) and a 3 D-Cell Maglite (rated at 76.8 lumens).
At its "high beam" (75%) spot setting, the T7 was clearly brighter than any of the other lights, making it possible to see details at a distance that the other lights simply could not illuminate, although the Leupold's fixed focus light head (a floodlight diameter beam with a bright center spot) threw a wider light pattern. Press and hold the T7's tail switch for "maximum beam" (100%) and its superiority as a spot light became even more pronounced.
At the flood position on high beam, the T7 threw a very even and better defined light pattern of similar size and brightness to the MX-321, without the Leupold's bright center spot. The Remington light has a defined and reasonably even floodlight pattern, somewhat brighter at the edges than in the center, but it is not as wide or well defined as the T7's. The Maglite's flood pattern has an annoying center hole and is not competitive with the other lights. The bottom line is that the T7, at the user's option, provides a brighter, longer range spot light or a wide, more evenly illuminated flood light than the other premium lights; the best of both worlds.
At a normal retail price of $109.99 as I write these words, the LED Lenser T7 is an expensive flashlight. However, its price is justified by its compact size and stellar performance. It is arguably the highest performance flashlight that we have reviewed here at Guns and Shooting Online. For the hunter, angler or camper alone in the great outdoors, this is a light that you want to have with you. Information about the entire LED Lenser line can be found at the Coast Products web site: http://www.coastportland.com/