Odd Couple: LED Lenser X7 and K3 Flashlights
By Chuck Hawks
The X7 is the largest and the K3 is the smallest flashlight in the extensive LED Lenser High Performance line. The X7 is 1-1/3 feet long and weighs three pounds, while the K3 is 2-3/4 inches long and weighs only 1.2 ounces. They are a study in contrasts, yet bear a definite family resemblance.
LED Lenser is a flashlight technology leader and their High Performance lights are top of the line gear. These lights are designed for the rigorous world of police, fire fighters, paramedics and rescue personnel.
LED Lenser lights are designed and engineered by Zwebruder Optoelectronics GmbH of Solingen, Germany and distributed in the USA by Coast Products of Portland, Oregon. The patented reflector/lens systems used in LED Lenser lights are manufactured in Germany, the LED's that produce the light are manufactured in Germany, Japan and the USA, while the aluminum cases are manufactured and the lights assembled in a new 250,000 square foot facility in Yangjiang, China. These lights are truly international products.
Specific LED Lenser lights have different features, depending on their intended use. However, some features are common to all High Performance lights. These include the highest quality LED's to provide the best quality illumination. There is a marked difference in LED's and LED Lenser insists on using only patented LumiLEDs, Nichia and Cree LED's taken from the center area of the silicon wafers used in LED manufacture. The LED's from the center of the wafer are higher quality and provide a much brighter light. Naturally, they are also more expensive.
LED Lenser flashlights feature advanced reflector/lens combinations that produce a broader, deeper and brighter light beam. They are also more energy efficient than other lights. PTT (Power Transmission Technology) uses a microprocessor to digitally increase the voltage supplied to the LED and regulate the current at the same time. Internally, LED Lenser lights use 24 carat gold plated electrical contacts for maximum current flow and to prevent oxidation. The water resistant outer cases of LED Lenser lights are machined from high-grade aluminum and O-ring sealed to prevent the intrusion of moisture and dirt.
The Advanced Focus System combines lens and reflector systems to provide a smooth, continuous transition from a broad, even, well defined flood beam to a focused spot beam. There are different Advanced Focus Systems for single LED lights, such as the K3, and multiple LED lights, such as the X7.
Another feature common to the X7 and K3, as well as a number of other High Performance series lights, is LED Lenser's one-handed Speed Focus. This shifts the light from flood to spot by sliding the bezel forward or backward. This is fast and can be accomplished by the thumb and index fingers of the hand holding the flashlight.
LED Lenser X7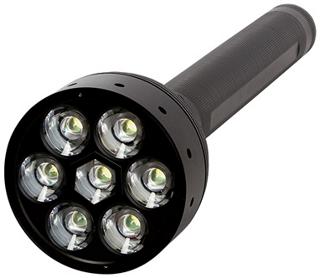 LED Lenser X7 flashlight. Illustration courtesy of Coast Products.
Let's look at the X7 first. This is LED Lenser's "light cannon," the brightest LED flashlight in the world today. Seeing the X7 demonstrated at the 2008 SHOT Show attracted Guns and Shooting Online's Jack Seeling and I to the LED Lenser booth and sparked the idea of reviewing modern, high-tech flashlights; an idea that led to the present series of flashlight articles.
Even in the brightly lit Main Exhibit Hall of the Las Vegas Convention Center, the X7 performed like a beacon. Its maximum output of 1068 lumens (!) dwarfs the output of the famous Maglite 6D-Cell flashlight (162.6 lumens). Remarkably, so does its working battery life of 950 hours, compared to the Maglite's 9-10 hour continuous run time. The X7 is a very large flashlight, similar in weight to the big Maglite, as the following specifications reveal.
Model number: 8437
Maximum lumens: 1068
Maximum power consumption: 16.36 watts
Maximum effective range: 1765 feet
Length: 16 inches
Head diameter: 3.6 inches
Weight: 48 ounces
Batteries: Four D-cells
Working battery life: 950 hours
2008 retail price: $399.99
The X7's mega light output comes from an array of seven heat sink mounted LED's in LED Lenser's proprietary multi-optic Advanced Focus System. The push button on/off switch is located on the diamond knurled, black anodized, aluminum main tube behind the Speed-Focus sliding light head. This is a three-step Quick-Cycle switch. Press the switch for maximum light (1068 lumens), click on for low light, click again for high light (approx. 75% of maximum or about 801 lumens) and click again for off.
Jack and I spent quite a bit of time examining the X7 and playing around with it and could only decide that it works exactly as advertised. If you need the world's brightest LED flashlight, you need look no farther. Like all LED Lenser flashlights, the X7 is an extremely high quality, well made light and it is covered by the Coast LED Lenser Lifetime Limited Warranty.
LED Lenser K3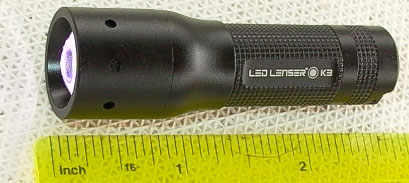 LED Lenser K3 flashlight. Photo by Chuck Hawks.
The diminutive K3 provides astounding performance for its size. This micro sized light is the size of a key chain fob, and can be used as such, yet produces almost as much light as a Mini-Maglite 2AA-cell flashlight that is over twice its length and three times its weight. What's more, the K3 can produce that light 10 times longer, for 55 hours instead of 5.5 hours. My point is that the K3 is tiny, but not a toy to be taken lightly. It is a fully functional, High Performance, LED Lenser flashlight. I rely on the K3 that I carry in my hunting fanny pack to light my way in case I don't make it back to camp before nightfall.
The K3's case is black anodized, machined aluminum with diamond pattern knurling for a secure grip. The on/off/momentary push button power switch is at the back of the O-ring sealed tailpiece, as per the LED Lenser High Performance tactical lights with which it shares the usual features and benefits, including the Coast LED Lenser Lifetime Limited Warranty. Here are the specifications for the K3.
Model number: 8313
Maximum lumens: 14.7
Maximum power consumption: 0.6 watt
Maximum effective range: 113 feet
Length: 2.75 inches
Head diameter: 0.8 inch
Weight: 1.2 ounces
Batteries: Four AG13
Working battery life: 55 hours
2008 retail price: $24.99
Like the X7 "light cannon," the K3 features LED Lenser's Advanced Focus System and a one-handed Speed-Focus sliding light head that gives immediate access to spot or flood light patterns. The spot is bright and the flood beam is even and exceptionally well defined.
I find the micro sized K3 as amazing as the ultra-powerful X7. Both outperform anything in their class by a wide margin, or perhaps I should say, are simply in a class by themselves.