Leupold MX Modular Flashlights
By the Guns and Shooting Online Staff
Leupold (www.leupold.com), the famous U.S. scope and optics manufacturer, has entered the crowded premium flashlight market with a line of innovative and very high quality modular models. "Modular" means interchangeable bezels (MX-100, MX-200, MX-300 and MX-400), main tubes (MX-020 two-cell or MX030 three-cell), and tail switch (MX-001 dual mode).
The bezel is the head of the flashlight with a bulb or LED light source, reflector and variable power control (if required). The main tube is the battery compartment, which holds the CR123 six-volt lithium cells that power all MX flashlights. The tail switch is the battery chamber cap and the off and on switch in the form of a push button at the rear of the flashlight.
All of these components are machined (and the flashlights are completely assembled) in the Leupold factory in Beaverton, Oregon, USA from very durable, extremely heavy gauge, T-6061 aircraft grade aluminum alloy and the bezel wears the famous Leupold gold ring. Even most of the internal components used in Leupold flashlights are sourced locally.
These are probably the highest quality flashlights in the world. The wall thickness of the MX battery case looks to be about twice that of a D-cell Maglite. The black hard-anodized finish exceeds military specifications. The front window is made from scratch resistant sapphire. The body is aggressively knurled for a positive grip. The front of the bezel is threaded to accept all Leupold Lumina 28mm accessories, including colored filters. All Leupold MX flashlights are bright, very rugged and waterproof to four atmospheres. They are built to provide years of service in the most extreme operating conditions.
Leupold MX flashlight model numbers are derived from combining the numbers of the components in series. For example, the MX-121 uses the MX-100 bezel (1), MX-020 (2) main tube and MX-001 (1) tail switch. Get it? Combine the MX-200 bezel, MX-020 main tube and MX-001 tail switch and you have a model MX-221 flashlight.
What, you are probably wondering, are the differences between these various modules? Let's start with the bezel. The MX-100 bezel uses a Xenon bulb and is a single mode (fixed light output) bezel. It produces 60 lumens when powered by the MX-020 main tube and 120 lumens when powered by the MX-030 main tube. The MX-200 bezel is a single mode LED bezel that produces 80 lumens with either main tube. The MX-300 is the multi-mode hunter bezel that incorporates a variable power setting. This allows a light output of 10, 80 or 145 lumens with either main tube as well as an automatic, repeating, emergency "SOS" in Morse code (. . . - - - . . .) at 25 lumens. The MX-400 is a multi-mode tactical bezel that allows for variable light output settings of 10 or 145 lumens from either main tube as well as "strobe" (145 lumens) and SOS (25 lumens) settings.
There are two main tubes. The MX-020 uses two common CR123 batteries and the MX-030 holds three CR123 batteries. The MX-030 provides 1/3 longer run time when used with any of the LED bezels. (Nine hours instead of six hours at 80 lumens output, for example.)
At this time, there is only one tail switch, the MX-001. This uses a clicking, dual mode (momentary or always on) push button switch. It also incorporates a 1/8th turn lockout feature to save battery life.
You can mix and match components to assemble the flashlight that best meets your needs, or you can buy your MX preconfigured. Leupold is offering two "Built for You" models, the MX-121 and the MX-221. Although preconfigured, they are still totally modular. Here are the basic specifications of the MX-121:
Weight - 6.0 ounces
Length - 5.25"
Diameter - 1.37"
Bulb - Xenon
Mode - Single
Lumens - 60
Runtime - 1.5 hours
2008 retail price: $149.99 at Midway USA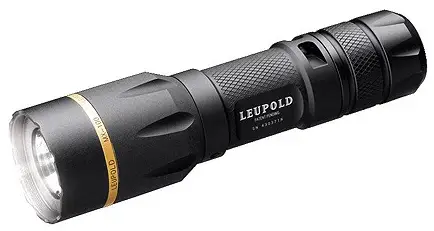 MX-121. Illustration courtesy of Leupold.
Here are the basic specifications of the MX-221:
Weight - 6.0 ounces
Length - 5.5"
Diameter - 1.37"
Bulb - Tru White LED
Mode - Single
Lumens - 80
Runtime - 6 hours
2008 retail price: $179.99 at Midway USA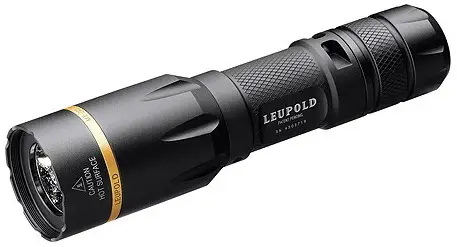 MX-221. Illustration courtesy of Leupold.
The test flashlight supplied to Guns and Shooting Online was not one of these two preconfigured models. Instead, as befits Guns and Shooting Online, it was optimized for the hunter. It is what Leupold calls a MX-321 and it uses the MX-300 Hunter bezel, MX-020 two-cell main tube and MX-001 dual mode tail switch. Also included was a belt clip, adjustable lanyard with a quick release buckle and a cloth pouch. This flashlight looks essentially the same as the MX-221 shown above.
This compact flashlight is 5.5" long and 1.56" in diameter at the widest part of the bezel. It weighs 8.0 ounces with batteries, belt clip and lanyard. It offers run times of 50 hours at 10 lumens, 6 hours at 80 lumens, 3 hours at 145 lumens and 50 hours in SOS mode.
The light output is changed by rotating the MX-300 bezel. The variable power switch incorporates a sophisticated magnetic sensor to seal internal parts. Its precision reflector throws a sort of "semi-flood" light pattern, a wide dispersion with a hotter center and well defined edges. At maximum power, 145 lumens, the MX-321 is a very bright flashlight. Its color temperature is much higher (blue-white instead of yellow-white) than the light provided by a conventional flashlight bulb.
The Leupold MX-321 is definitely a superior flashlight. It is compact, very bright for its size and extremely durable. It projects a vastly wider, as well as brighter, beam than a three D-cell Maglite from a far smaller and lighter package. Two thumbs up for the new Leupold MX flashlights!