Leupold RX-1000 TBR, 6x22mm Compact Digital Rangefinder
By Chuck Hawks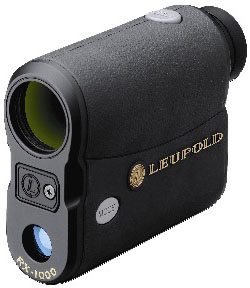 Illustration courtesy of Leupold & Stevens,Inc.
The latest Leupold laser rangefinder, due to hit the market in less than a month as I write these words, is the RX-1000. This is a compact laser rangefinder, much smaller than the Leupold RX-III rangefinder I reviewed three years ago (roughly 1/3 the size and 2/3 the weight), yet the new RX-1000 shares the best features of the RX-III and adds some additional advantages of its own.
The latter will catch the attention of those familiar with the existing Leupold rangefinder line, so let's touch on those first. Perhaps the biggest advantage of the RX-1000 is its brilliant optics, which feature about 80% light transmission. Compare that to the usual laser rangefinder light transmission of around 25% and you can understand the huge advantage the RX-1000 offers in image brightness.
The other big change is the RX-1000's variable brightness, red OLED display. This self-illuminated readout is easier to see under dim lighting conditions than the traditional LCD displays found in most rangefinders.
Unlike all Leupold scopes and their sensational MX modular flashlights, the RX-1000 is made in China. The basic features of the RX-1000 include a rubber armored, weatherproof aluminum housing, fully multicoated optics, measuring range of 10-1000 yards, "click" eyepiece focusing adjustment plus compact size and weight. The basic operating controls are a power button on top and a mode button on the left side. The RX-1000 is supplied with a Cordura case and a CR2 battery. Here are the basic specifications:
Magnification - 6x
Measurement - yards or meters
Accuracy (+/- yards) - 1
Field of view at 100 yards - 31 feet
Field of view at 100 meters - 10.5 meters
Angular field of view - 6 degrees
Clear Objective - 22mm
Twilight factor - 11.5
Exit pupil - 3.6mm
Eye relief - 14mm
Dimensions - 3.8" x 2.8" x 1.3"
Weight - 7.8 ounces / 221 grams
2009 MSRP - $349 ($399 with TBR)
The maximum ranging performance is as follows:
Reflective = 1000 yards / 915 meters
Tree = 600 yards / 550 meters
Deer = 500 yards / 450 meters
There are two basic RX-1000 models, the standard version that measures the line of sight range to the target and the True Ballistic Range version (RX-1000 TBR) that automatically corrects the slant range to horizontal range for shooting up or down hill. The model provided to Guns and Shooting Online for review, at my request, is the RX-1000 TBR. I have become fond of my Leupold RX-III's TBR feature and wanted to test an RX-1000 with the same capability.
The basic capabilities/functions of the RX-1000 TBR include single ranging or scan mode, True Ballistic Range distance (includes choice of three bow groups and seven rifle groups), Line Of Sight (LOS) distance, incline/decline angle, measurement in yards or meters, battery condition display, choice of three aiming reticles and three levels of display brightness. To take a simple range reading, press and release the Power button to turn the RX-1000 on and then press again to measure a range. Hold the power button down for continuous range measuring function (scan mode), as when following a moving target.
True Ballistic Range can be displayed in minutes of angle (MOA), hold over or under, or BAS--calculated horizontal distance to the target. Only the BAS mode is available for bow hunters and the TBS function for rifles is effective to 800 yards.
Here is how Leupold literature describes True Ballistic Range:
"True Ballistic Range is calculated using a proprietary ballistics algorithm in combination with the following variables: incline, line of sight range, and performance matching groups (3 for bows, 7 for rifles). TBR provides bow and rifle hunters with the equivalent horizontal range for precise shooting on an incline or decline. For rifle hunters, MOA adjustment or hold over information can also be displayed."
The three available reticles are a small "Plus Point" crosshair for ranging small targets, a larger outer crosshair and a combination of the two. The latter features the small Plus Point crosshair in the center with the larger crosshair surround--an OLED representation of a standard Leupold Duplex scope reticle.
RX-1000 comes with a complete owner's manual that explains in detail how all of these functions work and are controlled. There is also a Quick Reference card that summarizes the basic operations. It would be a pious idea to carry the Quick Reference card with the RX-1000 at all times. Since there are only two control buttons, each has multiple functions and analog minds like mine (like many shooters, my formative years were prior to the advent of the digital age) do not find multiple function push buttons very intuitive. On the other hand, we are mostly a literate people and can follow written instructions. Hence the value of the Quick Reference card.
In use, the RX-1000 TBR functioned exactly as advertised. Its superior brightness, compared to other rangefinders, is particularly nice in dim lighting. The fully multicoated lenses provide a clearly delineated field of view with good center sharpness and some noticeable loss of resolution at the edges. Flare suppression is good and optical aberrations are reasonably well corrected. These optics are superior to the other rangefinders that I have tested, good enough to serve as a makeshift 6x monocular.
The rubber-protected eyepiece is easy to focus and wears the Leupold Green Ring around its base. Leupold Green Ring optics are engineered and manufactured to standards set and monitored by Leupold. RX-series laser rangefinders are protected by the Leupold Green Ring Electronics Warranty against defects in materials or workmanship for one year from the date of purchase.
The compact RX-1000 is finished in charcoal gray rubber armor with a textured upper gripping surface. The Leupold "L" and the name "Leupold" are tastefully embossed in gold on the unit's right side. The (supplied) Cordura case is noteworthy in that closure is by means of 100% reliable, sewn-in magnets; there are no snaps or straps to manipulate. The belt loop is stitched to the back of the case so that the case rides at an angle, which serves no useful purpose that I can discern.
The Leupold RX-1000 TBR's compact size and superior optics quickly earned it a place on the belt of my hunting fanny pack, which I always carry in the field. It is a nifty, state of the art rangefinder from America's Optics Authority and I recommend it without reservation.