Leupold RXB-IV 9x32mm Digital Rangefinding Binocular
By Chuck Hawks and Jim Fleck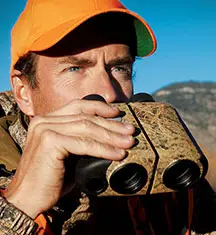 Illustration courtesy of Leupold & Stevens,Inc.
For quite some time we have felt that a laser rangefinder combined with a good binocular would be very useful for the big game hunter. Unfortunately, while high quality units have been around for some time, they are generally very expensive, often quite heavy and well beyond the reach of most of us. On the other hand, bargain priced combos simply lack the optical quality to be useful to serious hunters.
All of that has changed with the introduction of the Leupold Green Ring RXB-IV rangefinding binocular. This is a mid-priced binocular that offers good optics and a very sophisticated laser rangefinder. Before we go further, here are some of the RXB-IV's features:
Leupold Green Ring 9x32mm binocular with independent eyepiece focusing and sliding eyepiece cups. Objectives are threaded to accept Leupold Alumina accessories.
Measures the distance of a deer-sized animal from 10 to 700 yards, a tree to 800 yards and a highly reflective target to 1,500 yards.
Scan mode provides continuous distance to moving animals.
Measurement in yards or meters.
Illuminated red OLED digital display visible in any light.
Incorporates the Leupold Match 13 reticle system--13 reticles to choose from.
Built-in inclinometer.
True Ballistic Range (TBR) feature with seven rifle and three bow settings provides correct equivalent horizontal range for precise shooting on an incline.
Digital compass with declination setting for 360 degree location of objects and navigational assistance in the field.
Nitrogen filled and 100% waterproof.
Fully armored, available in black/gray or Mossy Oak Brush finishes.
Includes Lumina BXL Intensifier set to improve contrast in difficult light, instructions, tripod socket (1/4"x20), CR123A battery, Cordura case with pouch for Intensifiers and instructions, straps for both case and binocular.
Leupold Green Ring electronic products two year limited warranty
Here are the RXB-IV binocular specifications:
Magnification - 9x
Objective aperture - 32mm
Exit pupil - 3.6mm
Eye relief - 14mm
Interpupillary distance - 58mm to 72mm
Close focus distance - 32.8'
Field of view - 278' at 1000 yards
Angular field of view - 5.3 degrees
Multicoated optics
Length - 5.5"
Weight - 26.1 ounces
Here are the rangefinder specifications:
Laser radiation - FDA Class 1 / CE Class 3A
Measurement range - 10 to 1500 yards
Measuring time - 1 to 3 seconds
Auto power off after 9 seconds
Power - CR123A battery or equivalent
Battery life - approximately 2000 measurements
As you can see, this is a sophisticated unit with a lot of capability. Although made in China to Leupold's specification and standards (rather than in Oregon like all Leupold scopes and flashlights), the RXB-IV has a solid, quality feel in the hand. You can tell right away that this is not like so much "cheap Chinese junk." The design goal of reliable performance at a reasonable price has clearly been fulfilled.
As we write these words in the early spring of 2009, the retail price of the camo finish RXB-IV reviewed here is $719.99 at Midway USA. This makes it about $300 more expensive and 7-8 ounces heavier than equivalent Leupold Green Ring Binoculars without the rangefinder feature. In other words, about the same price and weight as buying a Leupold binocular and rangefinder separately, but less bulky and more convenient than carrying two items.
From the user's standpoint, the RXB-IV is a medium size binocular. Although it has many sophisticated features, the laser rangefinder is easy to use and conventional in operation. The rangefinder functions are controlled by two buttons, one marked "Power" and one labeled "Mode." You press the Power button once to turn it on and a second time to range an object. The tripod socket, which most hunters will never use, is on the bottom, as is the battery compartment.
The binocular's eyepieces (oculars) are focused individually, which is typical of waterproof binoculars. They incorporate fully rubber covered, pullout eyecups for those who do not wear glasses. The RXB-IV does not have a center hinge to adjust the interpupillary distance; instead, the binocular halves slide apart or together. We found this design a little less convenient than a center hinge, but it is apparently dictated by the incorporation of the laser rangefinder.
The view through the RXB-IV is sharp and contrasty. We compared it to other Leupold Green Ring binoculars and found its performance similar, which is to say very good. We also compared it to an older generation Leupold Gold ring 9x25mm roof prism binocular and found that colors seen through the RXB-IV actually appeared to have a bit more saturation (probably due to the modern multi-coatings) than the old binocular, but overall the view is not quite as sharp. The latter is no disgrace, as very few binoculars compare favorably to Leupold Gold Rings.
As far as the RXB-IV's TBR laser rangefinder is concerned, from the user's perspective it is very similar in operation to the Leupold RX-III and RX-1000 TBR rangefinders previously reviewed. (See those reviews, which can be found on the Scopes and Sport Optics page, for additional details.) Of course, the RXB-IV provides binocular--rather than monocular--viewing, an enormous advantage.
Leupold's signature TBR feature allows measurement of the line of sight distance to the target like an ordinary rangefinder, but also the "true ballistic range" (horizontal distance) if you are shooting up or downhill. For example, a target 400 line of sight yards distant, but up a 40-degree slope, is actually 335 horizontal (true ballistic range) yards away. To hit, hold for 335 yards, not 400 yards. When in "bAS" mode the RXB-IV would display "335" at the top center of the field of view and "400" at the bottom center position. It will also show the angle of inclination, "40 degrees" in this case. If we were measuring downhill at the same inclination, the true ballistic and line of sight ranges would be the same, but the angle would be expressed as "-40 degrees."
Here is a brief description of the RXB-IV's basic operation. The first press of the power button turns the unit on and the initial display shows a letter indicating the TBR ballistic group (A, b, C or some combination of these three letters--there are seven ballistic groups for rifles and a "BOW" mode with three more for bow hunters) above the center aiming reticle and "bAS" below. "bAS" means that the unit is set to display the horizontal range to the target in addition to the line of sight range. This is the operating mode we prefer, although the RXB-IV can also be set to display the proper hold-over in inches for your ballistic group ("HOLd" mode) or minute of angle correction ("MOA" mode).
When ranging is activated by pressing the Power button a second time, the default rangefinder display in "bAS" mode indicates "TBR" in small letters at the upper left of the display and the true ballistic range (horizontal range to the target) in large numerals in the upper center of the display. At the exact center of the display is the aiming reticle and at the lower center is the line of sight range, also in large numerals, followed by "yd" (indicating yards) or "m" (meters). Below the line of sight range is LOS (indicating line of sight) in small letters, a battery meter icon, and a numerical display of the angle of incline or decline. Once the display is understood, which does not take long, the information presented is easy to use.
To change the modes and information displayed, press the power button for more than one second to activate the unit, then scan through the modes and options (they will flash sequentially) by pressing the Mode button. To set activate or deactivate a function, press the power button while that function is flashing. For more specifics, consult the owner's manual, which we strongly advise you keep in the case with your RXB-IV.
The supplied black Cordura case features bungee/hook closures for silent operation in the field. There are external pockets for the Alumina Intensifier set, a spare battery and the Quick Reference Guide. Inside is a slim pocket to accommodate the owner's manual. The case's nylon strap comes with swivel snaps for quick attachment.
The strap that attaches directly to the RXB-IV binocular is also noteworthy. Rather than the usual thin neck strap supplied with most binoculars, Leupold has supplied a wide, somewhat elastic, double shoulder strap (a "Cuban hitch" type rig) that comfortably supports the weight of the binocular, keeping it tight to your chest. It doesn't flop around and allows fast and convenient use of the binocular. Fastex type buckles allow this excellent carrying strap to be quickly attached or removed.
The Leupold RXB-IV is a very complete package. With a Leupold scope on your hunting rifle and an RXB-IV on your person, you have all the optics most hunters will ever need to carry in the field. Given the performance, convenience and reasonable price of the RXB-IV, not to mention Leupold's well deserved reputation for superb customer service, we rate the RXB-IV a "best buy."