Leupold VX-1 3-9x40mm Riflescope
By the Guns and Shooting Online Staff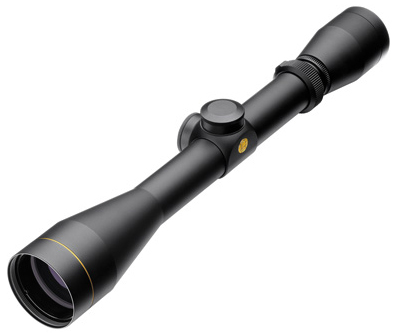 Illustration courtesy of Leupold & Stevens, Inc.
The Leupold (www.leupold.com) VX-I has undergone a couple of major revisions since we did our initial review. Now, with the introduction of the VX-1 line (note the Arabic numeral replacing the former Roman numeral), it is definitely time for a new VX-1 review.
Leupold's purchase of the Redfield brand and the addition of the Rifleman scopes to Leupold's product line has moved the VX-1 up a couple of notches in the scheme of things. No longer an entry level riflescope, the VX-1 line has matured into medium priced, mid-level riflescopes. As befitting their elevated status, VX-1 riflescopes now come with a feature set reminiscent of the VX-2 and VX-3 scopes of only a few years ago. VX-1 scopes are available in a variety of finishes and with standard Duplex, Wide Duplex and LR Duplex (ballistic) reticles. At this time the models include 2-7x33mm, 3-9x40mm, 3-9x50mm, 4-12x40mm and the VX-HOG. The latter is a 1.4-4x25mm scope that is parallax corrected at 75 yards.
We chose to review the versatile and popular 3-9x40mm VX-1 in matte black with a standard Duplex reticle, which we still regard as the best all around aiming reticle in the business. You are unlikely to go too far wrong with a 3-9x40mm scope on almost any CXP-2/CXP-3 big game hunting rifle.
VX-1 Features
Quantum optical system featuring lead free, precision ground lens elements
Multicoat 4 lens coatings
92% light transmission
Choice of Duplex, Wide Duplex and LR Duplex reticles
Fingertip adjustable windage and elevation dials
¼ MOA adjustment clicks/markings
Classic lockable eyepiece focusing
Matte black, gloss black, silver, Mossy Oak Break-Up and Mossy Oak Treestand finishes
Accepts Alumina accessories
Absolute waterproof integrity
Gold Ring Full Lifetime guarantee
VX-1 3-9x40mm Specifications
Product number as tested: 56600 (Duplex reticle, matte black)
Overall length: 12.6"
Tube diameter: 1"
Objective bell diameter: 1.8"
Ocular bell diameter: 1.6"
Objective clear aperture: 40mm
Actual magnification: 3.2-8.8x
FOV at 100 yards: 14.6' (9x), 34.6' (3x)
Eye relief: 3.7-4.2"
Weight: 11.2 oz.
W & E adjustment range: 52 MOA
2012 approx. retail price: $230 (Midway USA)
Our VX-1 test scope arrived securely packaged in an attractive black and gold Leupold box. Inside was nestled a medium priced scope that looks like a premium model. Unlike some of its competitors, Leupold has resisted the impulse to plaster their scopes with intrusive brand names and white lettering. The VX-1's hard anodized, matte black finish (the most durable in the industry) is accented by a thin gold ring around the objective bell and a small, gold, Leupold circular logo inlaid into the left side of the adjustment turret. That's it for branding and adornment and the result is a tasteful package that belies its moderate price.
Knowing that VX-1 scopes do not come with lens caps (they should!), we requested Leupold's rubber lens cover that, unlike "one size fits all" rubber scope bras, properly fits the objective and eyepiece bells. The proper Leupold nomenclature for this item is "Alumina Flip Back Cover Kit - 40mm and Standard EP." Get one when you buy your scope, as it would be a shame to leave the objective and ocular lenses uncovered when not in use.
Reviewing Leupold scopes is invariably uneventful. By which we mean that they do exactly what they are supposed to do without fuss or muss and everything works correctly. Leupold's durability is unsurpassed and all Leupold scopes, from the most expensive to the least expensive, are designed and manufactured to identical, exacting standards.
For this review, we mounted the VX-1 on our dedicated, .223 single shot, NEF scope test rifle, since the Howa 6.5x55 SE hunting rifle we had intended to use was slow in arriving from the distributor. Our NEF scope test rifle is equipped with a Weaver mounting rail and we used Leupold QRW detachable rings to attach the VX-1 to the base.
After preliminary boresighting with an optical boresighter, we made a quick trip to the Izaak Walton rifle range south of Eugene, Oregon to give the VX-1 a workout. It took three shots to zero the rifle/scope combination at 25 yards and three more to put bullets in the black at 100 yards, using the Hornady 55 grain V-Max factory loads that we know this rifle prefers.
Focusing the scope to the shooter's eye is accomplished by loosening the lock ring and turning the ocular bell until the reticle looks sharp. Retighten the knurled locking ring when you are finished focusing. The threads are fine, so multiple turns may be required to achieve the necessary focus.
The windage and elevation adjustments click in ¼ MOA increments. The dials are easy to turn with naked fingers and stay put when set. Threaded aluminum, not plastic, caps are provided. While not target turret repeatable, the adjustments are more than adequate for a hunting scope. Zeroing the VX-1 was a breeze. The price of the ammunition you don't waste zeroing your VX-1 helps reduce its overall cost compared to cheaper, inferior scopes.
Our test scope provided bright, sharp, contrasty images of the target. Leupold claims 92% total light throughput. It delivered its best quality images in the 3x to 7x magnification range. There is some loss of resolution as you look away from the center of the field of view, but this is generally typical of riflescopes. Most users will not notice this, as you aim with the intersection of the cross wires, which remain centered. Color correction is very good. Aberrations are well corrected. Eye relief is generous, making the VX-1 appropriate for use on hard kicking rifles.
We cannot comment about flare, as it was overcast in Western Oregon during this review. However, based on our considerable prior experience with Leupold Multi-Coat 4 scopes, we do not expect internal reflections to be a problem.
To summarize its optical performance, this is an easy scope to look through. It is not the optical equal of a VX-3, but we cannot imagine anyone being disappointed with its performance in the field, particularly for a scope in this price range.
The magnification numbers are engraved on the zoom ring in small numbers. The zoom ring turns readily, but with an appropriate amount of friction to ensure that it will not accidentally change in the field.
Leupold is the only major U.S. scope maker. It is a fifth generation, family owned company over 100 years old located in Beaverton, Oregon. The average employee, and Leupold employs over 700 American workers, has been with the Company for at least a decade. The underside of the VX-1's adjustment turret is proudly marked in small letters, "U.S.A. designed - machined - assembled." This is followed by the scope's individual serial number. Like all Leupold scopes, VX-1 tubes are CNC machined from a solid bar of aircraft quality aluminum. We do not mean to imply that riflescopes made in Japan, Germany and elsewhere cannot be good products, but it is gratifying to own an American made scope that is second to none.