Leupold VX-3 2.5-8 x 36mm: The Definitive Hunting Scope
By Randy Wakeman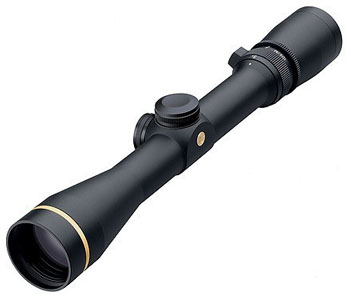 Illustration courtesy of Leupold & Stevens, Inc.
Every once in a great while a product comes along that defines the breed and also defines the company that offers it. That is precisely the case with the riflescope being reviewed here, the latest incarnation of the VX-3 2.5-8x36mm from Leupold (part #66340). For a long while hunters, spurred by misleading advertising, have been making some illogical decisions when it comes to hunting scopes. Often, we are over-magnified, but underscoped. We fall prey to the promise of busy reticles, oversized objectives and heavy riflescopes that do not compliment our rifles.
From time to time, folks will comment about how many Leupolds are seen on custom built rifles. Actually, the scope is usually specified by the customer for whom the rifle is built, but some observers might suppose that custom riflesmiths select Leupold because it is a better scope based on their experience, which is also partly true. The simplest answer, in my view, is even less complicated. Leupold Gold Ring scopes make rifles look good because they have extremely durable, hard anodized finishes and tasteful accents. If I was selling a custom rifle, I'd want everything on it to make my product look good. Who wouldn't? Aesthetics is one of the primary appeals of this scope. Anyway, putting a scope on a custom rifle that makes the rifle look good is my story and I'm stuck with it, or sticking to it.
How often have you seen, or used, a two pound blob of melted sand and aluminum with giant plastic turrets and knobs on what might otherwise have been a clean, fast-handling rifle? It doesn't make a great deal of sense to buy a lightweight, easily carried, fast handling hunting rifle and then plop a giant scope tube on top of it, to destroy what you once had. It often happens. It is something like a wristwatch on a Roman gladiator. Whatever it is, it doesn't belong.
The VX-3 is built on a one-piece, one-inch diameter main tube finished in a hard-anodized black with a gold ring around the front of the objective bell. The optical elements are fully multi-coated. The fast focusing eyepiece is secured by a lock ring. The low, fingertip windage and elevation adjustments click in 1/4 MOA increments. The windage and elevation adjustment range is 70 MOA. The adjustment dials are protected by aluminum screw caps. The front and rear bells are threaded to accept Leupold Alumina accessories. The front and rear lens elements are recessed to help keep fingers and other foreign matter off the lens surfaces. The shooter's eyebrow is protected by a rubber eyepiece guard. The outside diameter of the front objective bell is 1-5/8" and the outside diameter of the ocular bell is 1-17/32". The objective lens diameter and clear aperture are 36mm. Exit pupil diameter is 4.6mm at maximum magnification (8x setting) and 13.8mm at minimum magnification (2.5x setting). Eye relief is 3.6". Overall length is 11-3/4". Weight is 11.5 ounces.
This VX-3 has the latest bells and whistles from Leupold. A few of the featured goodies are:
<![if !supportLists]>· <![endif]>The Xtended Twilight Lens System™ optimizes the transmission of low-light wavelengths, so you see the details of low-light scenes in greater, brighter detail than with any other riflescope available.
<![if !supportLists]>· <![endif]>DiamondCoat 2™ lens coatings on exterior lens surfaces provide the highest level of scratch resistance Leupold has ever offered.
<![if !supportLists]>· <![endif]>The twin bias spring exerts up to 30 percent more holding force on the erector, virtually eliminating erector system backlash and stress on the vital internal workings of the scope, for longer life.
<![if !supportLists]>· <![endif]>Blackened lens edges reduce light diffusion, so more usable light reaches the shooter's eye, for a brighter image with increased contrast.
<![if !supportLists]>· <![endif]>Finger-adjustable, cryogenically treated, ¼-MOA click windage and elevation adjustments with resettable pointer dials marking the zero point.
<![if !supportLists]>· <![endif]>Tactile power indicator also features built-in range estimation functions and graphite O-rings for easy operation.
It might surprise you that none of these features are the main reason to buy this scope. The most important features already existed on the 2004 VX-III Leupold series, the 2.5-8x36 Leupold of that vintage already having more optical quality than middle-aged human eyes can discern. VX-III's hold their zero, which is the most important thing any scope can do. The VX-3 may well be an upgrade from a VX-III, but the primary reason to get a VX-3 is that they no longer make a VX-III.
I'm also delighted to say that this Leupold does not have a Boone & Crockett Reticle. I have nothing against the B&C reticle, specifically. It doesn't seem that Daniel Boone or Davy Crockett ever used a reticle (or a scope!), but that isn't the reason. For most big game hunting, a clear, simple view is the quickest and easiest. The original Leupold Duplex reticle (probably the most copied scope reticle ever designed) offers just that.
The marvel of this scope, actually a 2.6-7.8 power scope, is its form factor, weight, and general utility. At 11.4 ounces, it weighs under three-quarters of a pound, has generous eye relief of 3.6 inches and a generous internal windage and elevation adjustment range of 74 inches at 100 yards. A 36mm objective, it means a 4.62 mm exit pupil. Your eye doctor can measure your maximum dilation for you, but middle-aged human eyes rarely quickly dilate past about 5mm. At low power, where my hunting scopes normally reside, the VX-3 2.5-8 yields around a 13.85mm exit pupil. With a .270 Winchester using the Hornady SuperFormance 130 GMX load #8052, the +/- three inch kill MPBR is about 315 yards. Even so, a ten mph crosswind can move your bullet a bit over six and a half inches at that range. The great fail of ballistic reticles is the focus (pun intended) solely on drop to the exclusion of windage and all other variables.
At the same time, I hardly question that Leupold's latest coatings, gas-filling efforts and addition of a twin bias spring does make a fine scope even better. What makes the VX-3 the definition of a great hunting scope, and the definition of Leupold & Stevens, is a sensible combination of attributes. You might think that a premium scope of this nature is going to cost more than your rifle. That, too, is a pleasant surprise, as the VX-3 2.5-8x36 has a street price of around four hundred dollars.
The VX-3 is brighter than most, clearer than most, has better eye relief than most, a wider field of view than most, more internal adjustment than most, is lighter than most, better-looking and can take more recoil. That makes it the most big game hunting scope most hunters will ever want or need. For all of these reasons, it is in many ways Leupold's best all-around big game hunting riflescope and the scope that you shouldn't fail to consider.