Leupold VX-I 2-7x33mm Riflescope
By Chuck Hawks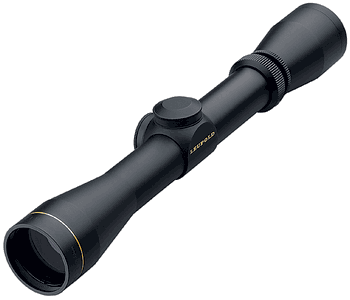 Illustration courtesy of Leupold & Stevens, Inc.
A giant name in riflescopes, Leupold & Stevens is an American, family owned, fifth generation, company that has been in business since 1907. Their riflescopes are so well thought of that they have practically been de rigor on expensive custom built rifles for the last 50 years.
As a major scope manufacturer (not just importer)--the last in the U.S.--Leupold's line is extensive and potentially confusing. It was only a few short years ago that Leupold took steps to simplify their riflescope line by introducing the VX-series (I, II, and III) of variable power riflescopes with increasing desirable features and price. But the scope market moves fast these days and Leupold has already significantly upgraded all three VX lines as well as added the exciting VX-L large objective/low mount scopes at the top of the VX-series. This is in addition to the entry level Rifleman scopes at the bottom of their price structure and the ultimate top of the line Leupold Premier Scopes (LPS) at the highest price points.
We haven't reviewed a VX-I since the last round of upgrades, so when we requested a new Remington Model 798 .30-06 rifle for review on Guns and Shooting Online, we also called media superman Pat Mundy at Leupold and requested the consignment of a new VX-I 2-7x33mm riflescope. We thought that a moderately priced yet classic Leupold Gold Ring riflescope would be a good match for Remington's classic yet moderately priced Mauser 98 rifle, and we were right.
Both the Remington 798 rifle and the Leupold VX-I riflescope turned out to be better than we expected, and we had expected good product from both companies, which are mainstays of our industry. You will find the review of the Model 798 on the Product Review Page, and you are reading the review of the VX-I.
VX-I scopes feature a 2-piece 6061-T6 aircraft aluminum alloy tube machined from Alcoa aluminum bar stock. That's right, the body of all Leupold scopes starts out, not as a tube, but as a solid bar of aluminum. It becomes a scope tube after extensive machining in Leupold's Beaverton, Oregon, U.S.A. factory.
A word about 2-piece, 1-piece, and "true 1-piece" scope tubes: Don't be deceived; what matters is the quality, precision and care with which the entire scope is designed, manufactured, assembled, and quality controlled, not the number of main tube pieces. The VX-I scores higher in all of those critical areas than many a scope that is advertised as being built on a 1-piece main tube.
Inside of that machined tube are the fully multi-coated Leupold optical elements, new "micro-friction" windage and elevation adjustments with 1/4 MOA graduations, and your choice of standard Duplex, Wide Duplex, or the new LR Duplex (ballistic aiming system) reticles. Focusing is achieved "American style," requiring many turns of the eyepiece bell; once set, the focus adjustment is preserved by turning a lock nut against the eyepiece bell. The zoom ring requires considerable force to turn, typical of Leupold scopes, but is smooth in action. They don't want the magnification to be changed accidentally, and neither do I.
It takes a coin or something similar to turn the low profile windage and elevation adjustments, which are continuous throughout their range. The graduated ring around the adjustments is graduated in 1/4 MOA increments and proved surprisingly accurate in use. Leupold could have used fingertip adjustment knobs, but then the scope would have been bulkier. And how often do you, realistically, need to adjust the point of aim of a 2-7 power scope on a big game hunting rifle?
The outside of the tube is treated to Leupold's super hard anodizing process to resist scratches and wear. Standard finishes for all VX-I scopes include gloss black and matte black. The 3-9x40mm model is also available with a silver finish. The VX-I 2-7x33 reviewed here, as requested, came with a matte black finish.
VX-I scopes are built to the same standards of toughness and durability as all other Leupold scopes. They are designed to withstand, undamaged, 5,000 repetitions of 750 G acceleration. This is the harshest standard in the industry, and no competitive brand of scope has ever passed Leupold's impact test. (And Leupold tests them all.)
Every VX-I scope (every Leupold scope, period) must pass Leupold's water test before it leaves the factory. This involves being submerged in a tank of 120 degree hot water, where a partial vacuum is created to increase the pressure difference between the inert nitrogen gas inside of the scope and the outside atmosphere. The inside of the scope is already pressurized, and the increased temperature further raises the pressure. Under this torture test, tiny bubbles of escaping gas will betray any flaw in the waterproof seals.
Increased quality control costs money and raises the selling price of the product. But Leupold and their customers understand that it is money well spent. In the field, reliability is the most important feature of all.
Of course, like all Leupold Gold Ring riflescopes, the VX-I comes with Leupold's Full Lifetime Guarantee (not "warrantee"), which simply states that if any Leupold Gold Ring product is found to have defects in workmanship or materials, Leupold will repair or replace it FREE. No warrantee card is required, there is no time limit, and you don't have to be the original purchaser. Leupold's customer service is world renowned for excellence.
Here are the specifications for the VX-I 2-7x33mm scope as reviewed:
Product # - 56550
Finish - Matte black (gloss black also available)
Reticle - Duplex (Wide Duplex and LR Duplex also available)
Overall Length - 10.8"
Weight - 10.5 ounces
Actual Magnification - 2.5x-6.5x
Windage and Elevation Adjustment Range - 65 MOA
Objective Clear Aperture - 33mm
Field of View at 100 Yards - 43.2' (low), 17.3' (high)
Optimum Eye Relief - 4.2" (low), 3.7" (high)
2006 MSRP - $250
So, the new matte black VX-I 2-7x33 looks good and feels good, but how does this new version of the VX-I perform? Very nicely, thank you! The overall optical quality is good. The Leupold version of the Duplex reticle, which Leupold invented, is still the best. It is easy to see the reticle against the target, which the scope brings in sharp and clear. Flare suppression seems to be good. Some loss of sharpness is evident at the edge of the field of view, but it did not create a problem for us at the range and will be unnoticeable in the field.
The eye relief is very good, as you might assume from reading the specifications. This would be a good scope to use on a hard kicking rifle. Eye position behind the ocular is not critical, an area in which many competitors' scopes are found to be lacking.
Leupold's "micro-friction" windage and elevation adjustments are indeed an improvement. We found them to be more accurate and repeatable at 100 yards than most scopes that claim 1/4 MOA click adjustments. The VX-I's accurate adjustments made it quick and easy to sight-in our test rifle.
Also appreciated, although in this instance we didn't need it, is the substantial latitude (65 MOA) for windage and elevation adjustment. You are unlikely to run out of adjustment range with one of these scopes. Since we used a Leupold base and Leupold rings to mount the VX-I on the Remington 798 rifle, the windage adjustment built into the base further insured that there would be no such problem. That is one of the reasons we prefer Leupold mounts.
Speaking of the mount, we had to use medium height rings to get the 798's bolt handle to clear the scope's rather modest in diameter ocular bell, even though the scope had plenty of clearance at both ends over the receiver and barrel in low rings. This is one of the things to watch out for when scoping a rifle with a Mauser 98 action.
All in all, the new version of the Leupold VX-I 2-7x33mm is significantly improved over its predecessor, which was a pretty good scope in its own right. Sometimes "new and improved" is just hype, but not in this case. The new VX-I multi-coatings and micro-friction adjustments are especially appreciated.
The VX-I 2-7x33mm scope is an excellent choice for rifles chambered for cartridges ranging from the .30-30 to the .308 and .30-06. It offers a wide field of view for close shots at woods ranges, and sufficient magnification to do all that can be done within the MPBR of any big game hunting load for all of the popular .30 caliber standard cartridges. And it's all packed into a package about the size of an ordinary 4x fixed power scope. The smaller 2-7x33 mm scope (compared to the ubiquitous 3-9x40mm) weighs less and has less negative impact on the handling of the rifle. It's like eating your cake and having it, too.
The Remington Model 798's barreled action turned out to be good enough to serve as the basis of an expensive custom rifle, but that is a separate story (article). And the Leupold VX-I riflescope, ordered as the companion to a moderately priced utility rifle, turned out to be good enough to also be used as the riflescope for that big bucks custom rifle. That's right, our modestly priced VX-I 2-7x33mm scope is staying right where it is, firmly mounted in Leupold hardware to the receiver of our (now) custom Model 798 rifle.