Leupold VX-I 4-12x40mm Riflescope
By Chuck Hawks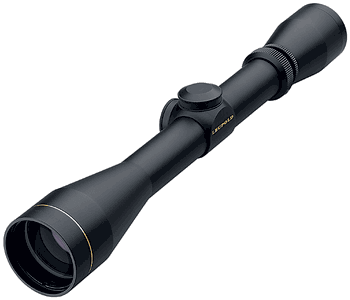 Illustration courtesy of Leupold & Stevens, Inc.
Having not reviewed a Leupold VX-I since the last round of upgrades, we here at Guns and Shooting Online procured two new VX-I scopes for review. One is a 2-7x33mm consigned for review from Leupold. The other is the scope reviewed here, a 4-12x40mm purchased locally at Bi-Mart on 18th Avenue in Eugene, Oregon. Frank, the Sporting Goods Department Manager, is both extremely knowledgable and our friend. If you live in the southern Willamette Valley, stop in and see him.
Leupold & Stevens is an American, family owned, fifth generation, optics company. Leupold is the last major American scope maker, doing their scope manufacturing in-house at their Beaverton, Oregon plant. That is why they can legitimately claim to be "America's Optics Authority."
The basic line up of Leupold variable power riflescopes includes (in ascending order) the entry level Rifleman, the economical VX-I, medium priced VX-II, upscale VX-R, deluxe VX-3 and VX-3L and the premium VX-6. The subject of this review is from the VX-I line, which along with the other VX models constitute the heart of the Leupold range and the lynch pins of Leupold's continued success.
VX-I scopes are the most economically priced of Leupold's VX models, but thay are not "el cheapo" scopes. They are made with the same exacting care and rigorous quality control as all other Leupold scopes. This means that they are designed and tested to withstand 5,000 repetitions of 750 G acceleration, the harshest standard in the industry. Every VX-I must also pass Leupold's infamous hot water test for absolute watertight integrity. All VX scopes are Leupold Custom Shop serviceable.
The VX-I comes with Leupold's Full Lifetime Guarantee. This states that if any Leupold Gold Ring scope is found to have defects in workmanship or materials, Leupold will repair or replace it FREE. No warrantee card is required, there is no time limit, and you don't have to be the original purchaser. No company backs their scopes better than Leupold.
The latest generation of VX-I scopes are improved over their predecessors in a couple of important ways. These include more accurate "micro-friction" windage and elevation adjustments and fully multi-coated optics.
Of course, our VX-I 4-12x40 test scope also benefits from the quality processes used in the manufacture of all Leupold riflescopes. VX-I scopes feature a 2-piece, 1" diameter, 6061-T6 aircraft aluminum alloy tube machined from bar stock. A Leupold scope tube starts out as a solid aluminum bar.
Inside of that machined tube are the fully multi-coated optical glass elements, new micro-friction windage and elevation adjustments with 1/4 MOA graduations, and your choice of standard Duplex, Wide Duplex, or the new LR Duplex (ballistic aiming system) reticles. Focusing is achieved "American style," requiring many turns of the eyepiece bell; there is a stop to prevent completely unscrewing the ocular housing. Once set, the focus adjustment is preserved by turning a locking ring against the eyepiece bell. The zoom ring is smooth but requires considerable force to turn, in order to prevent inadvertent power changes.
It takes a coin or something similar to turn the low profile windage and elevation adjustments, which are infinitely variable within their 50 MOA range. The ring around the adjustments is graduated in 1/4 MOA increments. The outside of the tube is treated to Leupold's super hard anodizing process to resist scratches and nicks. Our test 4-12x40 came in traditional gloss black, probably the prettiest scope finish on the market, but Leupold's subdued matte black finish is also available.
Here are the specifications for the VX-I 4-12x40mm scope as reviewed:
Product # - 53753
Finish - Gloss black (matte black also available)
Reticle - Duplex (Wide Duplex and LR Duplex also available)
Overall Length - 12.3"
Weight - 13 ounces
Actual Magnification - 4.5x-11.4x
Windage and Elevation Adjustment Range - 50 MOA
Objective Clear Aperture - 40mm
Field of View at 100 Yards - 19.9' (low), 9.4' (high)
Optimum Eye Relief - 4.9" (low), 3.7" (high)
2013 discount retail price - $300 (Midway USA)
We mounted the VX-I 4-12x40 on a Kimber Model 84M Longmaster in caliber .223 Remington using a machined steel Leupold base and medium height Leupold rings. The relatively compact and lightweight Leupold scope is a good match for this relatively lightweight varmint rifle. And a deluxe rifle like the Kimber just looks right wearing a Leupold Gold Ring scope.
The mechanical quality is excellent and the overall optical quality of our VX-I 4-12x is good. The scope allows clear views of the target. Sharpness and contrast are good at the center of the field of view and acceptable at the edge. Colors are rendered naturally and flare suppression is good. The eye relief is very good. There is considerable latitude in eye position behind the ocular, a rare attribute in a high magnification riflescope.
The Leupold Duplex reticle is still the best. Its fine central crosswire provides a precise aiming point, yet the reticle is easy to see in dim light. It is a reticle equally at home on a varmint or big game rifle.
Leupold's new micro-friction windage and elevation adjustments deserve comment. We found them to be quite accurate and repeatable, every bit as good as the 1/4 MOA "click" adjustments in scopes priced competitively with the VX-I. These accurate adjustments made it easy to sight-in our test rifle.
Some readers might question why we didn't spring for a VX-II or VX-III for a rifle in the Kimber's price class. Certainly either would have been a good choice and the VX-II 4-12x40mm scope offers an adjustable objective, a handy feature not available in the VX-I line. However, the VX-I has worked out well. It is just as durable, reliable and well finished as its more expensive VX cousins and we were able to snag it on sale (15% off the regular discount price), an offer we couldn't refuse!