Leupold VX-3L 3.5-10x50mm Riflescope
By Chuck Hawks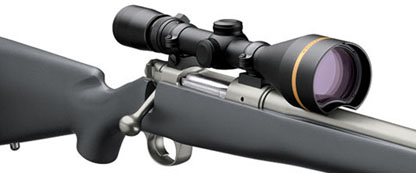 Illustration courtesy of Leupold & Stevens, Inc.
In 2006, Leupold & Stevens introduced their first "VX-L" riflescope, which was quickly expanded into the VX-3L series. VX-3L scopes are designed to offer low mounting height combined with large diameter objective lenses. A VX-3L 3.5-10x scope with a 50mm diameter front objective will mount on a rifle at the same height as standard scopes with a 36mm objective.
This miracle has been achieved by the simple expedient of taking a "bite" out of the lower edge of the objective lens, allowing the scope to be mounted lower on the rifle. The point is to counter the trend toward top heavy hunting rifle/scope combinations caused by the popularity of hunting scopes with oversize front objectives.
Unfortunately, big diameter front objectives are heavy and require high mounting rings, and that causes the rifle to become top heavy. Further, a scope in high rings is usually positioned too high for a good cheek weld on the stock, which negatively impacts practical accuracy and rapid target acquisition. The bottom line is that such rigs make shooting harder, not easier.
Leupold has made an attempt to ameliorate the drawbacks of these oversize, yet popular, scopes with the introduction of the VX-3L line. When a VX-3L scope is mounted low and over bore on a rifle the barrel passes through the "cut out" in the bottom of the objective bell. (See the photo at the top of this article.)
Like the Leupold VX-3 scopes from which they are descended, the VX-3L line is rugged and waterproof, offers superior image quality, uses Leupold's index matched lens system, provides generous eye relief, and is equipped with a lockable fast focus eyepiece. They are designed to the industries highest standards for durability and finished with Leupold's super hard anodizing process that resists scratches and wear.
Here are some of the notable features of the VX-3L 3.5-10x50 riflescope:
Index Matched DiamondCoat lenses to provide superior brightness and clarity along with Leupold's highest level of scratch resistance.
Finger adjustable 1/4 MOA adjustments.
Titanium nitride coated precision stainless steel adjustments.
Edge Blackened Lenses for increased internal anti-reflectance.
Dual Spring erector system provides 30% more holding force on the erector assembly.
Argon / Krypton gas filled for increased protection against fogging and thermal shock. This provides better internal seal life and sealing than traditional nitrogen.
Graphite O-rings with Micro Finish interior components provide a super smooth, infinitely adjustable power band.
Tactile power indicator with range estimating feature on the power selector ring.
8-start threads on lockable ultra fast-focus eyepiece. Focuses twice as fast as earlier VX-III models.
Tungsten wire reticle.
Large objective low light advantages coupled with lowered mounting height. (VX-3L 50mm mounts at same height as a traditional 36mm).
The VX-3L 3.5-10x50 scope is covered by Leupold's famous Full Lifetime Guarantee. This Guarantee provides that if any Gold Ring product is ever found to have defects in materials or workmanship, Leupold will repair or replace it for free. This applies even if you are not the original owner.
The construction of the VX-3L 3.5-10x50mm scope provided to Guns and Shooting Online is rather interesting. Like a standard VX-3, it is built on a lightweight, one-piece aluminum alloy main tube 1" (25mm) in diameter. These main tubes are CNC machined from bar stock to exacting tolerances, and then highly polished.
A threaded ring cannot be used to retain the front objective lens, since it is not round. Instead, Leupold uses a front trim ring that appears to be secured by four small Torx head machine screws. The lens retaining system is behind this trim ring.
Inside the front objective bell there are what appears to be a guide notch (at the top) and two retaining notches (at the sides). These are designed to accept special Leupold Alumina accessories, since neither filters or lens hoods can be threaded into the VX-3L's eclipse shaped front bell housing.
The finish on the VX-3L 3.5-10x50mm is matte black with the famous Leupold Gold Ring around the objective bell and a small, bronze colored, Leupold "circle L" trademark on the left side of the adjustment turret. The zoom ring is marked for magnification and range estimation with fine gold numbers.
For this review I mounted the VX-3L 3.5-10x50mm test scope on a Weatherby Mark V Deluxe rifle in a one-piece Leupold base and low Leupold rings. The clearance over the barrel was, if anything, greater than with a conventional 3-9x40mm scope.
The knurled zoom ring rotates through about 1/3 of a turn, which means that magnification can be changed rapidly. The shorter helical cuts also mean a stronger tube assembly. There is a large, squared-off, tactile power indicator on the zoom ring, which can be operated by gloved hands. As always, the fast focus eyepiece is appreciated.
The view through the test VX-3L is excellent. Sharpness, contrast and color correction are all very good center to edge. Optical aberrations, including distortion, coma and color fringing are very well controlled. Internal flare is practically nonexistent.
The standard reticle is the extremely versatile Leupold Duplex, made from tungsten wire. Leupold invented this type of reticle and to this day no one does a "plex" reticle quite as well. Many other reticle options are, of course, available.
The test scope's fingertip 1/4 MOA windage and elevation adjustments proved to be accurate and repeatable, with good tactile feedback. Mechanically, the entire scope is of very high quality and everything works as advertised.
The VX-3L is, across the board, a fine riflescope. I am not generally a fan of riflescopes with large front objectives, but I was very impressed by the VX-3L and its low mounting position.
If you need a scope with this approximate magnification range and must have a 50mm objective, the Leupold VX-3L 3.5-10x50 is the way to go. The benefit of a lower mounting position and the consequent lower center of gravity is a crucial advantage for a hunting rifle. You can spend more for a variable power scope with a 50mm objective lens, but you cannot buy the advantages offered by the VX-3L at any price.