Leupold VX-7 2.5-10x42mm Riflescope
By the Guns and Shooting Online Staff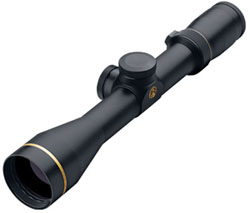 Illustration courtesy of Leupold & Stevens, Inc.
Leupold & Stevens, a family owned company located in Beaverton, Oregon USA, has manufactured the best all-around riflescopes on the market for most of my adult life. Leupold scopes are very well thought of by the general shooting public as well as by nearly all custom gun makers and their knowledgeable customers, but there is one small, upscale market segment that they do not dominate. That is the five-star, ultra-deluxe class that has become the preserve of the premium German brands such as Schmidt & Bender, Zeiss Diavari and the Swarovski PH/PF series.
Some years ago Leupold introduced their LPS series scopes to compete in this market but, for whatever reason and despite the excellence of the scopes, LPS never got the recognition it deserved. Now Leupold strikes back with the VX-7 line and a bold advertising campaign proclaiming, "It's okay, Germany, you still make the best beer!" Not only are these ads amusing, but they strike to the heart of the matter. The essential message is that there is a new sheriff in Scope Land, and it's the Leupold VX-7.
The Leupold VX-7 line may well be the final, fullest expression of the conventional riflescope as we think of it today. It has everything that the best five-star German riflescopes can offer, and more.
VX-7 scopes are built on one-piece 30mm tubes of 6061-T6 aircraft quality aluminum alloy with an ultra-durable, hard anodized finish. They feature Leupold's new lead free glass, Xtended Twilight, edge-blackened lens system with DiamondCote 2 anti-reflection coatings for a superior level of scratch resistance. Eyepiece focus is by means of a quick, European style focusing ring at the rear of the eyepiece and an extremely large eyebox was designed into all VX-7 scopes. The unique fingertip Speed Dial windage and elevation adjustments are precise, re-settable, lockable, and the easiest to use that we have yet encountered, while the dual spring 4x erector system is engineered to withstand intense abuse. The internal titanium nitride/stainless steel adjustment surfaces are manufactured to extremely tight tolerances for a lifetime of repeatable accuracy. The exotic argon-krypton gas used to fill the scopes is superior to the nitrogen everyone else uses, and even the supplied Alumina magnetic flip-open lens caps are superior.
VX-7 scopes with 56mm objectives (VX-7L models) include Leupold's VX-L ergonomic design for low scope mounting. Long range models have Speed Dial side focus parallax adjustment.
Like all Leupold scopes, the VX-7's must pass the most rigorous recoil shock tests in the industry. If any scope can be said to be waterproof, fog proof, and shock proof, the VX-7 is it. And they come with Leupold's famous Full Lifetime Guarantee (no registration or warrantee card is required and you don't have to be the original purchaser of the scope) and a special VX-7 Custom Care Package.
The latter includes fast track service and other benefits never before offered. Included in the Golden Ring Custom Care Package are:
A special product service phone number for VX-7 customers.
Each VX-7 customer will receive a telephone call notifying them upon Leupold's receipt of their scope if it is ever sent in for customization, modification or service.
Expedited warranty service.
Expedited shipping to and from Leupold in the unlikely event that a VX-7 requires service.
One complimentary Leupold Custom Shop service, such as engraving or custom BDC dials, for example.
A complimentary one-year membership to the Boone and Crockett Club or Safari Club International, or a Rowland Ward publication will be provided to each VX-7 customer.
If required, Leupold will provide a temporary replacement VX-7, free of charge, in an effort to help you complete your hunt.
The VX-7 comes at a time when the integrated riflescope/laser rangefinder is just starting to appear. Burris, Nikon, and Carl Zeiss already have these next generation scopes in their lines, and I suspect that is the direction that cutting edge riflescope research will henceforth take. Leupold already has what are arguably the most sophisticated laser rangefinders and the best riflescopes available to consumers, so how long can it be until Leupold combines the two in a laser riflescope?
In the meantime, and probably for some time to come, for the connoisseur we have the world beating VX-7 line. Following are the basic specifications of the VX-7 2.5-10x45mm riflescope.
Product: VX-7 2.5-10x45mm (#63120 satin black)
Actual magnification: 2.6x-9.9x
Field of view at 100 yards: 38.1' (low) to 10.2' (high)
Optimum eye relied: 4.5"-3.8"
Objective clear aperture: 45mm
Adjustment range: 60 MOA
Weight: 19.2 ounces
Overall length: 12"
Outside objective diameter: 2" (50mm)
Main tube diameter: 30mm
External finish: satin black (model reviewed) or satin gray
2007 Discount Retail Price: $1399.99 (Midway USA, Cabela's)
This is a well designed scope that is easy to mount. There is 2.1" of space between the front (objective) bell and the adjustment turret, and also 2.1" of space between the adjustment turret and the rear (ocular) bell, giving generous latitude for both front and rear mount ring placement without getting into offset bases or rings. Other scope manufacturers sometimes overlook providing adequate mounting latitude, so buyer beware.
For this review we used steel Leupold rings for Weaver style cross-slot bases to mount the VX-7 on a pre-'64 Winchester Model 70 rifle owned by Guns and Shooting Online Gunsmithing Consultant Rocky Hays. A scope with a 2.5-10x magnification range is suitable for a great many hunting rifles and calibers, ranging from varmint cartridges such as .17 HMR to ultra-long range calibers such as .257 Weatherby Magnum and all around numbers such as the .30-06. So, Rocky's .270 Winchester is a completely appropriate choice for this ultra-deluxe Leupold scope.
The only real drawback to the VX-7 2.5-10x45mm scope is its substantial bulk. Although similar in size to competing scopes with 30mm tubes, it is 0.7" longer, 0.4" bigger around at the objective bell, and 7.7 ounces heavier than Leupold's own, very capable, VX-III 2.5-8x36mm scope. That difference is apparent in its effect on the rifle's balance and handling qualities. That is the penalty that inevitably must be paid for the dubious benefits of ever fatter main tubes and objective lenses.
Once mounted, it is immediately apparent that the optics of the VX-7 are first class. The field of view is sharp and contrasty from edge to edge regardless of the magnification selected. Lens flare is practically non-existent. Optical aberrations are very well controlled, as good or better than any scope we have ever reviewed. Focusing is quick and sure, and the zoom ring turns smoothly but with enough resistance to insure that inadvertent power changes will not occur.
Leupold's index matched glass and Xtended Twilight Lens System coatings are designed to maximize the transmission of the wavelengths of light (mostly at the blue/violet end of the visible spectrum) found in low light hunting situations. The bottom line is that the VX-7 is unsurpassed at providing definition, detail, and luminance in low light viewing conditions.
We did our test shooting at the rifle range during daylight hours, but we also did some experimental viewing with the VX-7 at night aided only by moonlight and small, distant streetlights. With the zoom ring set for about 6.4x (to provide approximately a 7mm exit pupil) we can report that Leupold's claims for the Xtended Twilight Lens System appear to be justified. It's one heck of a low light scope.
Our test scope was equipped with Leupold's new XT Duplex reticle. This features a wider central "gate" between the four picket posts and a finer central crosshair for increased long range aiming precision than the standard Duplex. Five other reticles are offered as standard equipment for the VX-7 line, and many more are available through the Custom Shop, but we have always found the Leupold Duplex easy to use and effective in a wide variety of conditions. In reticles, simpler is usually better.
The Speed Dial windage and elevation adjustments have no covering cap in the usual sense. Or rather, the cap is part of the adjustment dial. To make an adjustment you unscrew the knurled "cap" one half turn and the dial pops-up, cap and all. The dial is then turned with the fingertips, clicking with excellent tactile feel in precise 1/4 MOA increments. Each full revolution equals 20 MOA of adjustment. If you wish, after adjustment you can reset the adjustment dial to zero. Push the dial back down and screw in the "cap" (the upper, integral part of the dial itself) and you are finished. Turn the cap in farther than the required 1/2 turn and the adjustment dial is locked. There are even field interchangeable BDC dials available for the Speed Dial system. This is, simply stated, the best windage and elevation adjustment system that we have ever used.
Other nice little touches become apparent when the scope is used. There is, for instance, a tactile bump on the zoom ring. There are also ballistics indicator numbers on the power selection ring. The eyepiece fast focus ring wears an Alumina rubber eyepiece guard. The wide eyebox simplifies rifle mounting and rapid target acquisition, and the generous eye relief will keep the shooter's brow unscathed.
There is a traditional Leupold gold ring around the front of the objective bell and a very thin gold ring around the zoom ring, as well as a small Leupold "L" emblem on the side of the adjustment turret. Otherwise, the scope is an understated yet attractive satin black. It is not showy and does not have or need an obvious brand name in contrasting (white) lettering to make the point that this is an ultra-deluxe riflescope, unlike another top brand scope that we recently reviewed.
This scope is so good that the shooting part of our review was completely unremarkable. Everything about the VX-7 worked exactly as advertised. When our first 100 yard group with the .270 test rifle struck 3" high and 1.5" to the right, we corrected by turning the elevation knob 12 clicks down and the windage knob 6 clicks left. The next three shots drilled the center of the target. Want the groups to center 2.5" high at 100 yards? Dial in 10 clicks of elevation. Bingo, the next three bullets formed a group centered 2.5" above the "X." So much for the "chore" of sighting-in!
That is how it is with ultra-deluxe products like the VX-7. They are so good that the normal, expected little hassles associated with lessor products simply disappear. Perhaps that is reason enough to consider a Leupold VX-7 scope for your dream rifle.