Leupold Alumina Accessories
By Chuck Hawks
Leupold offers a line of top quality accessories for their telescopic sights under the Alumina name. Leupold manufactures these accessories to their usual high standards of quality and precision. Included in the 2007 Alumina line are four filters and a filter stacking kit, a 50-foot focus adapter for scopes with 40mm adjustable objectives, 2.5" and 4" long lens shades, rubber eyepiece guard, threaded lens covers, flip-back lens covers, and the justly famous RainCote Kit.
RainCote Kit
For my first foray into Alumina Accessories I requested a 32-33mm RainCote Kit. This fits Leupold VX-I and VX-II 2-7x33mm scopes, which are among my favorite optics. (Terry Hart's review of the RainCote kit can be found here: www.chuckhawks.com/leupold_raincote_kit.htm) Leupold manufactures RainCote Kits in house on the same production line that turns out their impressive VX-L series riflescopes.
This RainCote Kit is a threaded, two filter set (one for the 33mm objective lens and one for the 32mm ocular lens). Included is the Alumina R5 stacker, a precisely machined, anodized aluminum, threaded storage device with lens caps for both filters that you can carry in your pocket. The precision with which even the R5 stacker is manufactured is impressive and speaks volumes for Leupold's production standards. I have observed first hand how Leupold machines scope tubes from 6061-T6 bar stock with incredible precision, so I know what they can do--and the RainCote Kit appears to be manufactured with similar care.
The primary purpose of the RainCote Kit is to break-up and shed water droplets from rain, snow or fog that otherwise might impede the view through your scope. It dramatically reduces the glare caused by water drops and water spot staining is also reduced. Since RainCote filters are replaceable, they protect the exposed lens surfaces of your scope in the same way that a Skylight filter is used to protect an expensive camera lens.
Since I received my RainCote Kit in January and I live in western Oregon, the next day I was able to test the validity of Leupold's claims for the filter's water shedding capability in genuine Oregon rain. Guess what? Water instantly sheds off of the filter surface. This is not actually surprising, as Leupold & Stevens is a 100 year old Oregon based company, so they probably know as much (or more!) about hunting in the rain as any optics manufacturer in the world.
Lens Filters
Alumina filters are designed to enhance the view through your riflescope under certain specific conditions. They are produced in sizes that thread into the front objective bell of most Leupold scopes, or clip-in to VX-L front objectives. The four Alumina lens filters are the Optimizer OP, Intensifier YL (yellow), Intensifier OG (orange), and Intensifier BZ (bronze).
All filters are subtractive; that is, they reduce part of the light spectrum. A yellow filter, for example, cuts blue and violet light the most, while passing yellow light and most red and green light. That is why things look yellow when you look through a yellow filter, or shooting glasses with yellow tinted lenses. An orange filter cuts blue and cyan (blue-green) light, and so forth. The point is that whenever you use a filter, less total light reaches your eye. This can, however, be advantageous in certain circumstances.
The Alumina Intensifier YL, by reducing the blue-violet spectrum, allows you to see sharper details on hazy days. It also eliminates the blue-violet light rays seen as a halo at the edge of a black bull's eye on a white target paper. The Intensifier OG improves game contrast in late morning and early afternoon lighting, especially on cloudy bright days. The Intensifier BZ increases the contrast between game animals and surrounding foliage. It also makes white silhouette competition targets stand out against the background.
The Optimizer OP can be used singly or stacked with any of the Intensifiers. To paraphrase the Leupold catalog, the OP reduces muddy coloring. The red tone common in many game animal coats stands out with greater contrast to the surroundings and timber looks sharper, making it easier to identify animal shapes. It also increases the contrast of black targets against a natural background.

Intensifier Kit. Illustration courtesy of Leupold & Stevens, Inc.
The Alumina Intensifier Kit includes the Optimizer and the Intensifiers BZ and OG plus the IS threaded filter stacker. The latter's threaded front and back aluminum caps protect the filters when they are stacked together, providing a safe and compact way to carry and store Alumina filters.
Focus Adapter
The Alumina 50-foot focus adapter is a corrective lens that threads into the front of post-2004 Leupold scopes with 40mm diameter adjustable objective (AO) lenses. It basically works like plus-diopter close-up camera lenses and is intended to reduce the scope's minimum focusing distance for gallery shooting.
Other Alumina Accessories
The other Alumina accessories are purely mechanical, involving no optics. The rubber eyepiece ring is designed to protect your eyebrow from possible scope cuts and helps to shade the ocular lens. There are two models that between them fit all Leupold scopes.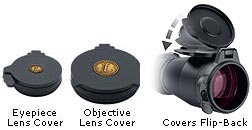 Flip-Back lens cover. Illustration courtesy of Leupold & Stevens, Inc.
The threaded aluminum lens caps provide excellent protection to your scope's optics when it is not in use, but they are relatively slow to remove as they must be unscrewed. The flip-back lens covers are much faster to get out of the way in the field. They feature powerful magnets to hold them closed and triple O-ring seals to keep out the elements. They are fast to open and fold back against the scope tube when open for a very low profile. Alumina Flip-Back lens covers are much neater than the usual after market flip-open scope covers that I have seen.
Last but not least in the Alumina line are 2.5" and 4" long lens shades. Lens shades cut glare and help to keep rain, fingerprints and foreign matter off of your scope's vulnerable objective lens. The Alumina lens shades are threaded aluminum and can be combined to create a longer hood. They are available in sizes to fit post-2004 Leupold scopes.
Conclusion
Leupold Alumina accessories are manufactured to Leupold's high standards and are clearly superior products. If you hunt in inclement weather I strongly recommend the RainCote Kit for any Leupold scope, and I recommend the use of a lens shade on every hunting scope. Lens caps are a practical necessity to protect the optics when the scope is not in use, and the Alumina scope caps are simply the best. Check out the entire Leupold Alumina accessory line for yourself, you'll be glad you did.