Leupold VX-III with Custom Ballistically Matched Reticle
By Chuck Hawks
Custom Mauser .270 rifle with Leupold VX-III 2.5-8x36mm scope. Photo by Chuck Hawks.
The Leupold Custom Ballistically Matched reticle is the simplest, most straightforward approach I have yet encountered to making long distance shots easier. It's more precise than the LR Duplex because it is graduated for your specific rifle and load (rather than for classes of rifle cartridges), and simpler and considerably less cluttered than Leupold's Boone and Crockett Big Game reticle or a mil-dot reticle.
The Custom Ballistically Matched reticle is based on a Leupold Duplex reticle that is modified/tailored for your load. It is intended to be zeroed, using the main intersection of the crosshairs, at 200 yards. Spaced above the intersection of the crosshairs is a dot. This is the correct aiming point at 100 yards. Below the intersection of the crosshairs are three more dots. These are the correct aiming points for targets at 300, 400, and 500 yards. (See illustration below.)
Illustration courtesy of Leupold & Stevens, Inc.
The wizards in the Leupold custom Shop only need to know the ballistic coefficient (BC) of your bullet and its muzzle velocity (MV), information available in practically every reloading manual, to create your personalized, digitally mastered reticle. They use an electroform metal deposition process with micron precision to create a reticle specifically for your load and rifle.
If you shoot factory loads instead of handloads, they have you covered. They have the data in their custom reticle library to create reticles matched to almost all contemporary factory loads.
The only fly in the ointment is that a scope with a Custom Ballistically Matched reticle must be ordered from the Leupold Custom Shop. But the waiting period is short. I received the custom scope reviewed in this article in about two weeks. Surely that is not excessive to get, not just a riflescope, but a custom long range shooting system of astonishing accuracy.
Our Custom Ballistically Matched Reticle test scope is a VX-III 2.5-8x36mm model. Since I intended to mount this scope on a .270 Winchester caliber rifle, I requested that the reticle be matched to the Winchester Super-X 130 grain Power Point factory load (MV 3060 fps) and/or the Hornady 130 grain Spire point bullet (BC .409) at a MV of 3050 fps. As it happens, these two loads shoot so close together that they are within the 1 MOA accuracy of the custom reticle.
Frankly, this reticle should work for most .270, 130 grain flat base spitzer bullets at a similar MV. For example, the Speer 130 grain Hot-Cor has a BC of .408, The Woodleigh 130 grain PP has a BC of .409, The Remington Bronze Point has a BC of .372, and the Nosler 130 grain Partition has a BC of .416. Any of these, driven at a MV of 3050-3060 fps, will hit so close to the intended point of impact that nothing can live on the difference. So the Ballistically Matched Reticle, although tailored specifically for one load, is actually more versatile than one might think.
In fact, just to check, I ran ballistics tables out to 500 yards (based on a 200 yard zero) for the Bronze Point, Hornady Spire Point, and Nosler Partition bullets at a MV of 3050 fps. The results showed that the Bronze Point dropped 19.9" at 400 yards while the Spire Point dropped 19.2" and the Partition dropped 19.1". Even at 500 yards the Bronze Point hits only 1.9" lower than the Spire Point and the Partition hits only 0.3" higher. You could definitely use all of the reticle's aiming points with any of these bullets.
The Leupold Custom Shop can, of course, provide services beyond installing a Custom Ballistically Matched Reticle in the scope of your choice. They also offer a raft of optional conventional reticles. And they can laser engrave a "Custom Built for" legend on the adjustment turret, as they did for me on our test scope (note photo below). Other laser engraving possibilities include three letter monograms on the adjustment turret caps, and profiles of deer and elk on the scope's objective bell.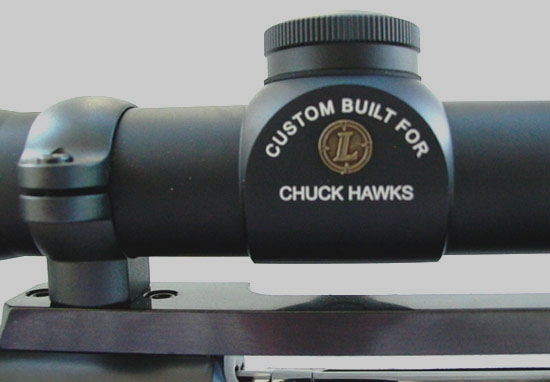 Leupold front mounting ring, one piece base, and adjustment turret of VX-III scope
with Custom Ballistically Matched Reticle. Photo by Chuck Hawks.
The gold ring at the front of any Gold Ring scope and the Leupold emblem on the side of the adjustment turret can be plated with real 24 carat gold, an eye-catching enhancement. The Custom Shop can also provide scope tubes anodized in a variety of different colors (gray, red, orange, yellow, green, blue, purple--you get the idea). They can also create color-flow tubes (green to yellow, black to red, and so forth), color splatter, and combinations of effects.
I mounted the VX-III 2.5-8x36mm scope using a Leupold base and rings on a Larry Brace custom built .270 rifle. This beautiful hunting rifle, which is based on a commercial Mauser 98 action, was engraved by the late George Sherwood and is featured in an article on the "Rifle Reviews and Articles" section of the Rifle Information Page. It shoots very well with Winchester Super-X factory loads using the 130 grain Power Point bullet, so that is the load selected for this review.
Test shooting was accomplished at the Isaac Walton gun range south of Eugene, Oregon. This outdoor facility offers covered bench rest shooting positions and target stands at 25, 50, 100, and 200 yards.
It was finally summer in Western Oregon. The weather was sunny with clear skies and high temperatures around 90 degrees F. Guns and Shooting Online regulars Nathan Rauzon and Bob Fleck joined me at the range for the test session with the .270 and the Custom Leupold VX-III scope. Three opinions are better than one.
I had already bore sighted the Leupold scope using my Bushnell magnetic boresighter, and it took only a couple of shots to "walk" a bullet into the X-ring of a 25 yard target with the VX-III's accurate windage and elevation adjustments. Then we moved to 100 yard targets to zero-in the rifle using the Ballistically Matched Reticle.
Using the single dot above the intersection of the crosshair as the aiming point, I adjusted the scope to pretty much print dead on at 100 yards. Then I switched to a 200 yard target for the final refinement and shot a 5-shot group using the intersection of the cross hairs. It hit about 1" low. I adjusted the scope's elevation dial up 2-clicks (1" at 200 yards), and shot another group. This time the bullets clustered at the point of aim. The rifle/VX-III scope combination was zeroed at 200 yards.
The final step was to return to 100 yards and re-check the point of impact at that distance using the dot above the intersection of the cross hairs. Bingo, the resulting 5-shot group hit approximately 1/2" low at 100 yards, which is well within the reticle's 1 MOA (or 1" at 100 yards) specified accuracy.
Bob and Nate also shot the rifle at 100 yards using the VX-III's Ballistically Matched Reticle with results similar to mine. We agreed that it actually works and is fast and easy to use. And, the excellent optical quality and accurate 1/4 MOA adjustments of the Leupold VX-III riflescope made the whole process of sighting-in a pleasure instead of a chore.
Having recently favorably reviewed (and "adopted" for my personal use) one of Leupold's high-tech RX-III laser digital rangefinders (see the Scopes and Sport Optics Page for details), I am now exceptionally well equipped for any long range shot that might present itself, at least when carrying my .270 and the RX-III. They are a match made in heaven . . . well, Oregon!
For detailed information about Leupold Custom Shot products and services, or to order your own Custom Shop scope, telephone Leupold at 503-526-1400. Or, visit Leupold online at www.leupold.com