Leupold Factory Tour
By Chuck Hawks with Gordon Landers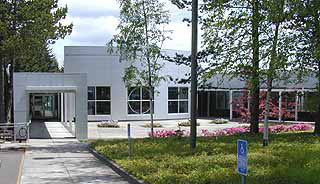 Leupold front entrance. Photo courtesy of Leupold & Stevens, Inc.
When Pat Mundy, Senior Marketing Communications Specialist at Leupold & Stevens, invited us to tour their corporate offices and manufacturing facility, we accepted with alacrity. Both Gordon and I have used Leupold scopes on our personal rifles for years and are well acquainted with their durability, performance and value over the long haul. We were eager to see how these scopes are built.
Leupold & Stevens is a fifth generation, family owned company that has been in continuous operation since 1907 in the Portland, Oregon greater metropolitan area. They are now the only significant American owned optics manufacturer.
For over 35 years the Leupold plant has been in its present location, an impressive 150,000 square foot building situated on 24 acres in an industrial park in Beaverton, Oregon, USA. There is a small display of historic Leupold scope models in their reception area, some of which we recognized--we are getting old. The hallways, cafeteria and public areas of this facility are decorated with landscape photographs taken by Leupold employees and many fine big game trophies. Clearly they are outdoorsmen and hunters at Leupold.
This is one of the differences between the people who make Leupold scopes and the people who make scopes overseas. Most Leupold employees are hunters and recreational shooters and use Leupold scopes themselves. They know from personal experience how a good scope should work and what it does. The people assembling scopes in Europe and Asia, in the main, have never owned a firearm or gone hunting in their entire lives. It is impossible for the average working person to do so in most European and Asian countries. There is no way that they can truly understand, or judge the usefulness of the products they are building.
After getting signed-in and issued visitors badges and safety glasses (the latter are required in some of the production areas) we were ready to begin our tour. Pat and Wade Stevens, Hunting & Shooting Market Specialist at Leupold, showed us around the facility in a leisurely, but organized, manner.
We toured the business and office areas, the factory floor where the aluminum scope tubes and parts and mounts are made, the tool shop, the quality assurance/product testing lab, the optical lab and the final assembly area. We walked through the cafeteria, the outdoor patio and visited the 100 yard indoor range. During the tour we were free to talk freely with employees, ask questions and swap stories--all of which we did.
Leupold & Stevens employs over 550 people in our home state of Oregon. Leupold is perennially one of the top 100 companies in the state for which to work (as voted by its employees). This is immediately apparent on the factory floor, as most of the employees have been with Leupold for 10-15 years or longer and are clearly proud to be building world renowned Leupold scopes. Everyone was friendly and helpful, eager to show us "before and after" examples of the components they were creating, and beautiful work it was. It is clearly a happy work place, something that cannot be faked.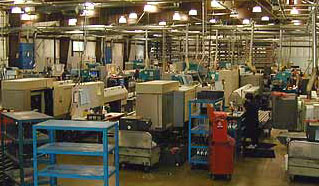 The cnc machine area. Photo courtesy of Leupold & Stevens, Inc.
Leupold hydro-forms and then machines (mostly on computer controlled lathes, mills, etc. made by Index of Germany--the best in the world) their scope tubes, adjustment turrets and internal scope parts from aircraft quality aluminum. They are the biggest consumers of aluminum in the state and they recycle aluminum shavings literally by the truckload. Most parts of a Leupold scope start out as bar stock of various diameters, depending on the intended final application.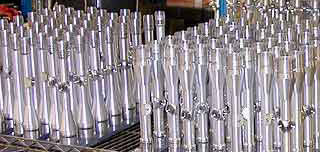 Scope tubes fresh from the cnc machine area. Photo courtesy of Leupold & Stevens, Inc.
Some brass stock is also used, but comparatively little. Fine camera lenses are designed with brass on aluminum moving parts to prevent sticking from molecular adhesion. When I asked why Leupold used aluminum on aluminum windage and elevation adjustment components, I was informed that brass is something like 4-5 times heavier than aluminum. Under the 300 g recoil acceleration to which a riflescope may be subjected, that difference in weight can drastically shorten the life of the assembly.
Instead of dissimilar metals, Leupold uses a very thin film of a space age lubricant to prevent sticking. This space age lubricant is temperature and humidity insensitive; it will not seep or flow or migrate onto lens surfaces. One of the keys to the exceptional durability of Leupold scopes is strength combined with lightness.
In addition to observing the production of scope tubes and adjustment turrets, we also watched both aluminum and steel scope rings being made. Standard Leupold bases and rings have been our preferred scope mounting system for many years.
The ring manufacturing process was interesting. Briefly, a slice of the appropriate width was cut from solid bar stock. Then this circular slice of steel was machined to the outside shape and contour of the desired scope ring. A hole for a 1" diameter scope tube was then drilled through the blank. It was then sawn in half, creating the top and bottom parts of the ring. No wonder the top and bottom halves of a Leupold scope ring match perfectly!
Among the mounts we watched being machined were the "see-through" mounts that I have occasionally mentioned derisively. I still think that such mounts are worthless. A good scope is both faster and far more accurate than any type of iron sights, so what is the point? And see-through mounts mean that the primary sight, the scope, is raised so far above the line of the bore as to make it practically impossible to achieve a good cheek weld on the stock. A high mounted scope also negatively impacts the balance and handling of the rifle. Altogether, a bad idea. But I can attest to the precision with which these mounts were manufactured.
Leupold is the leader in developing the ruggedness testing that ensures a lifetime of dependable use. We spent a considerable amount of time talking with David Archerd in Quality Assurance/Product Testing. David is an interesting guy, and his lab has the most sophisticated test equipment I have ever seen. At the time of our visit they were plotting the recoil curve of a .338-378 Weatherby rifle.
Leupold test equipment is able to plot the entire recoil curve of any rifle/cartridge combination, amplitude and duration, with all the peaks. Recoil might subject a riflescope to a peak of something like 300 g acceleration, or 300 times the force of gravity. Note that duration is as important as amplitude. The longer that acceleration lasts the harder it is for the scope to endure.
They can also plot pressure curves with such precision that, according to David, they can tell when the primer ignites, when the powder starts to burn, when the bullet leaves the mouth of the case, when it engages the rifling and when it leaves the muzzle. I wish we could do this at Guns and Shooting Online.
This data can be translated into acceleration loads ("g force") over time and fed into a piece of high tech, torture test equipment about the size of a telephone booth that, in my mind, I dubbed the "Mangler." A test scope placed in this high tech scope tester can then be subjected to exactly the same loads as it would be if mounted on the rifle from which the data was collected. Any scope can be subjected to destructive loads in this machine. Naturally, Leupold also uses this technology to test other brands of scopes to see how well the competition is doing. All Leupold and most other brands and models of scopes (purchased right off the shelf in retail stores) are tested in this lab.
It is Leupold's company policy not to build their reputation by downgrading the products of other manufacturers, a policy I respect and admire. Other brand names are never specifically mentioned in Leupold advertising, or during a factory tour. David told us flatly, however, that Leupold scopes are the toughest in the world. He also told us, smiling, that they have removed the ultra-high priced European brand scopes from the Mangler with a broom.
Another interesting story involved a brand that advertised that their scope was tested to withstand 1,300 g acceleration. David allowed that they had tested that claim and it was true, as long as the acceleration was essentially instantaneous and not sustained. He explained that the duration of the acceleration force was as important as its peak to a riflescope. Recoil is not instantaneous; it builds and then decreases over time. The longer a scope is subjected to acceleration and deceleration, the more likely it is to fail. That is the point of Leupold's ultra-sophisticated test equipment, to duplicate the real world forces exerted on a scope. The "1300 g" scope was swept from the Mangler in pieces after being subjected to sustained recoil forces as generated by powerful rifles.
We also learned that all Leupold scopes are built to exactly the same tolerances and standard of durability. A Rifleman scope will take as much recoil as a VX-3. The differences in price between the various lines are a matter of more precise adjustments, different optical glass and optical formulas, superior lens coatings, one or two-piece main tubes, features, and so forth. Another interesting fact is that the entire line is built right there in Beaverton. None of the Leupold scope models are imported.
An interesting example of Leupold's dedication to the welfare of their employees, as well as the quality of their scopes, is their tool shop. They design and build their own specialized hand tools. At the forefront of the design of these Leupold tools is ergonomics.
Pat related that the strangest memos come from their safety people. They send out bulletins that employee so and so at station number blank is making too many counter clockwise turns with his left wrist. Years from now that employee could develop carpal tunnel syndrome. So the tool shop designs a tool that allows that employee to do his job with fewer of those counter clockwise turns. Safer, healthier and happy employees and better built scopes are the net result of the tool shop's efforts.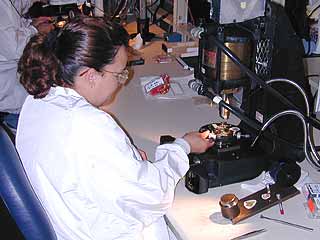 Making a reticle. Photo courtesy of Leupold & Stevens, Inc.
In 1962 Leupold invented and introduced the Duplex reticle. Virtually every other scope manufacturer has copied this basic style of reticle and most of the copies are quite satisfactory. However, to this day nobody does a "plex" reticle quite as well as Leupold. We found out that in most Leupold scopes the actual reticle is made from fine platinum wire. The wide (outer) areas of the crosswire are created by flattening the wire. So simple, I never would have thought of it.
In 1985, Leupold engineers devised side focus parallax adjustment that made parallax adjustment easier from the shooting position. Side focus parallax adjustment has also been copied by scope makers all over the world.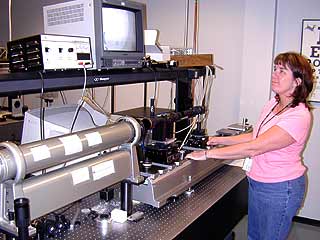 Optics lab. Photo courtesy of Leupold & Stevens, Inc.
The Leupold optics lab, which we visited, is unique in being the most sophisticated and capable privately owned lab of its type in the United States. It is equipped with all manner of sophisticated optical test equipment. This optics lab allows Leupold engineers and designers to test virtually any performance specification or optical formula. From this testing comes the ability to design new products and improve current products. Leupold also tests competitive products in this lab to keep on top of the industry.
Like most manufacturers in the consumer optical business, Leupold outsources its optical glass. (There are actually only a few optical glass suppliers in the world, something I learned during my years in the photography business.) Various types of optical glass, formulated to Leupold's specification, are purchased from companies in Europe, Japan and the U.S.
One of the curiosities we viewed during our factory tour was the "Wall of Shame." This is a large glass case in which reside Leupold scopes that have given their all above and beyond the call of duty. We saw scopes that had been in house fires, dropped from cliffs, submerged for long periods of time, driven over by trucks, accidentally shot by rifle bullets, and even hit by lightning. It can be a tough world for a scope.
The assembly area is where the tubes, adjustments, lens elements and all the other parts we saw being manufactured are put together to become a finished Leupold scope. This is also where the scopes are purged (multiple times) and nitrogen filled, pass their final inspection and are packaged for sale. This is a "clean room," positively pressurized, where masks, gowns, gloves and booties must be worn. We declined to "suit-up," instead observing the final assembly of scopes through windows. Cleanliness and perfection are the watch words in the assembly area.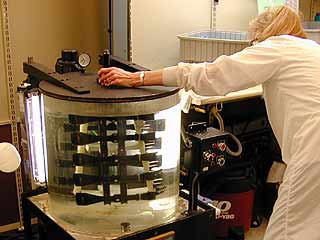 Leupold scopes being tested in water. Photo courtesy of Leupold & Stevens, Inc.
Leupold created their first riflescope, the Plainsman, in 1947. They pioneered the sealing and waterproofing technology that has become an industry standard in today's riflescopes. The Plainsman was purged of oxygen and filled with nitrogen to eliminate any chance of internal fogging. Today's Leupold scopes are purged and filled with nitrogen a total of four times before finally being double O-ring sealed. This is to remove any remaining atmospheric molecules from the scope's innards and typifies Leupold's attention to detail. They are then tested for leaks under water. Unlike most other brands, Leupold scopes are guaranteed waterproof even with the adjustment turret caps removed.
An interesting sidelight was the clean room within the clean room, in which there were no windows and to which no one without a "need to know" was admitted. That is where the military optical sights for our troops at home and around the world are being assembled. Leupold optics are helping our soldiers fighting the war against terrorists get the job done. The people at Leupold are justifiably proud of their company's contribution to the war effort.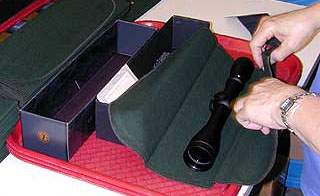 Packaging a Leupold scope by hand. Photo courtesy of Leupold & Stevens, Inc.
The last step for a new Leupold scope before it leaves the factory is packaging. This is done by hand, a final attempt to insure that the scope is perfect when the end user opens the box for the first time.
The final stop on our factory tour, and a high point for any shooter, was the fully instrumented, 100 yard indoor shooting range. The Merwyn Webb Shooting Tunnel is equipped with chronograph screens at 10 yard intervals for its entire length. What a neat place to sight-in rifles and check ballistics! Again, I wish that we at Guns and Shooting Online had access to such a facility. It would certainly make testing guns and ammunition easier.
While visiting the range I noticed that, along with other rests, they had a Caldwell Lead Sled, the same model of rest that we use at Guns and Shooting Online for our bench rest testing of rifles. When I mentioned that, it turned out that there was an antecedent about it, too. In their ongoing effort to subject Leupold test scopes to every sort of unimaginable recoil, they had tested some rifle/cartridge combination (based, I believe, on the .378 Weatherby case) that had broken loose the top tube of a Lead Sled. I can only say that I'm glad I wasn't required to test fire that monster!
Gordon and I wish to thank all of the good people at Leupold for their courtesy and the time they devoted to making our factory tour such an informative experience. Pat Mundy and Wade Stevens deserve special recognition for answering all of our questions.
Our most enduring impression of Leupold & Stevens is not that they produce superb scopes; we already knew that from years of personal experience. Rather, it is that Leupold is a company dedicated to excellence from top to bottom, a really good place to work, whose greatest asset is its employees.
As I have often observed about the optical industry, when you buy the best--contrary to what is commonly supposed--you are not paying more for the brand name. Rather, you are getting more than you paid for--and probably more than you realized at the time. Certainly this is true of Leupold scopes.
For those desiring a virtual tour of Leupold & Stevens, including more of the high quality photos used to illustrate this article, one is available on the Leupold web site: http://www.leupold.com/