Luminox Navy SEAL Watch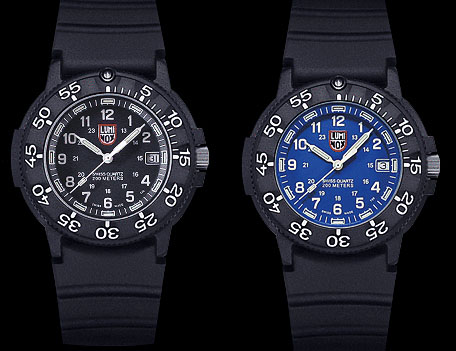 Photo Courtesy of Luminox USA
With the successful mission of U.S. Navy SEAL Team 6 taking out the most hated man in the modern world, we felt it was appropriate to discuss an essential piece of their equipment, their watch. Given the nature of that mission (and virtually every SEAL mission), their watches are an important piece of their gear. Time was critical, and they didn't need to be relying on cheap watches.
The original Luminox Navy SEAL watch was introduced in 1994. It was developed by Luminox in conjunction with the U.S. Navy procurement office. After seventeen years in production, it is still the standard for combat watches. In addition, the Luminox is used by many other elite military and law enforcement units around the world.
When we first saw the Luminox watches at the 2011 SHOT Show, we were really impressed by their quality. These were not the cheap Chinese imports that you find in the "big box" stores and junk mail catalogs. These were high quality time pieces with genuine Swiss movements. Like most folks we have a drawer full of cheap watches that we've picked up over the years. They worked for awhile and then died. We are guessing, but if we added up the price of all those cheap time pieces, we could have purchased a Luminox watch and it would still be working!
The Luminox Navy SEAL watch is only one of a series of models that the company has for every possible application, from deep dive watches to high altitude aircraft to the Tony Kanaan race car series. They make a watch for every possible outdoor use. That being said, let's look at the specifications for the Navy SEAL watch.
Function:

 

Time/Date
Movement:

 

Swiss Quartz
Case Size:

 

43mm
Case Material:

 

Reinforced PC Carbon

Case Back with screws

Crown:

 

Double-Security Gasket
Crystal/Glass Material:

 

Hardened mineral
Water Resistance (m/ft/atm):

 

200/600/20
Strap/Bracelet Material:

 

Rubber/Polyurthane
Illumination:

 

Night Vision Tubes (up to25 years)
Dial Colors Available: Black/White; Black; Blue; Yellow; White

 
The Original Navy SEAL 3000 Series has an MSRP of $300. They are a bargain at any price, because you will now be able to throw away all those junk watches that you have accumulated over the years. For those of you with deeper pockets, we would suggest that you check out the entire line of Luminox watches, all the way up to the SR-71 Blackbird models tht retail for $2,500, which we will gently pass on.