Magnum Stealth Force 8.0 Boots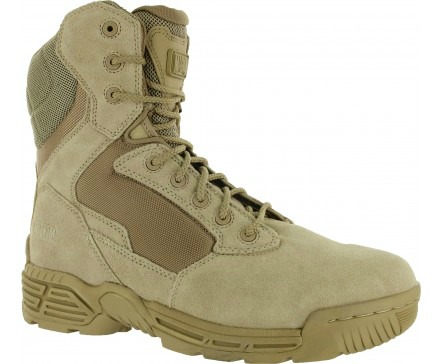 Illustration Courtesy of Magnum U.S.A.
There are probably as many brands of boots on the market, name and no name, as there are calibers of rifles. Add the fact that almost every sporting goods, big box and little box store in the country carries boots of all sizes, shapes and description. The question and problem facing all of us is: Which boot should we consider for our ventures in the field.
Deciding is not as difficult as one might think. First of all, look for a boot that meets US Army MILSPECS. They are the toughest standards in the world and with that in mind, you can eliminate over 95% of all the boots you see.
Why MILSPEC? Well, if you or a friend has ever served in the military you know that, as a general rule, the equipment is the best, and that includes the boots.
What are the basic MILSPECS for desert combat army boots? We selected the desert combat specifications, as they seemed to fit just about every big game hunting condition a person may encounter. The detailed MILSPECS are outlined in AR 670-1. Boot Compliance is so specific and detailed that many previously authorized boots (including Jim's Nam jungle boots) are no longer compliant. The new specs, as they apply to outdoorsmen, are:
Must be constructed of all leather or combination of leather and non-mesh fabric
Synthetic leather mesh materials are prohibited
Rough side out cattle-hide leather upper and nylon non-mesh upper (if used)
Upper must consist of a weatherproof-breathable membrane with limited flame and conduction heat resistance
Close loop speed lace system with drainage eyelets
Side-zip and Velcro inserts are prohibited (any inserts must be removable)
Sewn-in or laced-in zipper or hook-and-loops not authorized
The sole cannot extend past the back of, or over the top of the toe
The only authorized outsole materials are rubber and polyether polyurethane
Rubber or pure polyether polyurethane soles are the only outsole authorized for durability and traction on surfaces in multiple environments and temperatures. Other materials may be lighter in weight but may have significant problems in these areas.
The specifications for the sole material alone eliminates the majority of boots sold in the US, but remember, many years of testing went into developing that requirement. It is worth paying attention to.
As to the requirement for non-mesh fabric, all I can say is, "it is about time." I cannot tell you how many sticks and cactus spines that I have had go through boot mesh. With all of the above said, we now come to the Magnum Stealth Force 8.0 boot. It meets all of the MILSPECS outlined above, as well as those we did not list. The only question is: are they that good?
Yes they are! Mary has been wearing these boots continuously for three weeks. One of the features she noticed immediately was there is no break-in required. They fit comfortably from day-one.
If you have back problems, you know that a good pair of boots is essential to preventing unnecessary pain. If you have boots that roll or turn when you are going up or down hill, you have a major problem. These do not.
If you happen to be diabetic, you already know that blisters on the feet can lead to some really nasty complications, all the way up to amputation. In all of the weeks that Mary has used these boots, not blister one.
As for traction, she has not had any difficulty navigating over gravel, rocks, sand and plain old dirt. The Stealth Force 8.0 have become Mary's new hunting boots.
With an original MSRP $104.99 and now discounted to $94.99, they are an incredible bargain. In addition, they come with a 1 year warranty and a 60 day comfort guarantee. This you can't find anywhere else in the industry.