Manzella Duty and Tactical Gloves
By Chuck Hawks and the Guns and Shooting Online Staff
Manzella (www.manzella.com) makes a full line of law enforcement and tactical gloves. These gloves are also applicable to recreational shooters, Postal Service workers and others to whom hand protection and grip is key, particularly in the field.
Manzella explains that, "Having functional hands for handling firearms and other tools is vitally important to law enforcement professionals, but weather conditions can dramatically impact this requirement. Our law enforcement gloves have been built to address this challenge and help the wearer maintain the confidence and control necessary to perform."
All Manzella gloves are rated for temperature application in terms of how warm the glove will (hopefully) keep your hands. The categories are Warm, Warmer, and Warmest.
The kind folks at Manzella sent us a selection of five different models of duty gloves for review, so I enlisted members of the Guns and Shooting Online staff to help with this review. Participating in testing the Manzella gloves were Bob Fleck, Kathy Hays, Jack Seeling, and Dave Tong.
All five models of Manzella duty gloves are jet black in color. Four of the models supplied to us were rated "Warm," for coverage or people with warm hands. These include the Hybrid, Duty Patrol, All Duty, and Gunner Unlined. Rated "Warmer," for coverage and protection in variable conditions, is the Windstopper-100. All of these gloves claim to have been "engineered specifically for maximum grip and dexterity." We feel that they do provide a high degree of both.

Manzella Hybrid gloves. Illustration courtesy of Manzella Productions, Inc.
The Hybrid (HYU-10) is a wet/dry, wrist length, sure grip glove retained by a wide hook and loop closure tab. It is made of 90% polyurethane impregnated polyester and 10% Spandex. The Hydro Suede shell allows excellent performance in dry or wet conditions, while the Lycra fourchette and knuckle panel are claimed to provide superior dexterity and a second skin feel. The Hybrid gloves are hand washable in cold water. They are made in Indonesia.
These are very thin gloves with small ventilation holes along the back of the fingers. They allow excellent finger movement and feel; I typed part of this article wearing these gloves. Dave adopted the Hybrids for shooting gloves.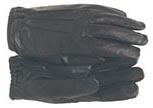 Manzella Duty Patrol gloves. Illustration courtesy of Manzella Productions, Inc.
Manzella Duty Patrol (DU-10) gloves are made of 100% sheepskin leather for comfort, control, and dexterity. Manzella claims that hand fatigue is reduced because of their superior form fit. These ultra-thin leather gloves are ideal for a variety of daily tasks, including driving. Like most Manzella gloves, these are made in Red China. Kathy, a retired Oregon State Police officer, chose these gloves for daily wear.

Manzella Gunner Unlined gloves. Illustration courtesy of Manzella Productions, Inc.
The Gunner Unlined (GRU-1000) gloves are shooting/duty gloves. They are made with a stretch nylon and deerskin shell that is lightweight, breathable, and keeps hands dry with a second skin fit. The full deerskin palm is weather resistant and provides an excellent grip. The fingertips are also deerskin. A Neoprene® Wristband secured by a hook and loop tab closure allows for easy entry and removal of the Gunner gloves. They are made in Red China. Bob Fleck chose the Gunner Unlined as his range and general purpose shooting gloves.

Manzella Windstopper-100 gloves. Illustration courtesy of Manzella Productions, Inc.
The Windstopper-100 (WSU-100) are all season sport and duty gloves. These gloves are made with a Gore Windstopper shell with a pre-curved design for maximum comfort and dexterity. They are given a "Warmer" rating by Manzella. The Windstopper-100 incorporates a small, flared gauntlet with elastic wristband retention. The bulk of this glove is polyester while the palm and the finger gripping surface is polyurethane with flat control dots.
These gloves are water resistant, windproof and breathable, designed to shed snow and rain. They are intended to protect the hands from the elements in a wide range of conditions while keeping them dry. They are made in Red China. Jack adopted the Windstopper-100's to serve as general purpose shooting and hunting gloves.

Manzella All Duty gloves. Illustration courtesy of Manzella Productions, Inc.
All Duty Stealth (ADU-10) gloves are made in Indonesia of 55% polyurethane impregnated polyester, 25% spandex, and 25% sheepskin leather. These wrist length gloves incorporate both a stitched elastic band in the wrist area and a v-back Velcro closure for a snug, adjustable fit. A genuine sheepskin leather palm patch is connected to the gloves' synthetic leather back, fingers and thumb by breathable spandex. There is a line of tiny ventilation holes in the back of the fingers for added breathability. The result of this complex design is excellent fit, feel, grip, and dexterity. They make dandy shooting gloves and have found a home in my range bag.
The gloves reviewed here are just a sampling of the extensive Manzella line. All of the Manzella Duty/Tactical gloves appear to be well designed for their intended purpose. We here at Guns and Shooting Online were quite impressed by these gloves. If you are looking for duty/tactical/shooting gloves, we suggest that you take a close look at the Manzella line. They are very likely to have just what you need.