Manzella Field Gloves for Outdoorsmen
By Chuck Hawks and the Guns and Shooting Online Staff
Manzella (www.manzella.com) makes a full line of gloves for outdoorsmen and hunters. These well-designed and made gloves are also applicable to recreational shooters and others to whom hand protection and grip is key, particularly in the field. All Manzella gloves are rated for temperature application in terms of how the glove will protect your hands (Warm, Warmer, and Warmest). The Manzella outdoor gloves reviewed here were made in Red China.
The kind folks at Manzella sent us a selection of three different models of outdoor gloves for review, so I enlisted a couple of other members of the Guns and Shooting Online staff to help with this review. Participating in testing the Manzella gloves were Jim Fleck, Natahan Rauzon, and yours truly.
All three models of Manzella outdoor gloves feature a Mossy Oak camo pattern outer fabric. They also incorporate a "ring and clip" to allow the gloves to be clipped together to avoid the loss of one glove when not in use. The models supplied to us include their Ranger (warm--for coverage or people who are warm blooded), Stalker (Warmer--for outdoor activities in variable conditions), and Kodiak (warmest--for outdoor activities in extreme conditions). These gloves are designed for hunting, shooting sports, and field sports.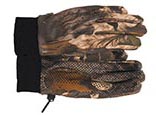 Manzella Ranger gloves. Illustration courtesy of Manzella Productions, Inc.
The Ranger is a wrist length, 4-way stretch glove retained by a nylon rib-knit cuff. It includes a light weight and wind resistant outer surface that provides comfort in moderate conditions. There are low profile control dots on the palm that provide an enhanced grip without sacrificing feel. These gloves are a good choice for cool days at the shooting range, and Jim has made them a permanent fixture in his range bag. They would also be useful for concealing the hands of the big game hunter in warm to moderately cool climates.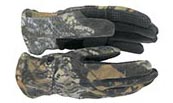 Manzella Stalker gloves. Illustration courtesy of Manzella Productions, Inc.
The Stalker incorporates a moderate gauntlet design for improved weather protection with elastic material at the wrist for retention. It is a Polartec Windpro fleece glove. This material combines wind protection, water repellency, breathability, and warmth with minimum weight. The Stalker is made with a suede leather palm for excellent durability and control. There is a sensitive Lycra area over the tip of both index fingers to aid in trigger control as well as control dots on the thumb. This is a good general purpose hunting glove and Nathan will be using the Stalkers in the field during this coming deer season.

Manzella Kodiak gloves. Illustration courtesy of Manzella Productions, Inc.
The Kodiak incorporates a full gauntlet and nylon rib-knit cuff for maximum warmth. A belt and buckle that can be tightened across the wrist provides additional retention. This insulated glove is made with a Gore-Tex tricot Shell. It uses a waterproof, breathable Gore-Tex insert to keep hands sweat free and dry in rain or snow. The shooting fingers are Lycra covered for maximum dexterity and the Sure Grip synthetic palm material provides an excellent grip in all conditions. Insulation is provided by 70 grams of Thinsulate insulation for reliable lightweight warmth. Indeed, the Kodiak gloves are very light for the warmth they provide. I will be using the Kodiak gloves during the next elk season.
All of these Manzella gloves appear to be well designed for the specific requirements of the outdoorsman. We here at Guns and Shooting Online were impressed. If you are looking for serious outdoor gloves, we suggest that you investigate the Manzella line.