Custom-Built Mauser Model 98 Rifle in .257 Roberts
By Ed Turner

Right side of Custom Mauser 98 rifle with Weaver V9 scope. Photo by Ed Turner.
I'll just spit it out. Anyone who claims to be a gun nut or fancier of fine firearms owes it to him or herself to own at least one fine custom rifle in their lifetime. It might be a classic Winchester Model 70 done by one of the modern masters, a Mannlicher-Schoenauer, Mauser 98 or even a Remington Model 700 action re-barreled and restocked to the new owner's likes and preferences. Whatever strikes one's fancy.
I have always enjoyed looking at, fondling and shooting fine rifles, but had never really considered having a full custom made. After all, I know enough about rifles to realize that the fine work I so enjoyed and coveted was beyond this mere working man's wallet and savings account. Never the less, I still enjoy the look and feel of a special rifle, especially one that has had fine, custom work preformed on it.
I had purchased a couple of Mauser 98's that had been sporterized and/or re-barreled, one of which is a very nicely done piece. However, as nicely as the metal is polished and deeply blued, the obviously less than expert attempt at checkering keeps it from being a truly fine piece. Probably not worth re-stocking as a .308, I will leave it as is, or perhaps re-bore it to .338-06 or .338 Federal at some point. It will still have the deep blue finish and be something a bit more special.
Another M-98 is a very well done rifle left in the original 8x57JS caliber. Someone else had the work performed, turning the steps down off the barrel, low swing safety, new turned bolt handle and a very nicely done matte blue job. The stock is completely uncheckered, but of attractively grained walnut. He could not afford the final bill at the gunsmith's and his misfortune turned into my great fortune! All in all a very nice rifle, simply not a specialpiece.
I regularly check the custom rifle listings in on-line gun sale and auction sights, learning new prices and looks, if nothing else. Every once in a while I'd see something perhaps close in quality, type and most importantly price, but never just the right rifle. Not too long ago I decided I needed to have a .257 Roberts. I have been a fan of the cartridge for some time, having taken a nice buck several years ago with a friend's rifle so chambered.
I would search, on a regular basis, for rifles chambered thusly and I saw some interesting pieces. About the time I decided to move on a Ruger Ultralight in .257 that looked very nice, I spotted a new listing. There it was, an M-98 custom in .257 Roberts. First, I cannot tell you just how surprised I was to find one in its configuration. In my experience, the shooters wanting a full custom rifle would also get one in the "Improved" version of the cartridge and with a 24" barrel. Those features were not what I wanted.
This rifle was a beautifully done, fully custom M-98 in the standard .257 Roberts caliber with my much preferred 22" barrel length. It has a combination of classic features that culminated in a distinctly original piece of extreme quality. Damn, it was simply gorgeous! A stunning piece of walnut with excellent coloration and grain. The finish appeared to be a clear lacquer without any ugly stain, hallelujah! The stock work alone was claimed at well over $1,000.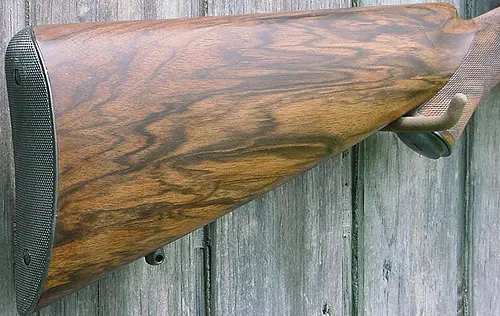 Custom M-98 buttstock featuring checkered steel butt plate. Photo by Ed Turner.
The stock was of modified European design, with a slender profile, culminating in a nice Schnabel forend tip. The butt has a straight comb and the purely Bavarian type angled cheek piece. The butt ended in something both traditional and very dear to me, a Model 70 steel buttplate, which had been nicely inletted into the stock. In between these two special features was the old school, European way to reinforce a very slender hunting stock. For the length of the M-98 action, the stock has an oblong area, on both sides, which thickens it sufficiently to ensure strength in this critical area.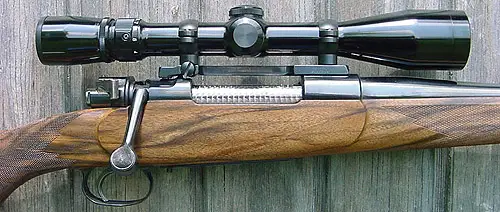 M-98 action with Weaver V9 scope showing reinforced stock. Note engine-turned bolt,
color-cased safety and checkered bolt knob. Photo by Ed Turner.
What a stock! Features I had not seen combined in one stock and integrated into a special blend of both European and American classic styles. Straight comb and angled cheek piece. Schnabel forend tip and Model 70 butt plate. Simply a stroke of rifle design genius to my eye and so nicely orchestrated. The pistol grip is very open and has a steel cap. The checkering is 24 lines to the inch, very fine and also, very finely done. The stock, in design, is similar to the handsome Winchester M70 Featherweight, but it is much trimmer and lighter than a Model 70.

Custom M-98 Schnabel forend. Note borderless 24 lpi checkering. Photo by Ed Turner.
Moving to the action, the timeless M98 receiver is highly polished and finished in a bright shiny blue of the type seldom seen on factory rifles, save the Weatherby Mark V Deluxe. The custom Douglas air-gauged barrel is correctly stamped ".257 Roberts" just forward of the receiver. It is of slender contour, has no sights and a recessed crown. Again the polishing is flawless and bluing bright and extremely nice. There is no maker's signature, which is surprising.
The safety is of Model 70 type, but only two position (safe/fire), similar to the original Kimber 84M's of a few years ago. The safety lever is color cased, a subtle contrast to the highly polished blue. The bolt handle has, of course, been repositioned and is straight, looking very classic. The knob has two checkered panels, top and bottom, for a secure grip. The bolt body is entirely jeweled, as is the full-length extractor. They both look excellent and add some restrained sparkle to an otherwise subdued looking rifle.
The rifle came with a Leupold one-piece base, but no rings. A .257 could be a good candidate for several types of scopes, depending on its anticipated use. A low powered scope, such as a 1-4x20mm would look great as would a simple 4X or 6X fixed scope. A 2-7x33 looks great on most any rifle and a 3-9x40 is as big a scope as I ever want on a hunting rifle. For reference, this stock is about one inch longer than a modern Model 70 Featherweight stock and the rifle is also about one inch longer in overall length.
I happened to have a Weaver V9 with gloss finish on hand and I thought the slightly smaller 38mm objective and slightly shorter overall length (vs. a Leupold VX-II 3-9x40mm) might look good on my custom-built M-98. Medium height, gloss Leupold rings were purchased and the 3-9x38mm Weaver V9 looks just as good as I'd hoped. Not quite the equal of the fine VXII quality-wise, perhaps, but my eye sees it as being just as clear and the Duplex type reticle is a smidgen heavier, which is actually more to my liking.
It was time to see if this beautiful marriage of steel and walnut would perform at the range. Initial function and sighting were done during a very unusual July cool stretch. Function was flawless and the Canjar trigger felt even better during live fire that it had when I had dry fired it perhaps 150 times previous to this first range outing.
The scope adjusted easily and sub-MOA 3-shot groups of were recorded with 100 grain SP loads at a claimed 3,000 FPS, a typical .257 Roberts load. The best group was slightly under .75 MOA at 100 yards and the average of all groups right at one MOA. I have bullets weighing 87 grains and 120 grains to try on subsequent range visits, but the rifle appears to be a shooter!
I had promised myself that performance in the 1.5 MOA range would be perfectly acceptable, but the fine trigger and obviously excellent Douglas barrel gave me a truly excellent shooting rifle, one that matches its looks with its performance. I paid as much for this particular rifle as I have for any other in my life, but I made a promise to use it, not simply allow it to become a cabinet queen. Another fine rifle I had for years just moved away for that very reason. That 55 year old rifle was simply too perfect for me to bear taking out in the woods and I sold it to someone that I hope will be able to do just that.
I may find myself perched in a stand on opening morning, here in Tennessee, clutching that rifle, stuffed full of some special 120 grain Nosler Partition reloads that were made especially for me and this rifle by a good friend. Same as any morning I will wait, somewhat impatiently, for a deer to arrive. However, unlike any other morning, I'll have this wonderfully crafted rifle along to keep me smiling, knowing how lucky I am to have found it!
The designer and builder (don't know if that's one or two people) had a definite plan and the ideas he/they put together worked even better in form and function than I can portray through simple words. It is more than likely the finest example of a firearm that Ed will ever own, but if that is so, I will still be a happy man; it is simply that nice. As per my thought back in the first paragraph, if you think you might enjoy a custom rifle, plain and simply put, you will. Keep looking and keep dreaming!