Meade Series 4000 Eyepiece and Filter Set
By the Astronomy and Photography Online Staff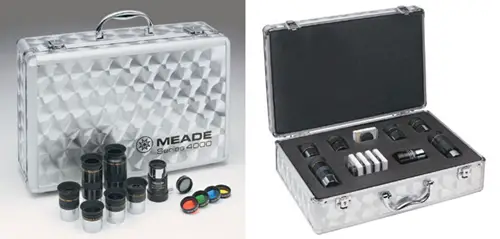 Illustration courtesy of Meade Instruments Corp.
We should preface this article by admitting that we do not usually recommend purchasing ocular kits, preferring to buy the exact oculars needed (in both design and focal length) individually. Meade has put together what amounts to nearly a full set of their 1.25" Series 4000 Super Plossl oculars, added an inexpensive 2x Barlow lens, moon (ND) filter, a set of colored filters and a fitted aluminum carrying case to keep it all together. We have never found much use for colored eyepiece filters, but the majority of the components of this set are useful and it is a way for the beginning telescope owner to acquire a set of eyepieces that, along with the 25mm Plossl ocular that probably came with his or her telescope, leaves them prepared to observe practically anything in the heavens. All of the Meade Super Plossl oculars are parfocal except for the 40mm. The 2010 MSRP of this set is $249, so you save a little money compared to buying each item separately and gain in convenience. (Of course, if you were buying eyepieces individually, you probably would not buy any Plossl's with focal lengths shorter than 15mm; there are better designs for short focal length oculars.) An ocular case is a practical necessity for anyone taking a portable telescope into the field and this is one way to get one.
The Plossl ocular design is well suited for general-purpose viewing in focal lengths above about 15mm for those who do not wear eyeglasses. (Eyeglass wearers will find Plossl oculars shorter than about 25mm lacking in eye relief.) Plossls are excellent for deep space viewing and for seeing faint planetary nebula. They are a good choice for splitting close double stars and can provide spectacular planetary and lunar detail in good seeing conditions. They work well in all types of astronomical telescopes and (presumably) with the Barlow lens included in the Set.
The Meade Series 4000 Super Plossls are made with four elements in two symmetrical groups, the standard Plossl optical formula. Meade claims that their Super Plossl designs are computer optimized to offer excellent center to edge sharpness, a reasonably wide apparent field of view (AFOV) of 52 degrees (44 degrees for the SP40mm), decent eye relief in focal lengths of 25mm and longer, plus minimal astigmatism, chromatic aberration and spherical aberration. Meade's Series 4000 oculars feature seven-layer multi-coatings, edge blackened elements and fold-down rubber eyecups. All of these oculars are threaded to accept standard 1.25" filters, as are Meade 1.25" star diagonals. The three longer focal length eyepieces included in this set have rubber grip rings.
The six focal lengths included in the Set are 6.4mm, 9.7mm, 12.4mm, 15mm, 32mm and 40mm. The only Series 4000 focal lengths not included are the 26mm that comes with most telescopes and the 20mm, which we think would be more useful than the 6.4mm that is included in the set. Due to the limited eye relief of the shorter focal length Plossl's, the 15mm, 32mm and 40mm eyepieces will probalby get the most use. Most amateur astronomers who need short focal length oculars will probably purchase Televue Radian, Vixen NLV, Burgess Planetary or Celestron X-Cel XL oculars to replace their short focal length Plossls.
In the market place, the Meade 4000 Eyepiece and Filter Set is often compared with the Celestron's Eyepiece - Filter Accessory Kit (2010 MSRP $165.99). We have previously reviewed the Celestron Kit and you will find that article on the Astronomy and Photography index page. Both sets include filters, an inexpensive Barlow lens and an aluminum carrying case. The Celestron set is less expensive, but only includes five, lower quality, Plossl oculars (instead of six).
Meade Super Plossl oculars have a good reputation. (There is a review of Meade Series 4000 Super Plossl oculars on the Photography and Astronomy index page.) In our experience, Meade Series 4000 Plosssl eyepieces perform well. On the whole, we prefer the Meade Eyepiece Set to the Celestron version.
The knock on Meade products, including the Series 4000 eyepieces, is their spotty quality control and indifferent customer service. That is a bad combination, as it increases your chances of getting a new ocular with a flaw in materials or workmanship and decreases your chances of having the problem resolved promptly and successfully. Meade Series 4000 eyepieces come with a one-year warranty.