Meade ETX90 Astronomical Telescope
By Chuck Hawks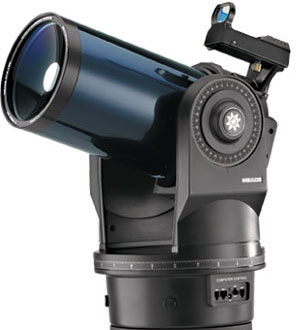 Illustration courtesy of Meade Instruments Corp.
The Meade ETX90, in all its variations, has been a best seller since its introduction many years ago. It has been offered in several model variations over the years, most of which are basically similar. As I write these words in 2011, Meade is offering the scope as the AT model, which includes the #884 tripod (previously an extra cost optional accessory) and the AutoStar go-to system (also previously optional).
Inspired by the legendary Questar 3.5 telescope, the ETX90 is a long focal length Maksutov-Cassegrain design on a motorized, swing through fork mount. The optical tube is a royal blue color intended to resemble the Questar, but without the overprinted star map. Its integral star diagonal accepts standard 1.25" diameter eyepieces. Here are some features and basic specifications for the ETX90:
Model - ETX90-AT
Aperture - 90mm (3.5")
Optical design - Maksutov-Cassegrain
Meniscus corrector lens - Grade-A BK7 optical glass
Primary mirror - Pyrex, high reflectance aluminized and over coated with quartz
Secondary mirror - High reflectance aluminized spot on back of corrector, over coated with quartz
Optical coatings - Fully multi-coated UHTC
Focal ratio - F/13.8
Focal length - 1250mm
Optical performance - Guaranteed diffraction-limited
Limiting stellar magnitude - 11.7
Optical tube - Aluminum main tube with injection molded plastic rear cell
Mount type - Motorized, swing through, dual-arm fork
Star diagonal - Integral 1.25" with flip mirror that allows straight through or 90 degree viewing
Supplied eyepiece - Meade 26mm Plossl (48x)
Auto Align + SmartFinder -

Electronic level sensor, electronic magnetic north sensor, high precision internal clock and red dot projection finder

AutoStar - #497
Software - AutoStar Suite AE
Batteries - 8 AA cells, up to 20 hours operation
Tripod - #884 (included)
PC interface cable - included
2011 MSRP - $499
Judging by the example reviewed here, the ETX90 is a fine little optical tube married to an abysmal mount. The motor drive system runs on eight AA batteries installed in the bottom of the motor drive base. The claimed battery life is, "up to 20 hours." Maybe, in alt-azimuth mode with little use, but when used in AutoStar mode, my older model ETX90 depletes its batteries very quickly. Figure a couple hours of operating time. When the batteries are exhausted, you have to turn off the electronics and remove the telescope and fork mount from its tripod, there by un-aligning the scope. You must re-align the AutoStar after replacing the batteries. The motorized fork mount lacks slow motion controls, so both RA and Dec fine adjustments must always be made with the electric four-way controller.
The rear cell, fork arms and motor drive base are constructed primarily of cheap, injection-molded plastic with some metal reinforcement and the plastic internal parts are notoriously prone to breakage. Disassembled (and you can count on eventually having to take it apart for repairs), this mount looks even cheaper on the inside than it does from the outside. Meade customer service seems dedicated to not serving their customers, so ordering replacement parts can be a hassle.
Shortly before I began writing this review, a Meade Customer Service representative refused to sell me parts, claiming that the Company no longer stocked ETX90 mount parts because the scopes were discontinued, a flat-out lie. A second call to a supervisor was required to get the required parts. Stories like this about Meade Customer Service are depressingly common.
Being flimsy, the ETX90 fork mount takes a long time to dampen vibrations, even from just touching the focuser. Naturally, it is very difficult to focus on a jiggly image, so achieving sharp focus becomes a trial and error proposition. If you are getting the impression I consider this mount a travesty, you're right!
Compounding the other mount problems is the AutoStar go-to system. Some like these computerized systems, but I do not. Nor do any of my intermediate or advanced level amateur astronomer friends like them. The consensus seems to be that we drive to a dark sky sight to observe, not fuss with a balky computer. At least for me, set-up is much faster if I ignore the AutoStar go-to system and simply set the tripod with the north leg in the direction of the North Star and the wedge adjusted for the latitude of the viewing position. The scope can then be used like any other equatorial fork mount with a motorized, sidereal drive.
On the other hand, the adjustable height (26" to 44") #884 Deluxe Field Tripod is a big improvement over the shaky aluminum tripod that used to be offered as an accessory. This tripod is included in the price of the ETX90-AT system. It has chromed steel tubular legs braced by a spring-loaded spreader bar and a built-in equatorial wedge that can be adjusted for latitudes from 20 degrees to 90 degrees. 1.25" holes are provided in the spreader to hold oculars. The ETX90 is attached to the wedge by two thumbscrews. A Cordura case is provided for the tripod and incorporates a pouch for the spreader.
The cheesy fork mount is a shame, because the ETX90 scope packs excellent optics in its compact, seamless aluminum tube. Meade went to considerable effort to assure maximum optical performance when they designed the ETX90. They knew that if they built a scope that looked like a Questar 3.5 and incorporated many of the same features, it was inevitably going to be compared to the Questar, which has set the standard for Maksutov-Cassegrain telescopes since the 1950's.
Consequently, Meade designers specified a low expansion Pyrex main mirror with enhanced aluminum reflective coatings including multiple layers of silicon dioxide and titanium dioxide, which are then over coated with quartz for protection. The secondary mirror spot on the back of the corrector lens receives the same treatment. The Maksutov corrector lens is fully anti-reflection multi-coated with Meade's proprietary Ultra-High Transmission Coatings (UHTC), which Meade claims transmits up to 20% more light than their standard coatings. (Makes me wonder why they use "standard coatings" on any of their telescopes!) The resulting optics are guaranteed diffraction limited.
A heavy, threaded metal cap protects the front of the corrector lens when the scope is not in use and a smaller threaded cap coves the rear cell's straight through (Cassegrain) opening. A standard plastic plug cap covers the 90-degree star diagonal opening. The focuser is a knob on the back of the rear cell and moves the primary mirror. ETX90's used to come with wretched straight-through 5x25mm finder scopes, but have recently been upgraded to a far more convenient SmartFinder (red dot finder).
The integral, first surface, flip mirror star diagonal system deserves special mention. The Questar 3.5 telescope pioneered the concept of a built-in star diagonal with the mirror attached to an external lever that allowed it to be flipped up and out of the light path (something like a 35mm SLR camera with a mirror lock-up switch). This permits straight through viewing (like a spotting scope) using the rear Cassegrain focus port with the mirror raised and 90-degree astronomical viewing when the mirror is down. Meade successfully copied the idea for the ETX90.
Taken in total, this is an excellent optics package. I have heard it called "90% of a Questar 3.5 for about 15% of the cost." I have not had an opportunity to confirm that by comparing an ETX90 to a Questar, never having been able to afford a Questar, but I would like to. As it stands, having owned and become familiar with a number of small catadioptric scopes, including at least three (old style) Celestron C-90 Astros, two Bosch & Lomb Criterion 4000's and a Meade ETX90, I have to say that the ETX90 has the best optics of the bunch. Unfortunately, as mentioned above, it also has (by far) the worst mount, so it is very difficult to get the full benefit of the outstanding optics.
I have done quite a lot of viewing through an ETX90 over a period of several years, but rather that repeat the same old descriptions of the Moon's craters, Jupiter's cloud bands, Saturn's rings, the Ring Nebula, M-13, Orion Nebula, Andromeda galaxy, splitting the double-double in Lyra, etc., I am just going to say that the ETX90 does everything a 3.5" clear aperture scope can be expected to do. It is limited by its light grasp, not its optical quality. Thanks to its relatively long focal length and Maksutov corrector, the views of all of these objects are as clear and detailed as a 3.5" CAT can provide, which is pretty darn good. There is zero lateral color error, deep space is inky black and coma and other optical aberrations are minimized. Short of a Questar 3.5, I do not think there is, optically, a better small catadioptric scope on the market.
It is one of the great ironies of the industry that Meade tied the ETX90's exceptional optics to such a pathetic mount. One solution would be to dismount the scope and adapt it to a decent alt-azimuth mount. Bear in mind that the star diagonal built into the back of the ETX90 does not rotate, so you need a mount that keeps the scope in an upright position and not on its side, as would be the case with a German equatorial mount.
Our Rocky Hays, who we call "Metal Man," adapted his ETX90 to a Bosch & Lomb Criterion 4000 motorized fork mount with manual slow-motion controls. This all metal, dual fork mount proved to be a great improvement. Unfortunately, it requires acquiring a B&L Criterion 4000 system cheaply enough that you can afford to scrap the scope to use its mount.
Meade offers a range of accessories for the ETX90. Included are 1.25" Series 4000 and Series 5000 oculars, #126 2x Barlow, 8x25mm right angle finger scope, 45-degree erecting prism, dew shield (lens hood), camera adapters and T-rings, padded hard and soft carry cases, power adapters and cords. You can visit the Meade Instruments web site at www.meade.com