Meopta MeoPro 6.5-20x50mm Riflescope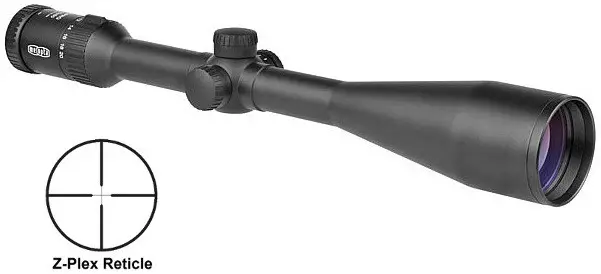 Illustration courtesy of Meopta USA, Inc.
There are a lot of high quality riflescopes available for target shooters and long range shooters. However, virtually all of them are woefully inadequate under low light conditions at dawn or dusk.
We have shot most of them, from our Nightforce NXS 12-42x56 to a wide variety of Leupolds and Redfields. Now, don't get us wrong, these are fine, very well made scopes for precision and/or long range shooting. However, under low light conditions most leave a lot to be desired.
The reason is their optical glass is only capable of transmitting around 92% of the light received. In the early morning hours, or just before dark, when a lot of our quarry are active, one is hard pressed to get on target. Because of that, we had just about given up trying to find one scope that was great for precision bench rest shooting, as well as for long range hunting of varmints and coyotes.
That changed when we had the opportunity to try this riflescope. Reinhard Seipp, the Chief Operating Officer of Meopta, told us at the 2016 SHOT Show this scope was what we were looking for. He informed us that it used the same high quality glass as the MeoPro 3-9x50 scope (and we already knew that was great for low light conditions).
Meopta refers to these optics as the Twilight Optimized Optics (TO2) system. It is guaranteed to deliver the highest light transmission possible in the low light of dawn and dusk. We had to get one of these scopes and give it a try.
We selected the hunting version with capped turrets for this review. However, there is also a version with exposed turrets for those who will use this scope primarily for target shooting.
Looking through the eyepiece of this scope was as though you were right in front of the target. The clarity was almost unbelievable. We took it outside at dusk and scanned our herd of animals at over 100 yards and we could almost count the eyelashes on our llamas. We compared the Meopta to several other high power target scopes and, well, you could see the outline of the animals' heads and that was about it.
After mounting the MeoPro 6.5-20x50 scope on Mary's Remington M700 .22-250 rifle, we headed out to the mesa for some prairie dog hunting. The resolution, lack of distortion and positive tracking of the controls were perfect.
We had no problem targeting prairie dogs with this scope on our rifle. In fact, it almost seemed unfair, as they could not hide.
Reticles
Four different reticle options are offered to meet a variety of shooters' needs. These include Z-Plex, BDC, McWhorter HV, and Windmax 8. Like American riflescopes, these second focal plane, etched reticles are non-magnifying, thereby covering less of the target as power is increased. This is a valuable feature, whether you are engaged in precision target shooting or long range hunting.
We selected the Z-Plex reticle for our scope, it is very similar to the reticles in our regular target scopes and virtually identical to our hunting scope reticles. It was the ideal compromise for a dual-purpose scope.
Features
There are several other features of this scope that set it apart from the pack, including the matte black ELOX anodized hard coating on the aluminum main tube that makes it almost impervious to scratching or marring. The side focus parallax adjustment is variable from 50 yards to infinity. A MeoQuick fast-focus eyepiece rapidly brings targets into sharp focus with a -3 to +2 diopter range, making it possible to rapidly adjust the target image for edge-to-edge sharpness.
The proprietary MeoBright MB5501 anti-reflective coatings on the optics eliminates glare and reflections and delivers incredibly bright (99.7% transmission per lens surface) and sharp images across the field of view. MeoShield coating protects external lens surfaces from abrasions and scratches.
The MeoTrak RZ Hunting Turret dials can be quickly repositioned without changing the adjustment setting of the scope, allowing the shooter to accurately reset to the original zero of the scope if further adjustments are required. The Posi-click finger adjustable windage and elevation dials provide a tactile feedback when you adjust them. You can actually feel the adjustments, so there is no more straining to hear the clicks or wondering if you got it right.
The elevation adjustment range is 45.4 MOA, which is adequate for long range hunting and most precision target shooting. The windage adjustment range is a scant 28.8 MOA, so your rifle's mounting system had better be perfectly aligned with the axis of the bore.
Naturally, the scope is nitrogen filled, fogproof and waterproof. It is covered by Meopta's North American transferable lifetime warranty.
Specifications
Magnification: 6.5-20.0
Objective lens diameter: 50 mm
Main tube diameter: 1 in.
Exit pupil: 7.7 mm (6.5x), 2.5 mm (20x)
Reticle: Etched second plane Plex type
Adjustment graduation: 1/4 MOA
Elevation Adjustment Range: 45.4 MOA
Windage Adjustment Range: 28.8 MOA
Field of view at 100 yards: 17.7 ft - 5.7 ft.
Parallax Adjustment: 50 yds. to infinity
Eye relief: 3.5 in.
Percent Light Transmission: 99.7% per lens surface
Length: 15.6 in.
Weight: 21.83 oz.
Optical Components: Czechoslovakia
Assembly: USA
2016 MSRP: $1,092.49
There is a reason why the Meopta scopes are superior. Reinhard Seipp is a world-class hunter, having spent many hours in the forests and mountains of Europe and the U.S. Unlike a lot of executives, he insists that Meopta products must perform under the variety of conditions he has experienced. He would not accept anything but the best for his personal use and he does not expect his customers to accept anything less, either. As a result, the Meopta line of riflescopes and binoculars are, in our opinion, among the best on the market today.
Mary summed up our experience with MeoPro scopes best. In her words, "you do not feel like you are looking through any glass or optical system; it is as though you simply have improved vision."