Meopta MeoPro 3-9x50mm Riflescope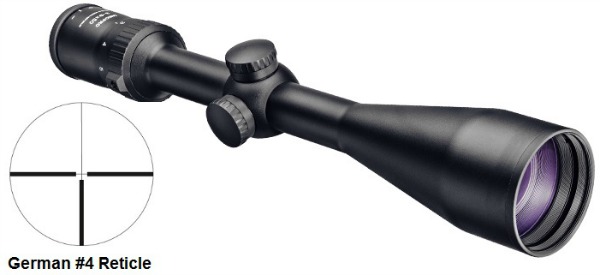 Illustration courtesy of Meopta USA, Inc.
Over the past 50 years we have used and tested more riflescopes than most folks, always looking for that perfect scope. They have ranged from the low end big-box specials to some pricey upper end scopes. Although we never found the "perfect" scope, which does not exist, we made do with some very nice Redfields, Nikons and Leupolds.
We had given up looking until we saw the Meopta MeoPro 3-9x50mm at the 2016 SHOT Show. One look at that scope and its specs was all that was required. We knew that we had finally found our hunting scope.
We will get into the detailed specifications later in this article, but the four things that most impressed us were:
99.7% light transmission per lens surface
The 99.7% light transmission per lens surface is the highest in the industry, regardless of price. In checking the websites of other well known scope makers, such as Nightforce, Redfield, Nikon and Leopold, the highest transmission listed was 92%. Most simply say that their scopes gather the light and provide optimum viewing under low light conditions. However, they fail to back up their claims with the percentage of light that is actually reaching your eye. This translates into your being able to actually see that trophy buck early in the morning or at dusk, so that you can put him on the wall.
5.6 mm exit pupil at maximum power (9x)
Most hunting happens in dim light. At 9x, a scope with a 50 mm objective will transmit a 5.55 mm light beam (exit pupil) to the hunter's eye. The average middle aged hunter's eye pupil is about 5mm in diameter when dark adapted. Thus, the MeoPro 3-9x50 mm riflescope is not restricting the light reaching the retina. (Younger hunters or those with excellent eyes may achieve a 7mm eye pupil when fully dark adapted. -Editor)
77 MOA windage & elevation adjustments
Most hunting scopes with a one inch (25mm) main tube have a windage and elevation adjustment range varying from 35-45 MOA and a few high end scopes have a 56-60 MOA range, which is very good. It is expensive and requires some sophisticated engineering to extend the MOA adjustments beyond the normal range.
Having been a mountain hunter in Europe for years, Reinhard Seipp, the COO of Meopta, decided that he wanted to offer his customers the same range of MOA adjustments that he demanded for himself. Hence, the MeoPro 3-9x50 scope has the widest adjustment range in the industry, at 77 MOA.
You don't need adjustable mounts for your rifle with this scope. You just sight it in for whatever range you want and you are good to go.
While you will probably never need 77 MOA of windage adjustment, if your scope base is true to the bore of your barrel, you are covered for elevation all the way out to over 1,000 yards. How do we know? Mary shoots F-Class competition at that distance. Her Nightforce NXS scope has a 55 MOA adjustment range and is mounted on the requisite 20 MOA picatinny rail (total adjustment range is 75 MOA). She has no trouble adjusting it for 1,000 yard targets during competition.
Lifetime Transferable Warranty
There are several riflescope companies in the U.S. that offer lifetime warranties. In most cases (Leupold, Styrka and a couple of others being exceptions), the warranty applies only to the original purchaser. With Meopta, you can hand this scope down to your son or daughter and the warranty is still valid. They could even pass it along to their kids and the warranty would still be valid. Don't you wish that more companies had that kind of confidence in their products?
Additional Features
There are several other features of this scope that set it apart from the pack. These include the ELOX anodized hard coating on the main tube that makes it almost impervious to scratching or marring and the MeoShield abrasion resistant coating on exposed lens surfaces.
The MB5501 proprietary, fully multi-coated optics are among the best in the industry. Several companies have been trying to duplicate the MB5501 coating, to no avail.
The MeoTrack II windage/elevation turrets provide tactile feedback when you adjust them. You can actually feel the adjustment clicks, no more straining to hear the clicks or wondering if you actually got it right.
The Euro-style fast focus eyepiece provides a -3 to +2 diopter correction range. Naturally, the internals are purged, nitrogen filled and sealed to prevent fogging or the intrusion of moisture.
If all of the above does not convince you that this scope is as good as it gets, the German #4 reticle, depending on your reticle preferences, might. The three thick posts (bottom and both sides) bracket the fine crosshair in the middle, making target acquisition quick and easy.
This #4 reticle is very similar to one in a scope that Roy Weatherby sent me almost 50 years ago for my first .300 Weatherby Magnum. No matter where I was, no matter what the conditions, I was always able to precisely get on target with that reticle. The MeoPro's German #4 reticle is even better.
Specifications
Magnification: 3.0x - 9.0x
Objective lens diameter: 50mm
Main tube diameter: 1 in.
Tube material: Aerospace aluminum
Finish: Matte black ELOX anodized hard coat
Exit pupil: 12.5mm (3x) - 5.55mm (9x)
Reticle: Etched second plane German #4
Adjustment graduation: 1/4 MOA
Windage and elevation adjustment: 77 MOA
Field of view at 100 yards: 37 ft - 12 ft (11.3 m - 3.7 m)
Eye relief: 3.7 in.
Light Transmission: 99.7% per lens surface
Length: 14 in. (35.6 cm)
Weight: 18.4 oz. (522 g)
Optical Components: Made in Czechoslovakia
Assembly: USA
North American Lifetime Transferable Warranty
2016 MSRP: $689.99
The fast-focus eyepiece makes it possible to rapidly adjust the target image for perfect, edge-to-edge sharpness. We observed very good resolution and contrast without noticeable distortion. Flare suppression is also very good.
The MeoPro's 3.7 inches of eye relief is sufficient for most hunting rifles and calibers, including the majority of 7mm and .300 magnums. The mounting latitude is about average for scopes with 50mm objectives.
Mary summed up this scope better than I can ever hope to. In her words, you do not feel like you are looking through any glass or optical system; it is as though you simply have improved.
She also remarked that she can use this scope without removing her glasses, indicating a generous eyebox. She does not have to refocus when she puts the scope down. No glare, no tearing of the eyes; all of a sudden, you just see better. If you wear glasses, you know what she is saying.
Is this the best hunting scope on the market? That we can't say, because we have not used all of the other scopes that are out there. However, it is our opinion that if you get this scope, you will not be disappointed and you are likely to want another MeoPro riflescope for your next rifle.