Meopta MeoPro HD 8x32mm Binocular
By Dennis and Carolyn Johnson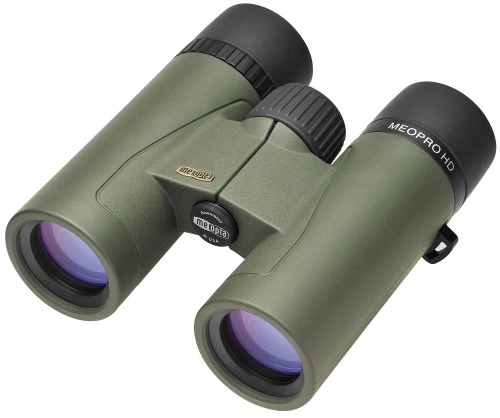 Illustration courtesy of Meopta USA, Inc.
During the 2016 SHOT SHOW we surveyed binocular venders. After visiting display booths for three days, we discovered Meopta, a company founded in 1933 in Czechoslovakia as Optikotechna. We were especially impressed with their 8x32mm binocular, which offers substantial magnification and a 4mm exit pupil in a lightweight, compact package.
After spending my career depending on a myriad of microscopes to make critical diagnoses as an MD, take it from me, it is all about lens quality and precision assembly. Meopta manufacturers its own lenses in the Czech Republic with the rigor and stringency afforded precious gems. They begin with high quality Zeiss Schott glass fortified by fluoride that stabilizes the silicon crystalline structure to maximize light transmission by virtually eliminating internal reflections and absorption. This ensures the highest image resolution and color fidelity.
All lens surfaces undergo ion-assisted MeoBright multi-coating, which eliminates glare and reflection. External lens surfaces are hardened by a special MeoShield coating to increase abrasion resistance.
We field tested these binoculars on our farm in central Tennessee, which is a mixture of dense timber and pasture. Binoculars are an essential tool for land owners in this part of the country. We routinely utilize them for hunting and observing wildlife behavior but, more importantly, they are an indispensable monitoring system for livestock and pet predators.
Our major problem is stray dogs, which instinctively form small feral packs. Binoculars are a necessary early warning device for protecting one's property from animals that kill indiscriminately.
Despite being a precision optical instrument, these binoculars exceed military specifications for durability. The rubber armored, aluminum alloy frame has objective lens and ocular covers. The hardened external lens surfaces effectively prevent scratching.
They bounced around in our 4-wheeler for weeks, endured daily field abuse and still came up ticking. This binocular will last a lifetime, guaranteed.
The MeoPro HD 8x32 is user friendly. In less than a minute you are ready to rock and roll. Quickly adjust the interpupillary distance with the center hinge. Focus to the left eye (blocking the right) with the center focus wheel and then use the diopter focus ring on the right ocular (blocking the left eye) to compensate for any visual disparity between eyes.
A twist of the ocular sheaths raises or lowers the eyecups and the 17mm eye relief accommodates spectacle wearers. There is a 1/4x20 threaded insert for mounting the binocular on a tripod (via an "L" bracket) under the front cover cap of the center hinge shaft.
Specifications
Magnification: 8x
Objective Lens: 32 mm
Light Transmission/Lens Surface: 99.7%
FOV at 1000 yards: 414 ft.
Eye Relief: 17 mm
Close Focus: 5.6 ft.
Exit Pupil: 4 mm
Twilight Factor: 16
Dioptric Correction: +/- 3
Height: 5.2 in.
Width: 5.2 in.
Weight: 21.1 oz.
Rubber-armored magnesium chassis
Waterproof & Shockproof
Nitrogen Purged
Lens Coatings: MeoBright and MeoShield
Country of origin: Assembled in the USA
North American Lifetime Transferable Warranty
2016 MSRP: $632.49
We really put this binocular through an intense, real life field trial. Images were consistently contrasty, sharp and clear at over 100 yards.
With a 4mm exit pupil, the MeoPro 8x32mm cannot be considered "night glasses," but it performed well in low light conditions, when wildlife is most active. The claimed light transmission is 99.7% per lens surface.
Scanning the shaded timber margins for stealthy critters was accomplished without eye strain. The color fidelity is impressive, allowing easy recognition of the diacritical markings of bird species.
Over the years, we have spent too much money on binoculars that perform well in the store, but fail in pragmatic field use. We are keeping these Meopta MeoPro HD 8x32mm Binoculars.