Meopta MeoPro HD 8x42mm Binocular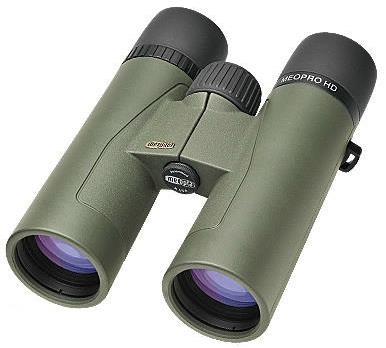 Illustration courtesy of Meopta USA, Inc.
Optikotechna (now Meopta) was founded in Czechoslovakia in 1933. The Company, which specialized in producing high-quality optical lenses, quickly expanded into producing high quality binoculars, cameras and projectors. They were a thriving company and the conquering German Wehrmacht tapped them to make riflescopes and other optics during WW II.
While Swarovski and Leica were fortunate to fall under U.S. occupation after the war ended, Meopta was locked into Communist Soviet occupation. There, because of their ongoing ability to produce great optics, they became the key supplier to the Soviet Army for periscopes, riflescopes, night vision devices and anything optical.
With the fall of communism and the breakup of the Soviet Union, Meopta was finally free to develop and market their products without political domination. In 1992, Czech descendants of the original company returned to their homeland in the hope that they might be able to buy Meopta. The Rausnitz brothers, who had immigrated to the United States in 1946, successfully purchased the company in 1992. With a considerable investment in facilities and R&D, Meopta expanded rapidly to become a major supplier of optics to many European companies.
In 1994, Reinhard Seipp, an optical engineer from Wetzlar, Germany, joined Meopta as General Manager. By now, Meopta had established a facility in the United States and was producing riflescopes for a leading European brand. If you had not heard of Meopta prior to reading this article, you have probably used their products, without knowing, because a lot of major players in this country use Meopta optics in their products, or put their name on Meopta made products.
We apologize for not being able to share those names; however, with a few notable exceptions, if you purchased high quality optics in the last twenty years that were made in the US or CZ, regardless of the brand, it might have been a Meopta. In the past ten years, Meopta has produced well over 300,000 riflescopes that were sold in the US and most did not have their name on them
In 2006, Reinhard Seipp took over distribution of the Meopta brand for the US market and the US distributor became Meopta, USA. This, of course, created a problem. You do not want to kill a good thing all at once. Reinhard decided to keep marketing of the Meopta brand low-key, to give their partners an opportunity to either continue the relationship or seek other sources. He maintained this policy for six years, during which time Meopta, USA focused on product development.
In 2013, they were ready and launched a complete line of very high quality binoculars, riflescopes and spotting scopes under the Meopta brand. At this point, we would like to point out that Meopta, USA is strictly focused on the American market. They are not a European company with an American branch. They are strictly American and their products have been developed to meet the wide range of unique American needs and wants.
While most global brands design their binoculars for birdwatchers and then sell them to hunters, Meopta is hunting focused in design and application. Superior low light performance and great resolution are a result of understanding the needs of the American hunter. The low-key marketing approach is also low cost and the savings are passed on to the customer, making Meopta brand products a bargain.
Before you start telling us why you do not need to spend a lot of money on a binocular, hear us out. As hunters, we spend upwards of $1,000 or more on a rifle and perhaps half as much on a riflescope. Add that to the cost of the other rifles and ancillary equipment that we have in our inventory and you are looking at a hunting investment of several thousand dollars, not to mention travel, licenses, tags and other fees. Why, then, do so many hunters balk at spending the money to buy a binocular that (with reasonable care) will last a lifetime?
When you are hunting, what is the best way to scan an area for your quarry? Binoculars! How much time during a hunt do you spend looking through those binoculars, versus looking through your riflescope to take a shot? From our own experience, whether in Texas, New Mexico or Colorado, we spend an incredible amount of time with the binoculars and only enough time with the riflescope to take our shot.
Cheap binoculars are just that: cheap! Oh, they looked good in the store and even seemed acceptable when we got home. However, out in the field, they are not as crisp or clear as they seemed at short range in the store. You cannot make out the details of objects at a distance and they cause eyestrain. We have been there more times than we care to admit. It was time to follow our own advice and find something better.
We intended to test a 10x42mm binocular, but Meopta advised us to buck the trend and get 8x42mm instead. Their explanation made us realize that they are an optical company with great understanding of the product and its application.
Most hunting happens in low light and a 10x binocular with a 42mm objective will transmit a 4.2mm light beam (exit pupil) to the hunters eye. The average middle aged hunter's eye pupil is about 5mm when dark adapted, so the view through the binocular will be dimmer than seen by the naked eye. An 8x binocular with a 42mm objective lens produce a 5mm exit pupil (42/8=5), which perfectly floods the eye with light. In the case of Meopta this would be high quality light, because of the European made optics and coatings.
The loss of magnification is almost insignificant. At a viewing distance of 100 yards, an object viewed at 10x magnification appears 10 yards away. At the same distance, when viewed with 8x magnification, the object appears to be 12.5 yards away. That seems a fair tradeoff to us, which is why we selected the MeoPro HD 8x42 for use during our recent Texas deer and hog hunt.
Normally, when we do a product review, we start with an introduction, go into how we tested it, provide the specifications, then give our conclusion and opinions on the item at the end. After ten years of testing over 300 products from around the world, we are deviating from our normal protocol.
The MeoPro HD 8x42 binoculars are, without any doubt, the finest, clearest and best binoculars that we have ever used or reviewed. Period. For the record, we have used just about everything on the market, from Swarovski and Zeiss to some fine Leupolds and Nikons.
Mary and I could not believe how incredible these binoculars were. We used them on our recent hunt in south Texas, scanning the landscape for hours at a time, and our eyes were not watery or strained. We were able to pick out fine details at a distance with no difficulty and were even able to use them with our glasses on. With that said, it is time to enumerate the features that make these binoculars so special.
Features
MeoBright - A proprietary ion-assisted lens multi-coating (developed by Meopta) is applied to all air-to-glass optical surfaces. The ion-assisted multi-coatings eliminate glare and reflections and deliver a 99.7% light transmission per lens surface (the highest in the industry).
MeoShield - The external lenses of MeoPro HD are also treated with Meopta's proprietary abrasion-resistant coating that meets military specifications for durability and surface hardness. Jim appreciates this, because if something can be scratched, he scratches it. His glasses are a mess and you wouldn't believe his cell phone.
HD Lens Elements - High-definition, extra-low dispersion fluoride objective lens eliminates chromatic aberration and color fringing in low light conditions or during adverse weather. We experienced this first hand in the field on our hunt and noticed the superior contrast and enhanced color fidelity. The resolution was incredible; we were able to count the points on our buck's antlers at 150 yards.
Focus and Diopter Control - Oversized central focus wheel delivers precise, accurate focus acquisition with no backlash. Right side +/- 3 diopter ring control is easy to adjust.
Chassis Construction - Magnesium alloy chassis is lightweight and durable, as proved when Jim dropped them several times, once from the blind to the ground 10 feet below. There was no external or internal damage. (Don't try this at home! -Editor.)
Waterproof - 100% guaranteed waterproof, submersible and fully protected against humidity, rain and snow.
Fog proof - Purged and sealed with inert Nitrogen gas to provide 100% guaranteed fog proof performance.
Eyepieces - The eyepiece (ocular) design reduces distortion and delivers a wide, sharp field of view. Multi-position twist-up eyecups made it easy for Mary and me to trade-off in the field, as she wears her glasses when using binoculars and I do not.
Protective Armor Design - The sculpted rubber armor is comfortable to hold for extended periods and protects internal components from shock.
Lifetime Warranty - They carry Meopta' s North American Lifetime Transferable Warranty. Not that you would ever want to sell them, but if you did, the warranty transfers to the new owner.
Specifications
Objective Lens (mm): 42 mm
FOV at 1000 yards: 384 ft.
Eye Relief: 22 mm
Close Focus: 4.92 ft.
Exit Pupil: 5.3 mm
Twilight Factor: 18.3
Dioptric Correction: +/- 3
Height: 6.1 in.
Width: 5.2 in.
Weight: 24.6 oz.
Lens Coatings: MeoBright, MeoShield
Country of origin: Built in the USA
2016 MSRP is $977.49
The MSRP is $977.49, but we found the MeoPro HD 8x42mm discounted on the internet for $699. Are they a bit pricey? Yes, but they are worth it. If you buy MeoPro binoculars, they will last a lifetime with proper care.