First Look: The Merkel MHR16 Bolt Action Rifle

Photo by Randy Wakeman
I have been shooting one of the new Merkel bolt-action rifles on and off since late last year. It finally has a nomenclature in the United States, the MHR16. It isn't really all new, for this rifle is essentially a renamed Haenel-Jaeger 10, sometimes referred to as just the Jaeger 10.
The rifle I have been testing is a basically a Jaeger 10 standard without the iron sights. My sample is chambered for .270 Winchester, which is one of my favorite hunting cartridges. The suggested 2016 retail price for the blued barreled action / walnut stocked model, as reviewed here, is $799. The synthetic stocked model is $100 less.
The MHR16 uses a smooth, push feed action. The multi-piece, three front locking lug bolt has a 60 degree bolt lift. It comes with a streamlined tailpiece and a generously oversized, round bolt knob. Two gas escape ports are drilled in the bolt body to vent escaping gasses away from the shooter's face. The bolt body is left in the white, while the bolt handle and tailpiece are blued.
Cartridges are reliably fed from a matte black, removable box magazine system that intrudes partway up the sides of the stock. The magazine holds three .270 cartridges.
The tapered, 22-1/4 inch barrel supplied on standard caliber rifles, such as this .270, has a sporter contour (about No. 2). Magnum calibers come with a 24-1/4 inch long barrel.
The Merkel's trigger is excellent, crisp and clean. The trigger guard is generous, sized for wearing gloves.
The rather bulky looking receiver appears to be drilled from bar stock. It has a closed top, with an oval ejection port on the right side. (A typical design for European economy bolt actions these days.) Such receivers, while inexpensive to produce, are relatively awkward to single load in the field, when you need just one more shot in a hurry. The whole rifle is clearly designed for economical manufacture, which is reflected in its reasonable MSRP.
The two-position safety, located at the right rear of the receiver directly behind the root of the bolt handle, locks the bolt closed when engaged. (The system I prefer.) The bolt release is positioned at the left rear of the receiver.
The MHR16 takes Remington 700 scope bases. I installed a Warne one-piece, Picatinny rail and rings, with a Sightron SII Big Sky 3-12x42mm scope.
The stock is standard grade walnut, but it has a nice Monte Carlo cheekpiece with a straight comb and a moderately flared, medium curve pistol grip. There is no pistol grip cap. Two cross-bolts help keep the action positioned within the stock. The stock is decorated with four-panel cut checkering in a reasonably generous point pattern. Detachable sling swivel studs are provided; the front stud is located, rather oddly, in the front end of the Schnable forearm.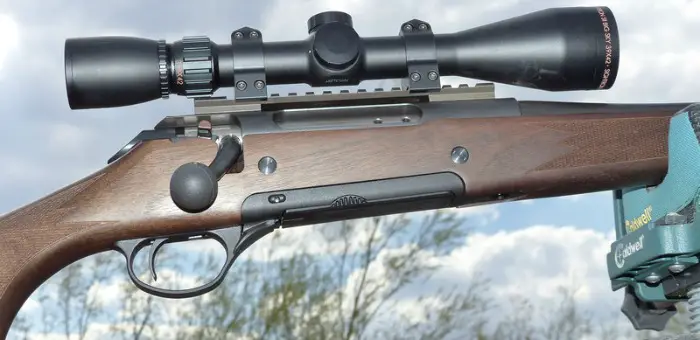 Photo by Randy Wakeman.
Specifications
Barrel length: 565 mm/22.24 in. (Std.); 615 mm/24.21 in. (Magnum)
Barrel contour: Standard sporter
Overall length: 1100 mm/43.3 in. (Std.); 1150 mm/45.3 in. (Magnum)
Weight: 3.2 kg empty (7 lbs. w/o scope)
Calibers: .223 Rem., .270 Win.; .30-06; .308 Win.; 6.5x55; 7x64; 8x57IS; 9.3x62; 7mm Rem. Mag.; .300 Win. Mag.
Magazine: Detachable box type
Capacity: 4+1 (.223), 3+1 (Std.), 2+1 (Mag.)
Sights: None; drilled and tapped for scope bases
Stock: Standard grade walnut
Country of origin: Germany
2016 MSRP: $799
Over the last several months this Merkel MHR16 has been to the range several times. I have tested it with seven different types of .270 Winchester ammo.
It does just about everything except shoot accurately. It is about a four inch gun at 100 yards and at just 50 yards it produces triangle shaped groups measuring about two inches, center-to-center. This is from a bench rest using a Caldwell Rock BR front rest and sandbags under the buttstock.
There is no way to characterize the accuracy as anything but unacceptable for a modern bolt action rifle. It is not remotely close to the last several .270 Winchester rifles I have tested, all of which could shoot inside 1-1/4 inches at 100 yards from a bench rest. Compared to the recently tested Weatherby, Savage, Browning and Mossberg .270 bolt action rifles I have reviewed, the accuracy of this particular Merkel MHR16 fares poorly.
I find it hard to believe that all of the MHR16 rifles group poorly, so perhaps I'll give it another go with a different sample. However, based on this single rifle, the MHR16 is not up to snuff.