Merkel Petite Frame Side-by-Side Double Rifles
By Chuck Hawks

Merkel Model 161 Sidelock Double Rifle w/game scene engraving. Illustration courtesy of Merkel USA.
Merkel, the legendary gun making company of Suhl, Germany offers a line of what they refer to as "petite frame" double rifles. These are sidelock and boxlock rifles based on 28 gauge size shotgun frames. This lighter frame makes possible a lighter, handier and more easily portable side-by-side rifle. Naturally, the caliber selection for these lightweight guns does not include the big bore elephant cartridges--those are offered in the heavier Merkel Safari Side-by-Side Rifles.
Merkel Petite frame rifles are produced in calibers 6.5x57R, 7x57R, 7x65R, .30-06, .30R Blaser, 8x57 IRS and 9.3x74R. All of these are European rimmed cartridges designed for use in double rifles and drillings (three barreled guns) except for the rimless American .30-06. Merkel, of course, is interested in the North American market as well as the European market.
Merkel is one of the Continental European companies leading the modern renaissance of the side-by-side double-barreled rifle. Double-barreled rifles have long been the firearms of choice for European driven game hunts as well as for use on the most dangerous African game. Modern hunters are rediscovering the benefits of double rifles, particularly for use from tree stands and in thick brush.
A double rifle is not a good choice for the accuracy nut or the long range hunter. Those are not its strengths. What the side-by-side double rifle offers is shotgun like pointability, compactness, short overall length and the fastest two shots of all sporting rifles. Double rifles are short and handy for any given barrel length because there is no repeating action between their barrels and stock. Because there is no action to operate to chamber a second round, double rifles can fire twice faster than even a semi-automatic rifle. (For more information about double rifles in general, see my article "Double Rifles" on the Rifle Information Page.)
That is why double rifles have such a good reputation as "stopping" rifles for dangerous game hunting. Two shots, if you're lucky, is all that you're likely to have time for in the event of a charge. A high capacity magazine is basically worthless in such scenarios. So the shortest, handiest, best balanced and fastest pointing rifle you can find that can deliver two shots with great speed and reliability is the ticket for this specialized use--in other words, a double barreled rifle.
But double rifles are not only useful for hunting and stopping dangerous game. The attributes that make them the best choice for that purpose also makes them good in elevated stands where shots are normally taken at close range and the space to maneuver a rifle can be at a premium. Ditto when still hunting in thick brush or deep woods. The rainforests of coastal Alaska, Canada and the Pacific Northwest of the lower 48 U.S. states offer plenty of country where a double rifle is an appropriate choice.
For these applications the traditional 10 or 11 pound Safari double chambered for elephant cartridges is too heavy and too powerful to be useful. The hunter on foot, after all, may have to carry his or her rifle for miles, doesn't want to be kicked senseless when he shoots and wants an expanding bullet to quickly anchor CXP2 and CXP3 game like deer, bear and elk.
Enter the Merkel Petite Frame Side-by-Side rifles. These are lightweight, slim, responsive and elegant rifles. The aforementioned calibers for which they are chambered adequately cover a range of game from forest dwelling deer such as whitetail and Columbian blacktail to the giant polar and brown bears. The 6.5mm and 7mm calibers are excellent for all CXP2 game, the .30 and 8mm calibers are fine all-around (CXP2 and CXP3 game) hunting cartridges and the 9.3x74R is a powerful medium bore that offers the power and penetration for all CXP3 game, including the largest and most dangerous predators such as lion and the great bears.
Merkel Petite Frame Doubles are offered in Anson & Deely boxlock form (Model 141) or with true sidelocks incorporating safety sears (Model 161). Either action bolts up tight with double under lugs and a Greener crossbolt plus sideclips. Trigger options include a single non-selective trigger or double triggers with front set trigger. Automatic selective ejectors are standard as are cocking indicators.

Merkel Model 141 boxlock rifle w/game scene engraving. Courtesy of Merkel USA.
The conveniently located top tang sliding safety is automatic, a feature that I can live with on a shotgun, but which should never be employed on a rifle that might be used to hunt dangerous game. After a fast reload under stress it is all too easy for a hunter to forget to release the automatic safety, with potentially disastrous consequences. Merkel should eliminate this feature.
Standard on the Model 141 boxlock is light Arabesque laser scroll engraving and a select grade walnut stock and forend. Hand engraved game scenes are an optional extra, as is luxury (upgraded) wood.
The sidelock Model 161 is offered with similar decoration options and comes standard with upgraded wood. This is described as "very finely grained walnut" in the Merkel catalog. A single trigger is not available on the Model 161. Either model, of course, may be specially ordered as bespoke rifles with custom dimensions, engravings, inlays, stock carvings and so forth.
Petite Frame rifles come standard with pistol grip, hogback comb stocks and beavertail forends. The cut checkering is applied in a conventional point pattern. A German style pancake cheekpiece is optional. These stocks are intended to align the eye with iron sights or a low mounted telescopic sight and both the Models 141 and 161 come complete with iron sights and detachable scope bases.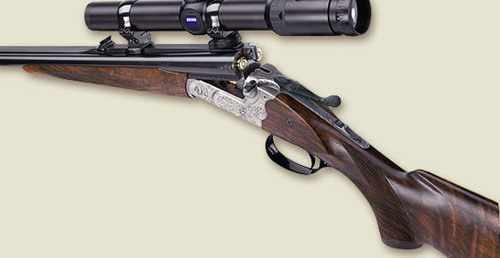 Merkel 141 w/game scene engraving showing rear sight and scope mount. Courtesy of Merkel USA.
The open rear sight is mounted on an elevated quarter rib, as are integral scope mounting bases. The front sight is a ramp mounted steel blade with a plastic insert for increased visibility.
Following are some basic specifications for the Merkel Model 141 double rifles typically imported by Merkel USA. (The Model 161 sidelock is similar except for price.)
Type: Side-by-side double barreled rifle
Standard calibers: 7x57R, .30-06, 9.3x74R (others by special order)
Trigger: Double trigger with front set trigger (single non-selective trigger optional at no additional charge--not available on Model 161)
Ejectors: Automatic selective
Safety: Automatic
Barrel length: 21.65" (all calibers)
Stock: Turkish walnut with pistol grip and beavertail forend; cast-off for right hand shooter standard
Engraving: Laser cut light Arabesque scroll on standard models; hand cut game scenes on Models 141-Eng (and Model 161-Eng)
Overall length: 38.2"
Weight: Approx. 6.6 pounds depending on caliber
2007 MSRP: $7495 (Model 141); $8695 (Model 141-Eng)
An unusual feature of the Merkel Petite Frame doubles is their adjustable Krupp steel barrels. These barrels are soldered together for most of their length, not free floating as per the other adjustable double gun barrels that I have seen. There are small screws in the spacer between the barrels at the muzzle of the rifle that are used to regulate the barrels in the event that the type of ammunition is changed. This feature should be a particular boon to reloaders. A pair of 28 gauge shotgun barrels to further extend the versatility of the Models 141 and 161 are an optional extra.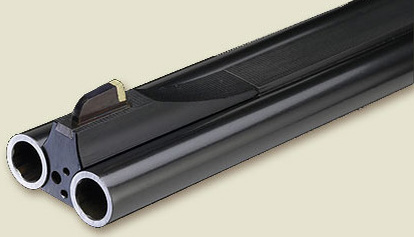 Muzzle of Merkel Petite Frame double rifle showing regulation adjustment screws. Courtesy of Merkel USA.
Here is how Merkel describes this feature: "This double rifle features innovative mechanical adjustments for vertical and horizontal alignment of the barrels, which can be adjusted by a factory trained service technician to regulate both barrels to the same point of impact when changing ammunition or optical sights without the need for re-soldering or the traditional method for regulation of the barrels."
The good people at Merkel USA regularly stock Petite Frame Model 141 and Model 141-Eng rifles with either double or single triggers. Other models and options are available by special order. Take a look at examples of the Models 141 and 161 Petite Frame Double Rifles and other fine firearms on the Merkel USA web site (www.merkel-usa.com).
Note: A full review of a Merkel Model 141 double rifle can be found on the Product Reviews page.