Millett Buck Gold 3-9x44mm Riflescope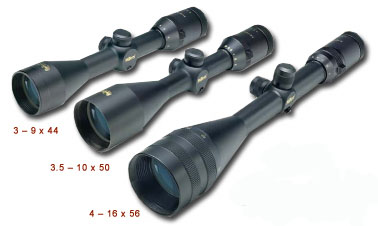 Illustration courtesy of Millett Sights.
I've had the opportunity to shoot through a number of Millett Buck Gold (and Buck Silver) scopes, including the Millett Buck Lightning 3-9x44, which is essentially, a Buck Gold with an etched, illuminated reticle. The results are worth reporting, so I am attempting to do just that.
Millett is recognized as primarily and a base, ring, and sight manufacturer. I've had very good results with their steel Angle-Loc windage adjustable rings on a number of rifles, and have found their rifle rest to be a very handy, economical set of rests to throw in the trunk for a quick trip to the range as well as easy to use for quick set-up cleaning and scope mounting.
Millett's foray in to scopeland began several years back, with respected Hakko of Japan (who makes the Springfield Armory scopes) as their OEM. That relationship didn't last particularly long, as reportedly Millett wanted their scopes made one way, but it was the "Hakko way" or the highway. It seems Millett, wisely in this case, decided to drive on.
When I first starting testing Millett scopes I really didn't expect much, but I was quite wrong. Beautifully packaged in velvet bags, the stamp "Made in China" was one thing I needed to get past. It didn't take me long.
The 3 x 9 x 44 scopes are bright and clear, just as promised by Millett, at a very reasonable price. The very crisp finger adjustments are confidence inspiring, and the 80 inch at 100 yards adjustment range is generous. The average eye relief of 3.5 inches is more than adequate for all but the most severe shoulder busting rifles; the quick focus is appreciated as well. The military type coil spring adjustment system suggests a tough scope, and over the last 18 months or so of shooting with them there is nothing to suggest they are not just that.
The one-piece tube is obviously heavy duty, in stark contrast to the tin can super-thin tubes found on some scopes. More than a few friends have since decided to try their own Millett Buck Golds and all have been pleased, noting that the Millett has an accurate power range and commenting that the Millett Buck Gold is a distinctly bright scope.
Millett scopes come with a lifetime warranty. I've had no issues, but one friend had a minor one (that being his power ring was getting increasingly harder to turn) and Millett replaced the scope with a brand new one with no hassle whatsoever.
More than a few people have caught on to what a very good value the Millett Buck Gold 3 x 9 x 44 really is, and the price has gone up a little bit over the last year. At present they can be found discount priced at under $150 including rings, and that remains a tremendous value as far as I'm concerned. The etched, illuminated reticle "Buck Lightning" model is even a greater bargain at sub-$190. To better the Millett as a rugged all-around hunting scope, you'll need to go to at least a Bushnell Elite 3200 series. For a noticeable notch better in optical quality, you'll likely need to look at the Sightron SII series.
If there is any negative concerning the Millett Buck Gold, it is an exceedingly minor one. It weighs 2 ounces or so more than some competitive scopes, but with its sturdy construction and 44mm objective, it isn't hard to see where it comes from.
In the highly competitive $150 price bracket, the Millett Buck Gold remains perhaps the best glass for the money available today. It is a scope that has no shortcomings, at least that I have found to date. If the checking account says no more than $150 for a reliable scope, or your bride says the same, I believe Millett's Buck Gold 3 x 9 x 44 will fill the bill quite nicely. It is worthy of your consideration, a solid value from a solid company.