The Minox MD 6x16A Monocular with Altitude, Temperature, Time, and Stopwatch displays
By Chuck Hawks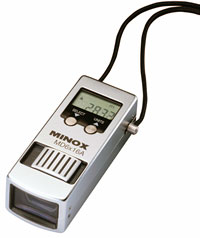 Illustration courtesy of Minox
Minox has been associated with pocketsize cameras for over 60 years. Originally from Latvia, after the German occupation of that country during the Second World War, Minox was moved to Germany, where it has resided ever since. Their sub-miniature 9.5mm format slide-open cameras were used by German spies during WW II, and have appeared in countless spy movies ever since. Incidentally, Minox still produces their signature tiny cameras, in addition to digital and 35mm pocket cameras, binoculars, monoculars, and a Wind Watch pocket weather station.
Approximately 3 years ago, Minox (now owned by Leica) introduced a new miniature monocular, one measuring just 81x32x24 mm. The Minox technicians integrated an electronic module into this tiny monocular, which adds numerous functions. These include an atmospheric pressure sensor that measures the altitude down to three feet, as well as a temperature, time of day, and a stopwatch function. A large LCD display on the face of the metal housing displays the readouts and two function keys set and change the various modes of operation.
Like previous Minox products, this multi-function instrument combines miniaturization with high quality optics and mechanical precision to create an ingenious outdoor tool that I am sure will find favor with hunters, fishermen, and others involved in outdoor sports. The MD 6x16A comes complete with a leather case and battery.
Specifications
Magnification: 6x
Focus range: 1.5 meters to infinity
Field of view: 140 meters @ 1000 meters
Altitude display: -4500 to +20000 ft. (-1400 to +6100 m)
Resolution of altitude display: 3 feet (1 meter)
Update-rate of altitude display: dependent on altitude position of user (1 or 20 seconds)
Temperature range: 0°F up to 125°F (-20°C up to +50°C)
Accuracy of temperature measurement: +/- 2°C
Resolution of temperature display: 1°C
Update of temperature display: every 20 seconds
Stopwatch: lap or continuous measurement (up to 60 minutes or 60 hours)
Weight: 88 grams
Dimensions: 3 3/8" x 1 5/16" x 1" (81 x 32 x 24 mm)
Housing: metal
Battery: 3 V Lithium, Type CR 2016
Accessory: Leather case and neck cord
Order number: 62203
I spotted the MD 6x16A at the Minox booth during the 2004 SHOT Show, and purchased one on the spot. Physically, the silver metal case of the MD 6x16A is about 1/2 the size of a pack of cigarettes, so it fits easily in practically any pocket, purse or fanny pack. It is also supplied with a neck lanyard, so the unit can be worn around the neck. I have found it handy to carry the monocular in a front shirt pocket with the lanyard around my neck, available for immediate use.
There is no on/off switch. Like a digital watch (which the MD 6x16A is, among other things), the battery drain is so low that a switch is not required. If no function keys are pressed within 5 minutes, the monocular automatically switches to time mode; it makes a useful, although somewhat bulky, pocket watch.
The two operating buttons below the LCD display are marked "Select" and "Units." You briefly press the Select button to toggle between the four available functions (time, altitude, temperature, and stopwatch). The Units button is used to select the units of measurement in the relevant menu, as follows:
Time - 12 hours or 24 hours
Altitude - feet or meters
Temperature - degrees Fahrenheit or Celsius
You hold down the Select button for 3 seconds in the clock or altimeter modes to enter the setting mode. In stopwatch mode, hold down the Units button for 3 seconds to zero the stopwatch. In the time or altitude modes, continuous pressure on the Select and Units buttons is used to quickly alter the set values. For more information, see the owner's manual.
If all this seems a little complicated, you are not alone. That is the result of miniaturization. Separate buttons labeled for each function would be much easier to understand and use, but would require a bulkier instrument.
There is a lot more information on the function of the Select and Unit buttons in the instruction manual, which I strongly suggest that the owner of MD 6x16A monocular read and understand. This is not as easy as it might be, for the instruction manual is printed in five languages. Even worse, instead of having five complete sections to the manual (one for each language), the manual prints every paragraph in each language, constantly interrupting the reader's train of thought and making it impossible to read the manual as a complete text. I positively detest such owner's manuals, and Minox should make it a priority to fix this one. The operation of the MD 6x16A is complicated enough without having to fight the owner's manual to understand it.
The MD 6x16A focuses by means of a top mounted slider (see photo above) that can be operated with one hand. Focusing range is from infinity down to a distance of only 45" (by my measurement), so it can function as a semi-short range magnifier as well as a pocket telescope used at longer distances. The optics are what you would expect from Minox, which is to say good. There is some flare if you look directly into a light source, for instance a street light at night, but otherwise flare is not a problem. Edge to edge sharpness appears good and distortion is minimal. The field of view is excellent.
As a 6-power telescope with a 16mm front objective, the exit pupil is only 2.6mm, so it is not much of a night scope. In daylight, however, it is bright enough for practically any purpose.
The 6-power magnification seems to me to be about right for so compact an instrument. The MD 6x16A doesn't weigh much, so it is more difficult to hold steady than would be a larger, heavier instrument. Much more magnification would be a real problem to keep steady (since movement as well as the subject size is magnified), and much less magnification would not be sufficient.
Minox offers the same monocular without the electronic features as the MD 6x16. There is also a similar but more powerful MD 8x16 model for those who feel the need for greater magnification.
The 2004 MSRP of the top of the line MD 6x16A is given as 169.00 Euros. A quick check online revealed a 2004 discount retail price of about $223.00 for the MD 6x16A or $99.00 for the basic MD 6x16 in the U.S. The more powerful MD 8x16 runs about $130.
The best thing about the MD 6x16A is its small size. It is so handy that you can take it with you when even the smallest roof prism binoculars or conventional monocular would be a burden. I feel that its tricky electronic functions are a definite asset, although not strictly necessary. I give it both thumbs up!