Modern Motorcycle Technology: Throttle Mapping Modes and Traction Management
By David Tong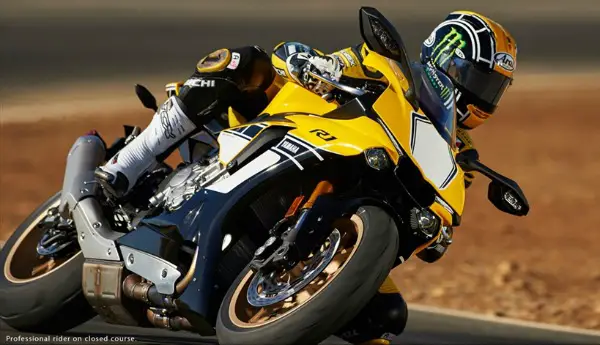 Photo courtesy of Yamaha Motor Corp.
While there are a lot of high performing motorcycles, the highest performance levels and technologies are applied to sport bikes. Say what you will about their relative comfort or convenience; this is emphatically not why they are purchased. They are purchased because they represent the ne plus ultra of what can be achieved on the street.
I think that the use of sophisticated software on these very high powered machines is mandatory, even for the most elite racers. With horsepower ratings approaching 200 bhp, it does not take much to believe that without these aids, even a professional racer is compounding the risk in an already risky affair.
While BMW's S1000RR superbike introduced the first suite of throttle modes and traction management systems, since then the always prescient Japanese have steadily closed the gap on that seminal machine. Essentially, a group of sensors can now indicate to the engine management computer whether the bike is about to wheelie, its bank angle, whether a slide is being detected, or straight line traction is being compromised that inhibits maximum acceleration.
As a former owner of a 2000 Yamaha R1 1000cc superbike, there were times when the bike became a bit spooky to ride. Most dyno tests indicated that it had 127 bhp at the rear wheel and over 80 ft. lbs. of torque. It was carbureted, which meant that there were no electronic rider aids. Some would have been welcome. I had to be fairly conservative when cornering, as "grabbing a handful" quickly blurred the scenery! The bike also had a tendency to do unprompted small wheelies from a stoplight, without me pulling up on the bars, giving it a lot of gas, or popping the clutch.
Yamaha's all new 2016 YZF-R1 has the latest suite of tricks, as explained by Yamaha:
Cutting-edge MotoGP Derived Crossplane Crankshaft Engine: A lightweight and compact crossplane-crankshaft, inline-four-cylinder, 998cc high output engine. Titanium fracture-split connecting rods, the first ever for a production motorcycle, the motor delivers extremely high horsepower and a strong pulse of linear torque.


Class-leading Electronics Package: The YZF-R1 features the most advanced MotoGP inspired electronics package ever offered on a supersport machine: a full suite of inter-related technologies, enabling the rider to enjoy the fullest range of performance with great comfort, control, and ease of operation.


MotoGP-level Controllability: Featuring the first six-axis Inertial Measurement Unit (IMU) ever offered on a street-going motorcycle, the 2016 R1 represents the dawn of a new digital era where all riders can experience total 3D controllability.


Informed Systems: IMU consists of a gyro sensor that measures pitch, roll, and yaw, as well as an accelerometer, or G-sensor, that measures acceleration in the fore-aft, up-down, and right-left directions, all at a rate of 125 calculations per second. By calculating each signal, the IMU finds the precise vehicle position and movement, and communicates it to the ECU, enabling it to control the bike's systems.


Digital Rider Aids: The YZF-R1 is fully equipped with banking-sensitive Traction Control, as well as Slide Control, Wheel Lift Control, Quickshifter, Launch Control, ABS, a Unified Braking System and much more. The all-new R1 gives street riders, track day participants, and full-on racers an unmatched and unprecedented level of rider-adaptive performance.
Throttle management includes a lift control system (LIF), traction control system (TCS), and slide control system (SCS). This is integrated into the engine management computer that utilizes fuel cuts, ignition retard and throttle butterfly manipulation to achieve the desired result, which makes its intervention feel precise and smooth. This is made possible by sensors which are capable of delivering 125 data points per second to the management computer.
Just like any 200mph street car, whose driver may be blithely unaware of what he or she may be doing driving such a high performance vehicle, the owner of a similarly endowed motorcycle has this matter complicated by half the number of much smaller rubber contact patches, more violent weight shifts on acceleration and braking and less lateral adhesion capabilities while leaned over at high speed.
In some ways, from a civil liability perspective, manufacturers may be looking at the output of their machines and realizing that they should provide a safety net to help protect the owners of such machines. In reading Yamaha's statement, it was interesting to me that the bike is now equipped with a sensor that may limit the fore-aft squat (acceleration) and dive (braking). This is now integrated into a linked braking system. I believe this means that the brakes, like similar systems in automobiles, are used to stabilize the bike's weight transfer and help the rider enact steering and stability compensations.
It is intriguing. I suspect that it will come to pass that electronically controlled real time suspension adjustments, based on on-board sensors, will also become common in the open sport bike class. Yamaha's YZF-R1M street legal race bike has Swedish Ohlins electronically adjustable suspension front and rear, which purport to do just that.
The same sort of desire to provide the ultimate in automobile stability controls is now part of the reality of the modern supersport motorcycle. Both need them.