Mossberg International SA-28 Semi-Auto Shotgun
There has always been at least one 28 gauge in the family since before I was born. Mom's gun was always a 28 gauge Remington with a plain barrel, fixed choke and a stock that was shortened a bit with a recoil pad added. That shotgun got a lot of folks into breaking clays and dropping doves and still does the job today. My wonderful mother is gone now, but no one ever needed to bother trying to tell her that her 28 gauge did not do a fine job on doves.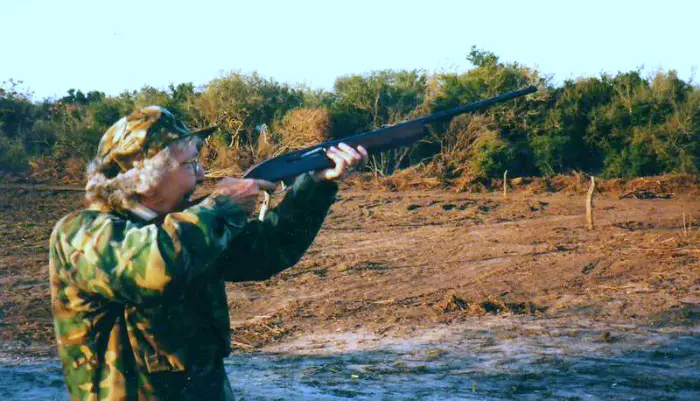 Mom shooting her 28 gauge autoloader..
The 28 gauge is in the category of what my Dad always referred to as a fun gun. As a matter of fact, the last gun that my Dad acquired was a 28 gauge, essentially the same gun as this one. It was a Weatherby SA-08 in 28 gauge and currently that 28 gauge has been discontinued by Weatherby.
About a year ago, Mossberg introduced the SA-28, following up on their Mossberg International SA-20 20 gauge offering. The gun reviewed here is the full size All Purpose Field with a walnut stock and a 26" polished blued barrel. It is also available in two Youth Bantam versions with 24 inch barrels and a shorter, 12-1/2 inch length of pull, one in walnut and the other in black synthetic.
The SA-28 All Purpose Field walnut comes very nicely presented in a padded hard case, complete with stock shims and five flush choke tubes. It sells at an appealing discount retail price of around $500. The choke tubes appear to be Mobilchoke style, but things are not always what they seem to be. A couple of the factory choke tubes are on their way to Trulock Choke Tubes for verification.
Specifications

Mossberg SA-28. Image courtesy of Mossberg International.
Product #: 75792
Gauge: 28
Chamber: 2-3/4"
Capacity: 5
Barrel: Vent. rib
Sight: Front bead
Choke: Sport set
LOP: 14.5"
Barrel finish: Blued
Weight: 6.5 lbs.
Length overall: 46.5"
Country of origin: Turkey
2018 MSRP: $654
On my scale, this gun does not weigh 6-1/2 pounds, as stated by Mossberg; it is six pounds on the nose. This shaves 1/4 pound off of the SA-20's 6-1/4 lb. weight. 28 gauge guns are historically priced higher than 12s and 20s, apparently because fewer of them are made. This is refreshingly not the case here, for the SA-28 has the same retail price as the SA-20.
There is a problem with the SA-28 and that is its excessively heavy trigger. The SA-20 had a 6-3/4 pound trigger that I had reduced to a more user friendly weight by Dave at Precision Sports in Oshkosh, Wisconsin. This SA-28's trigger is even heavier, breaking at over seven pounds, a full pound more than the entire gun weight and it badly needs a trigger job. This trigger is now off to Precision Sports, as well. Figure the price of a professional trigger job into the cost of the gun.
As far as the Mossberg SA-28 itself goes, it is easily the best autoloader for the least money on the market today. For example, a Beretta A400 28 gauge with fake ("enhanced") wood sells for $1400 or so. A nickel Benelli Ethos 28 gauge will set you back in the area of $1950. Yet, for only about 1/4 of the price of the Ethos you get a gun that is softer-shooting with superior build quality and is every bit as reliable.
Just as is the case with the SA-20, the Mossberg SA-28 has the mainspring beneath the forearm, not in the butt stock, making it easy to monitor and clean. Shooting both models side by side, the lighter weight of the SA-28 is easily noticeable and you will also notice the SA-28's thinner forearm.
Thanks to Mossberg, it is more economical than ever to add a really fun, pleasant shooting 28 gauge autoloader to your battery. The SA-28 is an outstanding value and whether smashing a few clays or hunting dove or woodcock, it is hard to find a shotgun that is more fun to use. Buy one for your spouse or your child. Or pretend to, for you will soon find yourself borrowing it a lot more than you might think.