Mossberg Patriot 350 Legend Walnut Bolt-Action Rifle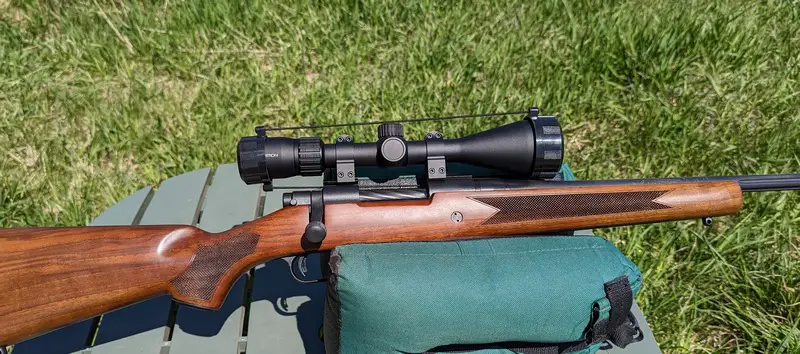 Photo by Randy Wakeman.
I've had exceedingly good results with Mossberg Patriot rifles and this walnut 350 Legend example is no exception. Sticker price is $669, selling for less from many retailers. The factory published specifications follow.


| | |
| --- | --- |
| SKU | 28137 |
| Caliber | 350 LEGEND |
| Action Type | Bolt-Action |
| Usage | Hunting / Sporting |
| Barrel Type | Fluted |
| Barrel Length | 22" |
| Barrel Finish | Matte Blue |
| Capacity | 4+1 |
| Length | 42.75" |
| LOP | 13.75" |
| LOP Type | Fixed |
| Sights | Weaver-Style Bases |
| Stock | Walnut |
| Twist | 1:16" |
| Weight | 7 |
| UPC | 015813281379 |
The trigger as supplied breaks at crisp 2-1/2 pounds: it is user-adjustable from 2-7 pounds. The walnut Mossberg Patriot is a quite handsome rifle considering its affordable price point: it looks like a real rifle, not a concoction of plastic. While the barrel is fluted, that feature is just cosmetic.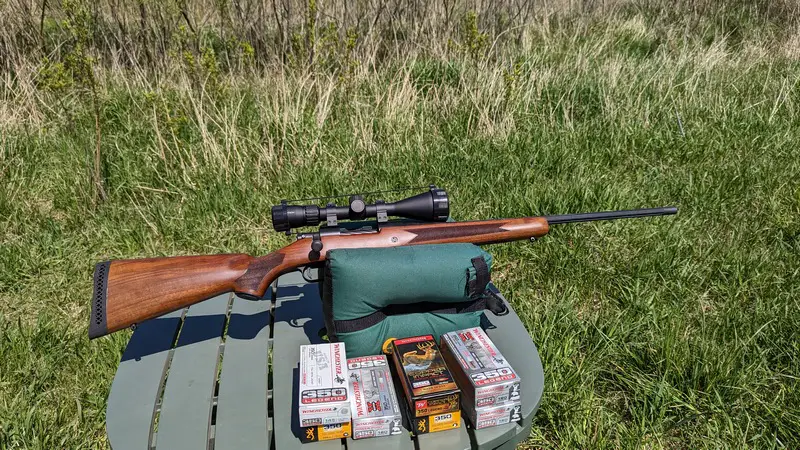 I mounted a Sightron S1 3-10 x 50 mm scope to this Patriot, using 'high' Warne Maxima steel quick-detach rings. With the 50mm objective of the Sightron, you'll likely need high rings; with 40mm objective scopes, medium rings tend to work just fine. The Patriot walnut has a generous Monte Carlo cheekpiece, so when you snap the gun to your shoulder you are looking straight through the optic with no adjustments. If you want good low light performance, it is hard to stray too far away from a generous exit pupil. Scopes tend to work best when the exit pupil of the telescope matches your own pupil dilation. Certainly, everyone's eyes are different, but white-tail hunting after sunset means your eyes will dilate to the 4mm to 7mm area, and if your optic cannot feed your eye with the proper exit pupil, we tend to experience a darker image. You can believe your own eyes on this one, so if the image gets darker as you crank up your scope magnification, it is because it is for your eyes in those ambient conditions.
Feeding and ejection is smooth and positive with the Patriot 350 Legend. While I certainly have more loads to test, in this rifle Winchester Copper Impact 150 grain and Browning BXR 155 grain were both far better than minute of white-tail performers. There is plenty of time to get things dialed in before the season, but with the right ammo 1 to 1-1/4 inch groups are reasonable expectation. Recoil is very, very mild.
Mossberg advises that a zero capacity magazine is in development for Illinois. For the several straight-wall whitetail states, this low-recoil Patriot 350 Legend is a very appealing option for most everyone. The Patriot walnut looks and functions flawlessly. I strongly prefer the walnut, but for those feeling a bit more frugal synthetic models start at around $360 street price. Either way, this Made in the USA Mossberg Patriot belongs on everyone's whitetail short list: it is a winner.
Note: There is a complete review of the Mossberg Patriot Walnut rifle on the Product Reviews index page.