Motorola Talkabout MU350R Two-Way Radios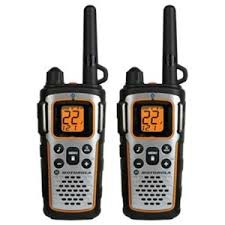 Illustration courtesy of Motorola Solutions, Inc.
In this day and age of cell phones, one can reasonably ask, why do we need radios? The answer is simple, there are too many "dead zones" for cell phone reception in the wilderness, particularly in the West. When it comes to two-way radios, there are dozens of brands available, ranging in price from $50 a pair to well over $300 a pair. The question is, why buy one brand over another? The answer is simple: Quality and reliability.
We will admit to having purchased some cheapies at big box stores and surprise, surprise, they didn't work more than half a mile apart. In addition, the reception was not very good. When Jim went on his Persian Ibex hunt in 2009, the outfitter provided him with a Motorola radio to allow him to stay in contact with the guides and other hunters. For seven days in the Floridas Mountains of New Mexico, he used that radio and never had a problem. Although his cell phone entered several dead zones, the radio always allowed him to communicate. Thus, he was very excited to see the new Motorola MU350Rs at the 2014 SHOT Show. In a first, he asked the representatives if he could get a pair to test in the San Mateo Mountains in New Mexico. They agreed and the radios arrived in late February.
As soon as the weather cleared we sent our testing team into the mountains for a week. Long story short, the radios worked flawlessly. They tested them at short distances and all the way out to 20 miles apart. Despite the terrain and weather conditions, reception was excellent at all times. These radios are not kids toys, they are serious communication devices designed to handle some of the roughest conditions you may encounter.
Among the standard features of the MU350R are:
BLUETOOTH compatible - not found in any of the cheap radios on the market. This gives the user the option of using the MU radio with a BLUETOOTH headset and communicate wirelessly.
Up to 35 mile range depending upon terrain, weather conditions, electromagnetic interference and obstructions.
Weatherproof (IP-54): IP code is the International Protection Marking (sometimes referred to as Ingress Protection Marking) and classifies and rates intrusion protection from the environment. The IP rating is designed to make more sense than the vague marketing claims from manufacturers whose products to not meet IP standards. 5 - Dust protected: Ingress of dust is not entirely protected, but cannot enter in sufficient quantity to interfere with the satisfactory of the equipment. 4 - Splashing of water: Water splashing against the enclosure from any direction shall have no harmful effect.
7 National Oceanic and Atmospheric Administration (NOAA) weather channels
Weather radio scan with alert feature
iVOX/VOX hands-free communication
Charging the battery pack via Mini-USB for car, PC cables or desktop
Low battery alert
Built-in Flashlight
Digital Signal Processing technology providing superb audio clarity, not to be found in another two-way radio
Emergency Alert feature to transmit warnings to other radios
Scan feature to locate other channels in use
22 channels with 121 privacy codes to reduce interruptions
Push-to-Talk (PTT) Power boost button, which allows you to extend the transmission range when needed
You can use 3 AA batteries in your unit should you not be able to recharge in the field and they will provide you with an additional 15 hours of talk time
These are just some of the more unique features of the MU350R radios which sets them apart from others in the field. A pair of MU350R radios comes with the following:
2 NiMH rechargeable 1300 mAh battery packs
Two belt clips
1 Y-cable charging adaptor with dual mini-USB connectors
1 Emergency Preparedness Checklist
1 Accessories brochure
1 User Guide
With an MSRP of $149.99, they are a good investment for the outdoorsman who wants to be assured of communication with others in their group and the outside world.