Mueller 3-9x40mm IR Riflescope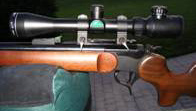 Photo by Randy Wakeman
At present the Mueller Sport Dot line includes three models. The standard finish is matte black, and all Mueller Sport Dot Scopes are fully multi-coated:
3-9x40mm variable
3-10x44mm variable
4-16x50mm AO variable
The tested scope is a Mueller Extreme Sports Optics 3-9x40mm Sport Dot. This riflescope comes automatically with an illuminated reticle and what I think is an outstanding version of what is often referred to as the German #4 reticle. As opposed to some of the older illuminated reticle scopes, that light up the entire array, the Mueller Sport Dot lights up only a tiny (sub one inch @100 yards) dot in the center of the reticle.
It features a quick focus ocular, has tactical extended adjustment knobs, 1/8 MOA adjustments, and I found the metal on metal adjustments to be both precise and repeatable. It comes with a lifetime warranty, and appears to a very durable unit.
The eye relief, as measured, is right at four inches throughout the zoom range, which is exceedingly generous. The scope is bright and crisp, with excellent edge to edge clarity. I feel is it is very similar in brightness to Leupold VX IIs and Bushnell Elite 3200s, which is to say quite good. I did notice one annoying facet of the image quality. Above 7X or so the eye relief becomes critical. On the scope tested, if you move your head forward a slight amount, the image tends to quickly "white-out." Not an issue at the moderate magnification ranges used for most hunting, but the upper end is lacking.
Here is the 11-position rheostat reticle powered up.
The greatest thing about this scope is the reticle. It just draws the eye to the center; it really is hard to miss with this sight picture. The micro-dot is ordinarily black. If you turn on the light it changes to red. It is very easy to lock on at low light and at night, as the small illuminated micro-dot does not overwhelm the overall display.
Stated weight is 14 ounces, OAL is 13 inches. Though eye relief is stated at 3.25 inches, as mentioned, I found it far more generous than that. No one will be able to grouse about the price. The Mueller 3-9x40mm IR it can only be described as a fabulous value at $149.95. It is available directly from Mueller Optics at 1-888-775-8885, or via their web site at www.muelleroptics.com.