The MuzzleBlaster Chrono Box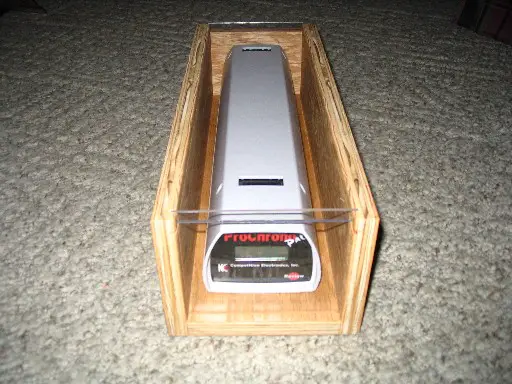 Illustration courtesy of Randy Wakeman and Tom Dreschler
More and more muzzleloading enthusiasts are finding great value in using their own personal chronographs for load development. Today's chronographs are quite accurate, and more affordable than ever before. Due to the high amount of caustic ejecta from muzzleloaders, as well as sabots that can quickly smash faceplates and demolish chronographs, muzzleloading chronos can take see a lot of abuse, and can see short life as a result.
Tom Drechsler and friends, from Saxonburg, Pennsylvania, have introduced the new "Muzzleblaster Chrono Box" to address this problem. Your Competition Electronics ""ProChrono" (my favorite) or the popular "Shooting Chrony" Models drop right in this cabinet grade laminated hardwood box that is augmented by a clear Lexan-type clear front shield, and a clear Lexan slide top that eliminates the need for sky screen covers, and keeps the crud from getting into your sensors. The front plate just slides up and out, as does the clear top. You'll never have to worry about blowing out a faceplate or otherwise damaging your chronograph again, as I have several times in the past. Where were you when I needed you?
The hardwood box is sealed with a clear acrylic finish, the flexible Lexan-type shield is so darn tough they have survived several point plank shots from a .22 Hornet, and the shields are also dishwasher safe as well. It is a great way to store your chronograph, keeping it grime-free and in new condition. The chronograph "well" compartment is 5 inches wide by 16 inches long, and is about 4 inches deep. A threaded metal tripod adapter is flush in the center of the bottom, making it ideal for shooting over three feet from the muzzle as I do, or placing out at any distance you choose. For those with chronograph printers, you can attach the cable right through the bottom of the faceplate by just sliding it up a bit. It is exceedingly well made, and could just make your chronograph worries gone at 2200 fps.
It is an excellent, well thought-out product that takes hassle out of chronograph use. It is now available for $49.95 plus $8 shipping / handling / insurance, and is delivered straight to your door by UPS. Order yours by e-mailing Tom Drechsler: hunttrky2@zoominternet.net .